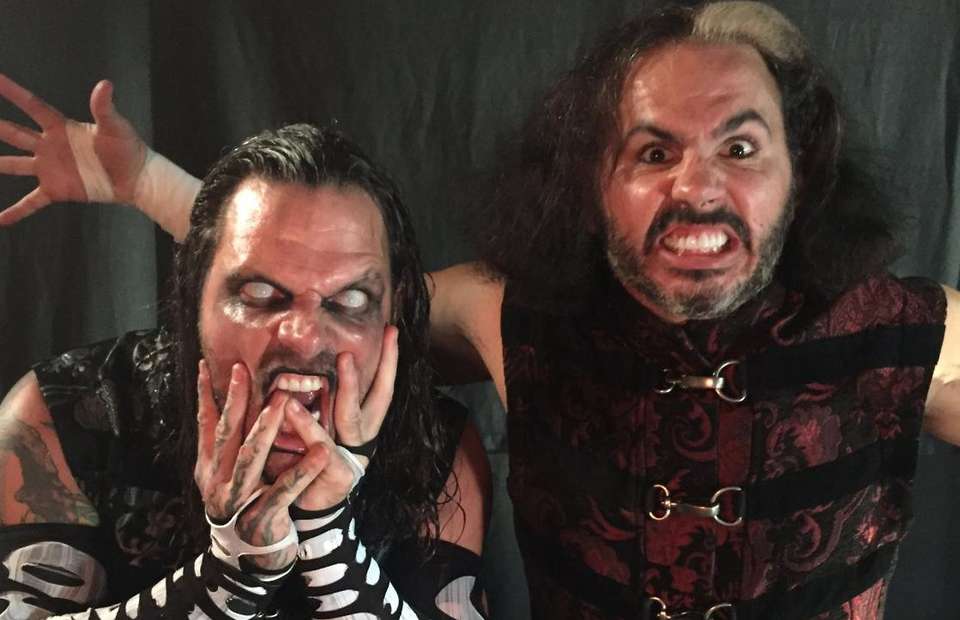 WWE invaded the Royal Farms Arena in Baltimore for their 2017 edition of Extreme Rules Pay Per View on the WWE Network.
Here below is a quick recap and reaction for those of you who may have missed it, or those who saw it, but enjoy recaps!
Kalisto vs Apollo Crews
Result = Kalisto by pinfall over Crews
Reaction = This was a great match to open the card with.  Tailor made for the pre-show.  Interesting to see if this is finally the restart of Kalisto's push.
IC Champ Dean Ambrose vs The Miz
Result – The Miz pins Dean Ambrose following the Skull crushing finale to win the belt.
Reaction – Great match to open up the main part of the card.  Plenty of false finishes and great drama involving a possible DQ of Ambrose several times.  Excellent match!  The Miz will once again make a great IC champ and I don't expect the reign to end anytime soon.  This could be a very long one, and honestly should be.
Rich Swann & Sasha Banks vs Alicia Fox and Noam Dar
Result – Swan & Banks by pinfall.
Reaction = Complete waste of time other then the cheap pop for the hometown boy Swann.  What a strange attempt to keep Banks on TV.  A heel turn awaits her.
Elias Sampson comes down and sings a song berating the crowd….
Okay then,,,, we press on….
Alexa Bliss vs Bayley for the RAW women's championship on a Kendo Stick on a Pole match.
Result = Alexa Bliss retains, defeating Bayley
Reaction = These two needed to perform well and remind everyone why there was such high hopes for this feud.  Both women are at the top of their game but had been receiving major backlash after a terrible talk segment on RAW this past Monday.
In what was a quick match, much too quick, these two still did perform, I just hope they gave them a third go around, however Nia Jax is waiting on the next title shot at Bliss, so it will be interesting to see where we go next.  Still not sure why this one wasn't given more time?
The Hardy Boyz versus Cesaro & Sheamus in a cage match for The Hardy Boyz Tag Team Championship
Result = Cesaro & Sheamus exit the cage as a team first, and win to become the New Tag Team Champions on RAW.
Reaction =  This match had a lot of back and forth and really delivered.  It is almost impossible not to when you put four competitors in a cage.  Tag Team matches in cages however make for strange booking at times because both men need to leave the cage in order for the team to win.
As usual, the first team to have a man leave, is at an advantage, but at the same time,  a major disadvantage because they are down 2-1 in the ring.  It almost hurts the team every single time that get's off to the early lead.  It happened again tonight when Jeff became the first to exit.
With that being said, it was a cool twist "of fate" to see Jeff re-enter the ring as Matt started to get a 2 on 1 beat down.  The ending was cool too as it saw one Hardy desperately drag the other out of the cage to try and win, but alas, it was too little too late as Cesaro and Sheamus exited together only seconds beforehand.
In conclusion, I would believe that this will begin the Broken Era of the Hardy Boyz in WWE.  I'm sure a rematch on RAW or the next PPV will follow, and then from there the descent will begin into madness as Matt is sure to turn on Jeff, and then all the fun they had in TNA on Impact, will begin again.
Neville vs Austin Aries in a submission match for the Cruiserweight Title held by Neville.
Result =  Neville makes Aries tap out to retain the title.
Reaction = CLASSIC!  These two put on a gem for the third straight month.  Kind of Odd to see Aries lose all three the way he did and not claim the title.  But, I don't doubt he can have a future soon and bright on the WWE main roster, taking on heavyweights.  His time in 205 is done, but did any of us really thought he'd stay there this long?  He is far too good, and will now become a main players on RAW moving forward.  The only question is will it be as a Heel or Face?
5 WAY Dance for the next shot Brock Lesnar's WWE Universal Title
Bray Wyatt vs Roman Reigns vs Finn Balor vs Seth Rollins vs Samoa Joe 
Result =  Samoa Joe puts Finn Balor to sleep to win the match by submission.
Reaction = Wow, what a shocker.  No one saw that one coming.  Not only did Joe win the match, but he put to sleep the man a lot of us thought would win it all in Finn Balor.  Interesting to say the least.  Lot of drama in this one too, with Rollins nursing the knee injury as the cameras went off the air.  The WWE got exactly what they needed out of this.  Storylines for the rest of the summer, and a few twists and turns along the way.  Does Lesnar come bac as full face in his feud with Joe, only time will tell!
All in all, a great night of matches!

NEO Sports Insiders Newsletter
Sign up to receive our NEOSI newsletter, and keep up to date with all the latest Cleveland sports news.