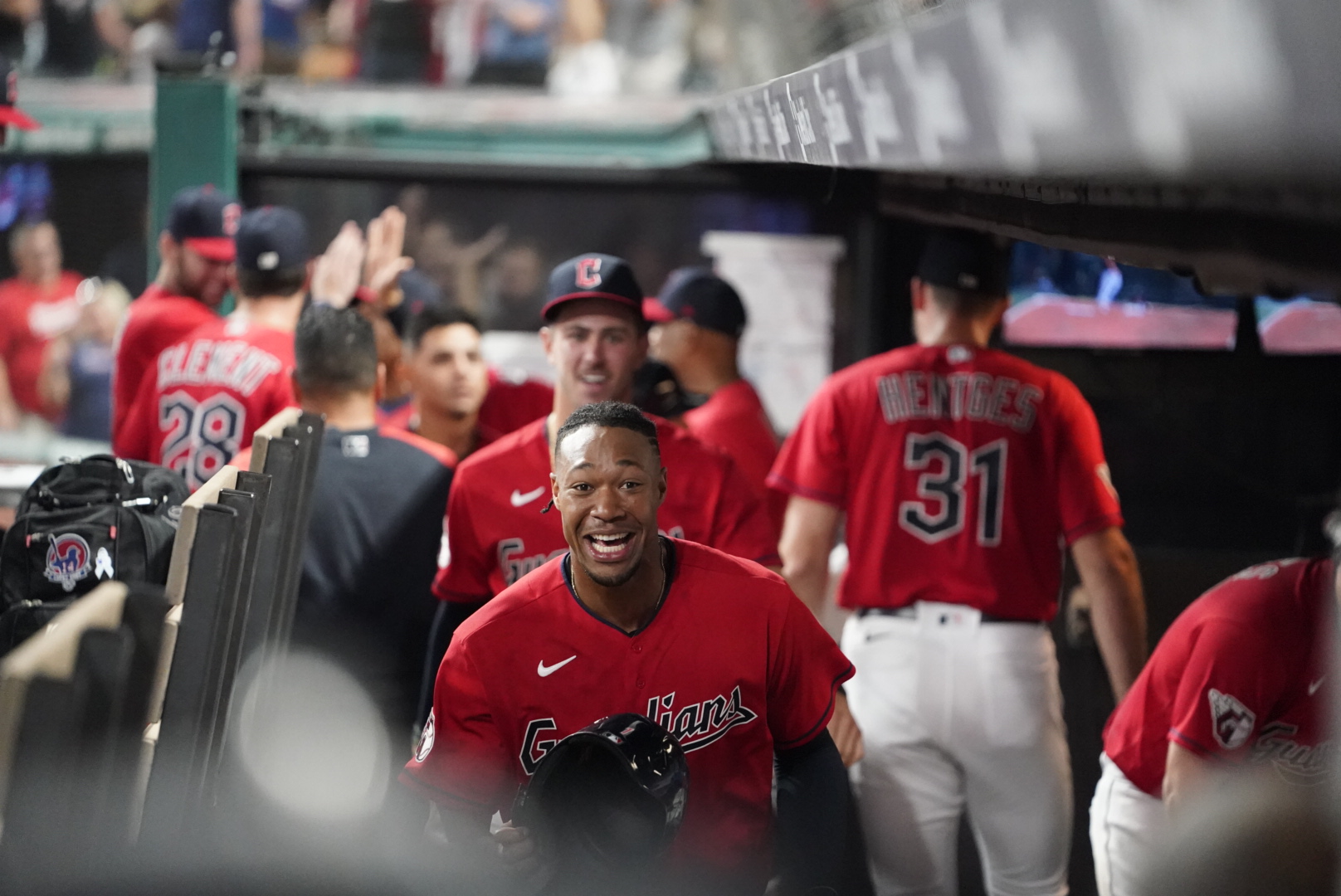 Will Benson, the recently called up outfielder for the Cleveland Guardians, was asked once about his most prized possession. His answer? "[My] Westminster (high school) graduation bible." For a young man born and raised in Atlanta with a gold medal at the U18 Baseball World Cup and numerous other teenage boy possessions, a bible? "It is irreplaceable!"
Right now, the young man drafted 14th by the Guardians in the 2016 baseball draft could very well become irreplaceable for Cleveland!
Called up!
The Cleveland Guardians are calling up Will Benson to the majors. Congratulations Will! pic.twitter.com/MD5jDi2aye

— Milb Central (@milb_central) August 1, 2022
With nagging injuries besetting the club from Josh Naylor and his leg and Owen Miller's arm and the poor production from players like Franmil Reyes, Will was called up to help the club. Pinch hitting for Reyes, Benson grounded out to end the 10th. But since it was extra innings, he started the 11th inning on second and scored the winning run on a line drive single by Amed Rosario that Diamondbacks first baseman, Christian Walker, almost miraculously grabbed.
After the game, Guardians manager Terry Francona said this of Benson:
 "We knew when we drafted him that we drafted an A+ kid. … Obviously I hope he helps us win. That's why he's here."
It's been a long trip for the 6-6, 220 pound outfielder to get to The Show!
High School
Will Benson played at Westminster HS in Atlanta and helped his school win a state championship his senior year over their rival, Blessed Trinity.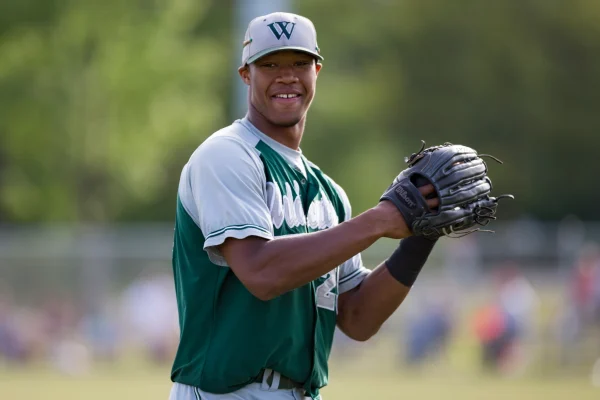 (Photo courtesy of Clyde Click, USA Today, High School Sports, 2016)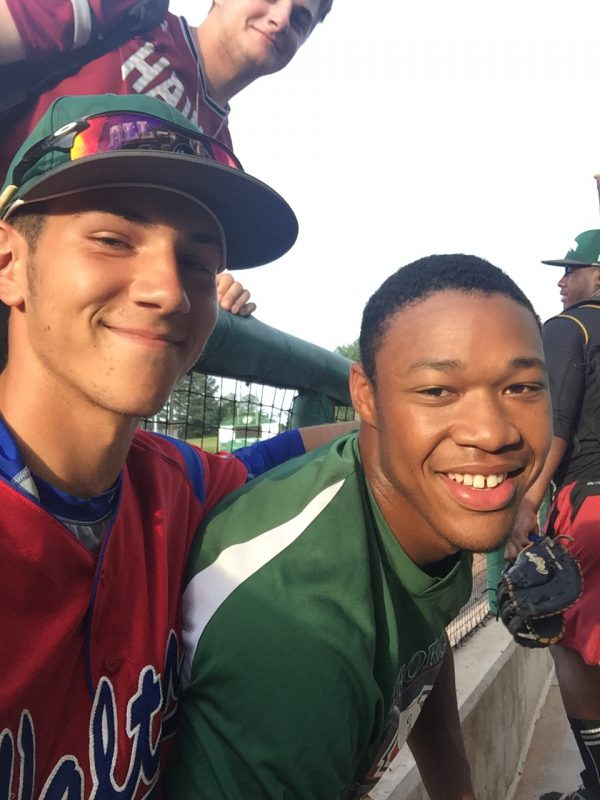 (Photo courtesy of Mark McCoy. Will Benson at the Georgia HS All Star game 2016)
He made the list of the Top 100 seniors nationally. That list also included his Guardian teammate Nolan Jones and Toronto Blue Jays star Bo Bichette.
The Guardians made him the 14th selection out of the draft. ESPN.com's scouting report on Will says, "He's marvelously athletic, light on his feet for his size and has quick-twitch attributes that are normally present in smaller players." (Interestingly, Nolan Jones was also chosen by the Guardians in that draft at 55.) 
Will had already expressed an interest in attending Duke University, but he was excited to make a quick impact. Unfortunately, his rise through the farm system before Sunday took many call ups, some no calls, and missed games (COVID 2020).
Minor Leagues
Right after the draft, Will was assigned to the Arizona rookie league and played in 44 games while amassing a .209/.321/.424 slash line (batting average/on base percentage/slugging percentage), not an overwhelming debut for a high draft pick. For comparisons, Bo Bichette played in the Gulf coast rookie league the same summer and in 22 games, his slash line was .427/.451/.732.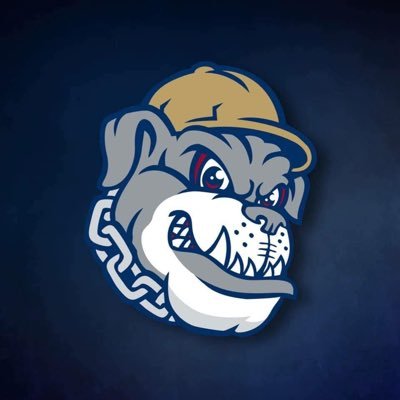 (Mahoning Valley Scrappers)
2017 saw the 19 year old Benson play with the Mahoning Valley Scrappers, where he led the team with ten home runs and 36 RBIs. He and teammates Ernie Clement, Nolan Jones and Eli Morgan made it to the semifinals before bowing out. His slash line improved to .248/.348/.475.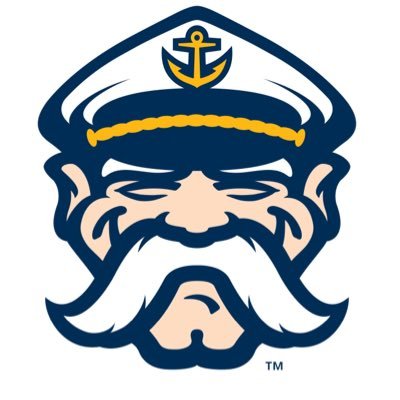 In 2018 Will was assigned to Lake County (OH) in the Midwest league and was given the entire year to showcase his skills. Defensively he can play any outfield position, but right field might be his best. He did hit 22 HRs but his strikeouts (150) and his batting average (.180) were not what the big league club had hoped for. But he was only 20 years old.
2019
The next season started at Lake County again. Usually prospects would get promoted to the High A club, Lynchburg. But Benson stayed on the east side of Cleveland with Lake County. But in early April, Benson did the unimaginable! Four home runs in one game!
Congrats to Will Benson on his big league call-up to the #Guardians. I'll never forget Will's 4-HR game with the @LCCaptains – the single most exciting individual performance I've ever covered. pic.twitter.com/qZlSMhinAt

— Andrew Luftglass (@A_Luftglass) August 2, 2022
So by the time he was moved up to Lynchburg, Benson, a lefty, hit 18 dingers, 12 doubles, and had a slash of .272/.371/.604! The strikeouts were still a bit high, but as Rotowire.com noted, Will started to hit to all fields and increased the number of hard hit balls.
Will Benson     Hit strength %                         Hit location%
Year        Hard         Med         Soft            Pull      Center    Opposite
2019LC     38.1         39.7         22.2            68.3       14.3       17.5
2019LY      29.7        50.0         20.3            48.4        29.7       21.9 
Pandemic
When the pandemic hit, all minor league baseball was shut down. Some places had their own summer leagues, though. Benson found a home in a Texas league where he played for Team Texas in the Constellation Energy League. His manager in this roughly 55 game league? The great Roger Clemens.
Benson's skills breakdown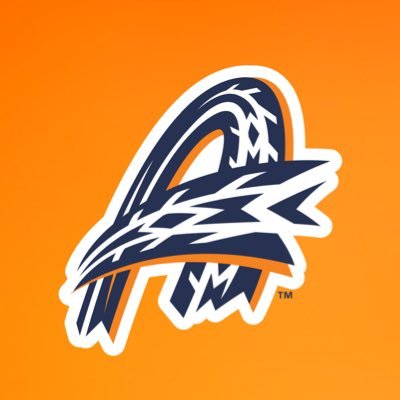 (Akron Rubber Ducks)
Moving now to 2021, the Guardians started Will at Akron with the Rubber Ducks with high hopes. But reports like the one from ProspectsLive.com were a concern:
Overall: Benson is an athletic specimen. He has four above-average tools. Showed off power potential with a four-homer game for Lake County in 2019. Without an improvement in the hit tool, he will end up a bench/platoon player who can offer some speed, pop, and take a walk.
Role: 40 – Below-Average Player: Bench / Platoon / Utility
He started the year in Akron hitting to all fields and playing great defense. His speed and plate awareness was on the rise. But when he got called up to AAA Columbus, he went back to pulling the ball and struggling. That's when Will decided to talk to the Guardians field coordinator, John McDonald, himself a former big leaguer. Benson replied:
"He just said, 'Hey man, the best power hitters are hitters first.' And I just went back and just truly watched video to try to dissect and analyze. I studied Barry Bonds. I studied [Mike] Trout.

"I think that was the biggest adjustment, just understanding when to look for stuff, when to just trust your ability to hit, looking at situations, it's a game within the game, and that's what all the greats do."
Looking at Rotowire.com again, we see how Will regressed then progressed in Columbus.
Will Benson               Hit strength %                   Hit location%
Year                 Hard       Med      Soft           Pull      Center      Opposite
2021CB            25.5       52.9       21.6           52.9      29.4         17.7
2022CB            33.5       49.5       15.1           44.0      33.0         22.9
Clearly, he took Johnny Mac's advice and began a meteoric improvement. Again, when he is on he hits the ball on the screws, evidenced by the Hit Strength%. When he is in the zone he hits to all parts of the field. 
Columbus 2022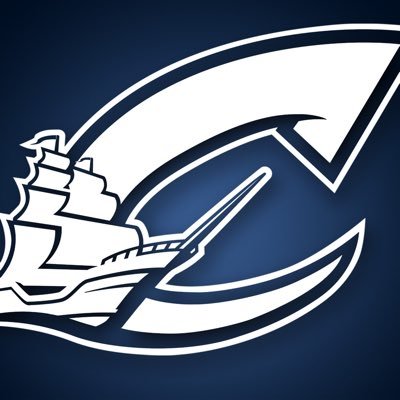 Before his call up to the Show, here's where Benson stood in key batting statistics as compared to his late 2021 call up.
                                      CB21                                   CB22
Strikeouts                      39.3%                                  22.7%
Contact percent            54.8                                     71.2
Slash                             .161/.271/.333                     .275/.424/.516
Extra base hit/10 AB      <1                                      1.3
These show tremendous improvement! Want more? He has developed great patience at the plate with an amazing walk rate!
To put his walk rate in perspective, let's go to Carlos Santana, who had his best base on balls year in 2014 for the Guardians. He walked 113 times in 660 plate appearances. That's good for 17 walks for every 100 at bats. Benson's this year in AAA Columbus? 18 walks for every 100 at bats! That exemplifies a great, improved plate discipline!
He also had a 13 game hitting streak where almost half of those games were multi hit games!
He was ready for the call up. The story goes he was at a Taco Bell in Louisville Sunday when his phone rang. Benson said:
"I was in Taco Bell [when I got the call] because my girl wanted Taco Bell. … Gotta make her happy, you know."
His family just happened to be staying in the hotel down the street from the fast food restaurant. "We literally went crazy in valet, just jumping around, screaming," Benson said. "And it was just such an amazing feeling."
The Night!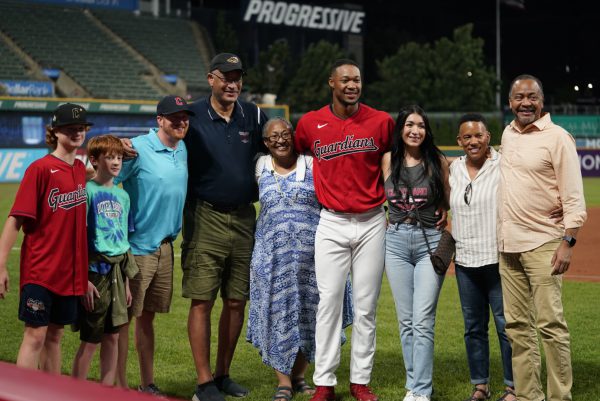 (Photo of Will, his girlfriend, and his family. Courtesy of Luigi Musto, @viperg98)
With a chance to win the game in extra innings, Will grounded out. That would have put an amazing cap on the last few days! But scoring the winning run is still a great feeling for a team in the playoff hunt.
Hopefully the stay with the club will be a long one. Fans have been wondering when he would grace the grass in right field of Progressive Field. 
And if any problems or struggles crop up for Will, there are two things he has to fall back on: the love of his family and girlfriend and his bible! Well, maybe a third. Namely, a quick run to Taco Bell!

NEO Sports Insiders Newsletter
Sign up to receive our NEOSI newsletter, and keep up to date with all the latest Cleveland sports news.