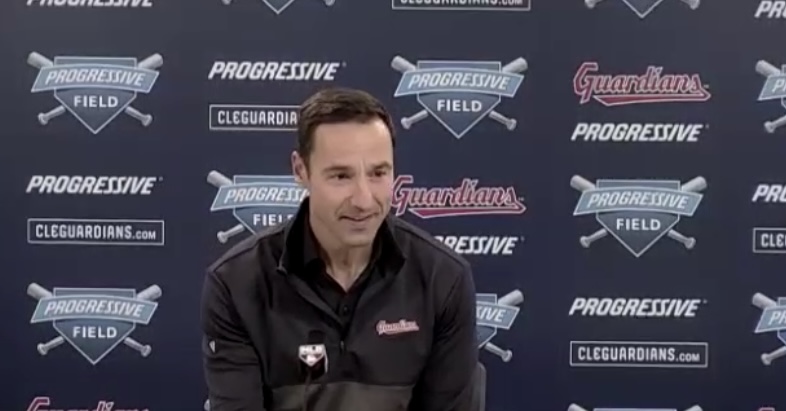 Cleveland, Ohio-
The 2022 MLB trade deadline came and went in quiet fashion today for the Cleveland Guardians. The Guardians' inactivity was not unexpected considering the position they're in. The Guards are the youngest team in the majors and have even more talent waiting at Double-A and Triple-A. The team simply wants to get a good look at all their young talent and are ahead of schedule in their development. They are not one player away from making a deep playoff run. That will come in time, but the team isn't there yet.
The Guardians did make a minor move today sending catcher Sandy Leon to the Minnesota Twins in exchange for 27-year-old right hander Ian Hamilton. He will be sent to Triple-A Columbus. Hamilton appeared in 23 games for Triple-A St. Paul posting a 1.88 ERA in 28 ⅔ innings pitched. Hamilton did make it to the big leagues this year with the Twins working 2 ⅔ innings and giving up 2 runs.
Guardians President of Baseball Operations Chris Antonetti discussed the trade that sent Sandy Leon to Minnesota and brought Ian Hamilton back to Cleveland earlier today:
"We had an agreement with him (Leon) that if there was an immediate major league opportunity for him we wouldn't stand in his way …. the Twins called, earlier today and expressed an interest…so we worked with them and in return we were able to get a pitcher (Hamilton) that will give us some depth"
Antonetti also spoke about any disappointment regarding the Guardians not adding to the roster:
" The overwhelming feeling is excitement about group of players here. We spent a lot of time with our front office, Tito and coaches and talking about opportunities to bring other players into the organization…. often times we came back to really believing in the individuals that we have in the clubhouse and the contributions that they've made and (most) importantly the way this group has come together and the team dynamic that we have… the way they play the game the way the care for one another…we wanted to be really mindful of that. We did explore a number of things over the course of the last few days and weeks, but in the end, there wasn't that right trade that made sense to change the group up."
As I mentioned earlier, the Guardians want to see what they have in their young team. I think that is more important to them than making a trade that could interfere with the development of any individual player or the maturation of the team as a whole. It's a smart move with long-term success in mind. There isn't a reason to disrupt this team right now. The time will come when the Guardians are active at the deadline and add a difference-maker, just not now.
Keep in mind, the Guardians have been the most consistently successful team in Cleveland for almost 30 years. That's not an accident. They draft, trade, and develop talent at an elite level. The Guardians have earned trust after almost 3 decades. There's no reason to not trust them now. Patience isn't exactly a virtue of many fans, but that's how this organization operates: with patience and trusting their process.

NEO Sports Insiders Newsletter
Sign up to receive our NEOSI newsletter, and keep up to date with all the latest Cleveland sports news.