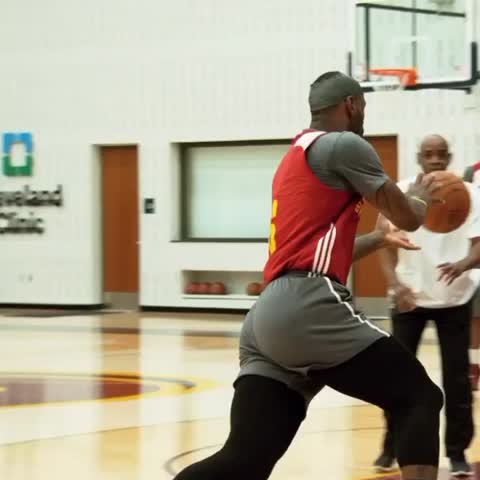 LeBron James has sparked a bit of speculation over the past week.
He posted a cryptic tweet that caused some to wonder if he regretted returning to Cleveland, went to Miami to hang out with his old teammate Dwyane Wade, and after that wore a Number 6 jersey during Cavs' practice.
.@NBA @cavs @kingjames pic.twitter.com/YJtaYPOFU6

— Kenny Ducey (@KennyDucey) March 4, 2016
The same number he wore on Team USA and of course, the Miami Heat.
Maybe he just likes to mess with the media and the people trying to read into his every move.
Either way, this week is somewhat out of the ordinary on a lot of levels.
Stephen A. Smith started the week out dropping a bombshell that he heard Kyrie Irving was unhappy in Cleveland.
Then Smith noted that the Cavs should not just assume LeBron is going to re-sign in the Summer.
It's no secret Wade and LeBron are great friends. This Summer is going to be interesting with the NBA Salary Cap increasing.
If LeBron were to leave Cleveland again, it would be quite a blow to his reputation in the city.
But like Kevin Garnett says, "Anything is possible."
Perhaps all of this will bring the team closer together. Head Coach Tyronn Lue noted the Cavs play their best when "their backs are against the wall."
General Manager David Griffin stated on the day Lue was announced as Head Coach that the team "thrives in chaos."
It has not been a smooth two weeks to say the least for the Cavs, but fans will remember how the team seemed to play its best and come together in the 2015 Playoffs, when they were banged up and national pundits began to write them off.
Hopefully the Cavs can use this mini-media firestorm as motivation to finish the season strong and enter the playoffs on a nice roll.