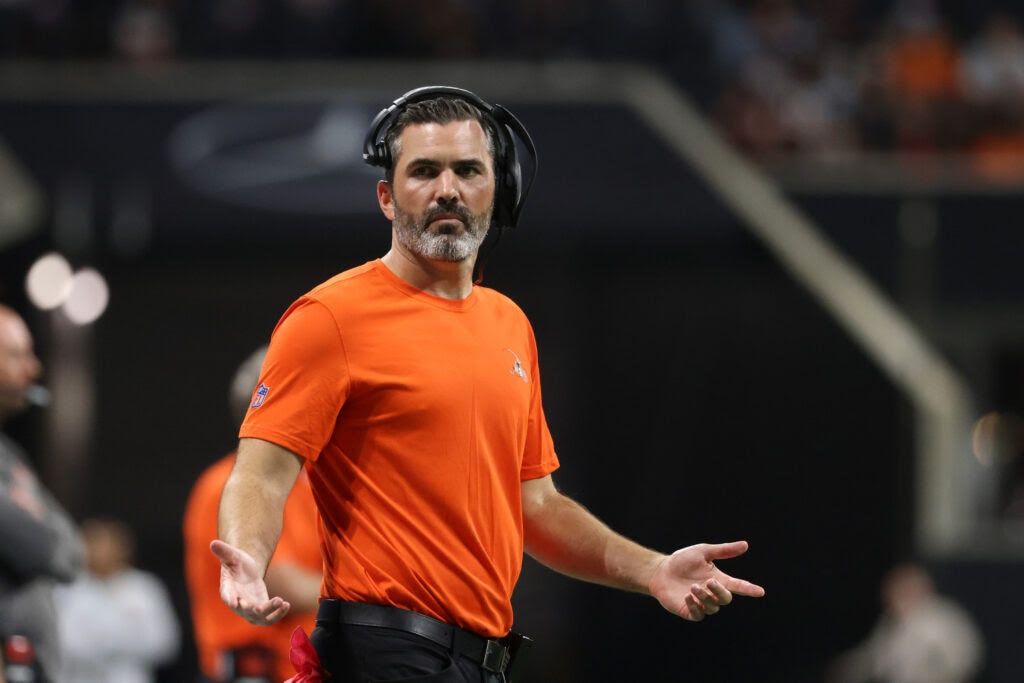 Do you hear that sound off in the distance? It's a familiar one we've heard too many times. It's the sound of the door closing on another Browns season before we're out of the month of November. It's soothing in its own twisted way. Just as sunrise and sunset are soothing. All are predictable and tell us nothing out of the ordinary is happening. The sun rises, the sun sets, the Browns waste another season. I accidentally made that poetic. Hey, at least I'm trying to entertain you, that's more than I can say for the pumpkin heads on the lakefront.
Who do we blame this year? Whose turn is it on the roulette wheel of blame and drama in 2022? Take your time and think about it for a moment…Congratulations, whoever you just thought of, you're right. I can be certain of that because I can't think of anyone who isn't at fault for the gross underachievement of this Browns team. Maybe Andrew Berry…for now. He hired Kevin Stefanski who is very much responsible for this mess, but Berry also provided a lot of talent for this coaching staff to work with. If Berry sticks with this coaching stuff for another season. The Browns GM will be on my list of responsible parties.
The Browns roster includes Nick Chubb, Kareem Hunt, Amari Cooper, David Njoku, a pretty darn good offensive line when healthy, supposed promising rookies, Myles Garrett, Jadaveon Clowney, Denzel Ward, John Johnson, Greg Newsome, JOK, Deion Jones, Grant Delpit, etc. According to spotrac.com the Browns are 4th in amount of money spent on salary at $265,792,470. The Browns are 3-6. That's $88,597,490 spent per win this season. I mentioned these numbers to a friend of mine today. His response: "it's not my money." That's not the point. Of course, it's not his money or mine or yours.
The Browns have had a reputation in the NFL of being the place players go to get paid without having to produce. It seems not much has changed. It's not about whose money it is, it's about the supposed good players who come to Cleveland, get paid, and throttle down the effort and intensity. Even players the Browns draft seem to wilt under expectations, save for a few. What you end up getting is a locker room void of accountability, leadership, and effort. The Browns make catchy slogans using those words. There's no substance to them and no one enforces those expectations, but the slogans do make for a nice t-shirt to buy at training camp.
Player effort is certainly an issue. From my chair Browns players, as a whole, seem uninterested and unmotivated. Could this be that the coaching staff has lost the locker room? That could very well be the case. If players don't take coaches and schemes seriously, they tend to check out from an effort and emotional standpoint. Sure, looks that way to me. That may not be what you want to hear, but I'm here to be honest with you not make you feel good. If I'm wrong, then tell me what else could account for what we're seeing every Sunday other than a team that does not believe in their coaches and has no interest on putting effort toward a lost cause.
When I say "coaches" I mean all of them outside of Bill Callahan and Alex Van Pelt. Callahan is arguably the best offensive line coach ever and I truly don't know how much Van Pelt is contributing to the offense. It's Stefanski's show. As long as I'm absolving people of contributing to this mess, I'm going to do the same for Nick Chubb, Kareem Hunt, Jacoby Brissett, and Myles Garrett. Brissett is on the list because he's giving you his heart and soul this year, he just doesn't have the talent to start over the long term in the NFL and he's also not being put in the best position to succeed.
Brissett is on pace to pass for almost 4,000 yards. That's insane. He has just over 2,000 yards right now after week 9. I didn't think that would happen until week 15. Brissett has attempted 290 passes through 9 games, that's over 32 attempts per game. Think about that. Kevin Stefanski is allowing Brissett to attempt 32 passes per game on average. He attempted 35 against the Dolphins on Sunday. Nick Chubb, meanwhile, had 13 carries while Kareem Hunt had 6. That's right, Chubb and Hunt had 19 carries combined while Brissett attempted 35 passes. That's coaching, that's Stefanski, that's absurd. It should be the exact opposite: 19 attempts for Brissett and 35 combined carries for Chubb and Hunt.
Let's be clear about something. I would be shocked if Stefanski ever gives up play calling duties and I seriously doubt it would matter if he did. Stefanski is still supposed to be the leader of this team whether he calls plays or not. This is his ship to guide and that's a problem. And then there's Joe Woods. There's not much I can say about Woods. You see the high-priced talent he has to work with, and this defense looks lost every Sunday. The defense has given up over 30 points in 4/9 games. In 2 of those 4 games the quarterbacks were Joe Flacco and Bailey Zappe. Both at home in Cleveland.
The next QB's the Browns will face are as follows: Josh Allen, Tom Brady, Davis Mills, Joe Burrow, Lamar Jackson, Andy Dalton, Whoever will start for the Commanders… it doesn't matter, and Kenny Pickett. There's no telling what kind of numbers any of those guys will put up the further this season goes. It shouldn't matter, Woods' fate should have long since been sealed.
I don't want to be a "problem guy" and just point out what's wrong, that's not productive. I want to bring you solutions in a simple step by step format. 1) Kevin Stefanski, Joe Woods, and their staffs are relieved of their duties. 2) Andrew Berry stays in place for now, as does the rest of the front office. 3) A veteran and battle-tested coaching staff is hired to guide Cleveland's young talent through their prime years. 4) Free the roster of overpriced and/or underachieving players and attempt to regain some of the draft capital lost in the Deshaun Watson trade.
Speaking of Watson, if you think Watson is going to show up week 13 and save the season, then I have some oceanfront property in Nebraska to sell you. First off, there is no season to save. The Browns will likely be 3-8 heading into Houston.
Secondly, Watson hasn't played in 2 years. Two…years… Neither the Browns, nor I, nor you have any idea what kind of quarterback we're all going to see. The team hopes Watson will regain his previous form, but let's be realistic. I know that's tough for some, but that's why I'm here. Realistically, a player in any professional sport who has missed 2 years of live game action is unlikely going to be the player they were right away. Just so we're clear: this whole deal has just as much of a chance to be successful as it does of being an utter disaster on the field and from a pure football perspective. I'm not going to get into other perspectives right now. Two years is an eternity in pro sports, especially at the quarterback position.
There are 2 people who will lead the way for hiring the next head coach whenever that may happen: Andrew Berry and Deshaun Watson. Whether you're happy about Watson being in that decision-making position or disgusted by it, he's the franchise right now and he will have a say-so. Don't let anyone else convince you otherwise. To a lesser extent Myles Garrett will be consulted in my opinion. Someone on the defensive side of the ball needs to stand up and tell the organization who and what they need and don't need to be successful in the locker room and schematically.
I don't know whether Stefanski and Woods will be fired at the end of this year or next, but it's hard to imagine them sticking around considering the product they're putting on the field. After his 11-5 head coaching debut in 2020, Stefanski has amassed an 11-15 record. These numbers are likely to worsen as the orange and brown train slowly derails. Let's say the Browns go 4-4 in their last 8 games. That would make Stefanski 15-19 over the last 2 years that the Browns were supposed to contend for division titles and deep playoff runs. Instead… 15-19. That's unacceptable with the talent the Browns have had.

NEO Sports Insiders Newsletter
Sign up to receive our NEOSI newsletter, and keep up to date with all the latest Cleveland sports news.