Miami, FL-
The Browns fell to the Dolphins by a score of 39-17. Throughout the game, there were some issues with tackling that have been present from the start. These issues resulted in multiple chunk plays from Miami.
Defensive struggle
One issue that the Browns have had all season is stopping the run, which was a big issue again in today's game. Jeff Wilson of the Dolphins had an outstanding day with 17 rushes for 119 yards and a touchdown. This comes a few weeks after he was traded from San Francisco.
The defensive front was having issues getting to Tua as well as closing holes in the running lane. Thus causing problems in the backfield. This resulted in giving Tua too much time to throw the ball. Some coverages could not have been played better and the passes were perfectly thrown. That seemed to be a theme in today's game. By the end of the game, the Browns coaching staff was desperate to get a stop. And they tried rotating players on the D-Line, but nothing was working. It felt like they could not get a first-down stop for most of the game as Wilson was averaging 7.0 yards per carry. If Cleveland was able to stop them on first, it felt like every second-down play resulted in the chains moving.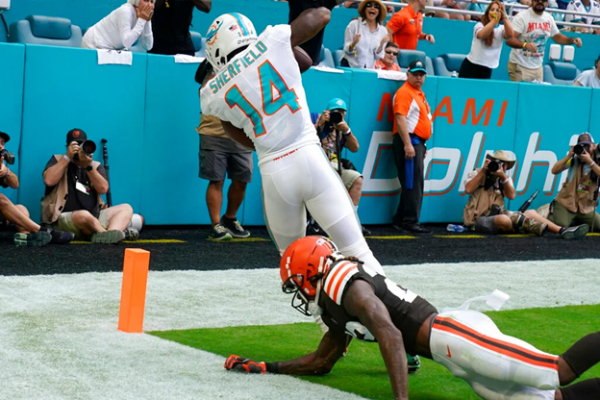 Offensive struggle
As we look at the offensive side of the ball, the Browns got into amazing field position from a great Jerome Ford kick return. Then Cleveland got off to a hot start with Brissett completing his first six throws. The drive ended in a touchdown pass to Harrison Bryant.
After the opening drive, they had fallen apart. Cleveland was not able to hit open targets because of the pressure from Miami's Defense. Running lanes were few and far between and sometimes receivers just could not get open. Some protection issues arose allowing the Dolphins to get easy pressures and sacks. It felt like both our O-line and D-line could not compete today. There were a few spark plays that came later in the game but the defense could not do anything to help and build momentum.
What's next
After a disappointing week 10 loss to the Miami Dolphins, Brown fans are wondering what this means moving forward. The season is not lost just yet as we move on to another tough AFC opponent, the Buffalo Bills. The Bills are coming off of a two-game losing streak as Cleveland looks to capitalize on the opportunity. With just two games remaining until the return of Watson they hope to come away with at least one win to keep the playoff hopes alive.

NEO Sports Insiders Newsletter
Sign up to receive our NEOSI newsletter, and keep up to date with all the latest Cleveland sports news.