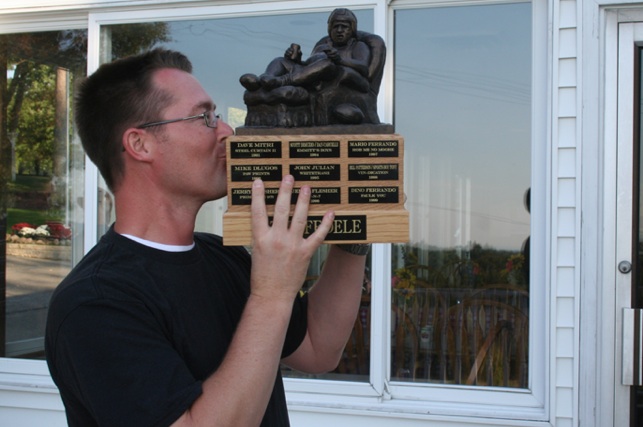 We are now at the 1/3 of the way mark on the season and people are starting to look to make trades. Right now you are probably in one of these modes
A. You are dominating and playing in a league with a bunch of people who know nothing about football
B. You've gotten some favorable matchups and are sitting good
C. You've got a good team but your team has disappointed you some weeks
D. You're just a middle of the road kind of team
E. Injuries have killed your team and playoff dreams
F. You just don't care anymore. Is it basketball or hockey season yet?
So why is now a good time to start looking to make some trades? First, we are far enough into the season that we have somewhat of an idea what most of these guys that switched teams, systems, rookies, etc. will do. Second, you usually drafted guys for a reason but if it's not working out you can move on. Third, injuries may have really changed the way your team looks. Finally, you need to start winning and win now.
So what are you looking for when you're trying to swing a trade? From the buyer's side you are looking for two things. The first is to buy guys that may have been under the radar and have been hot and you think will stay that way. The second is guys that have struggled maybe due to injuries around them or just had some rust and you feel you can get them for lower now than the beginning of the year.
From the seller's side of things, you are also looking at two things. The main one is selling guys that are hot right now and cashing in on a guy who will be more consistent down the line and upgrading his value while you can. The other is trading away a guy you want nothing to do with, and is much harder to do because likely nobody else wants him either.
The next topic is what to consider when making a trade. The main one is probably schedule. A team that plays in a favorable division like the AFC South, should get an extra bump up compared to someone playing in say the AFC East. I've been a big fan of playing matchups more than the better player if they are pretty close in value. Next, is team depth and needs. If you got a team with five running backs on the roster, and are weak at another position, why not swing a back for a receiver.

NEO Sports Insiders Newsletter
Sign up to receive our NEOSI newsletter, and keep up to date with all the latest Cleveland sports news.