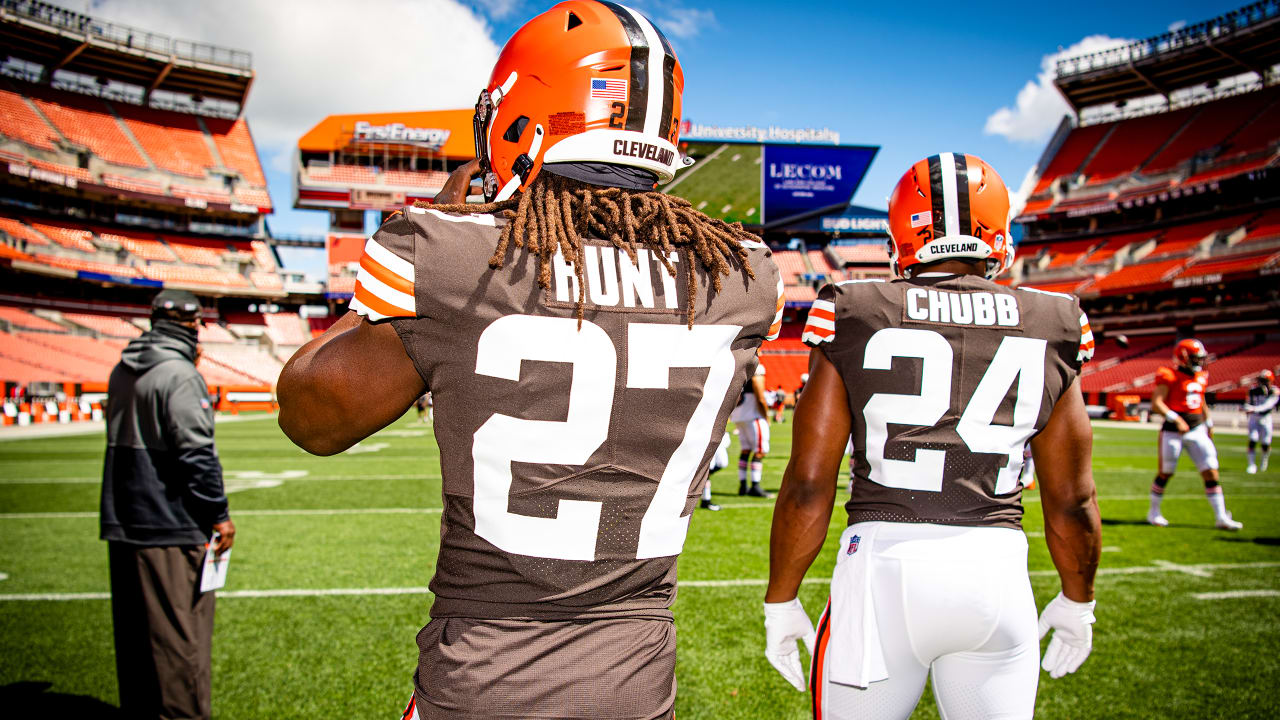 Top Fantasy RBs
Fantasy Football season is almost here as the NFL gets ready to kick off another season. A multi-billion dollar industry, fantasy football has fans acting as general managers putting together their best teams to compete in a "friendly" fantasy league. Friendly? HA!
We at NEOSportsInsiders.com wish to help you in your league with some insight and hopefully some luck! Over the next few days we will give you a daily position breakdown as you gather next week for your draft! Good luck, all ye general managers! 
Our first stop will be the running back position. We will list, in our humble opinions, the top five RB's for the year and some sleepers that might interest you for your RB1 or RB2 or flex positions. We give you a rookie that could be an interesting pick, and then one to avoid at all costs!
Our information comes from many varied draft sites, sports books and the old fashioned magazines. Oh, and our experiences in our fantasy leagues! Here we go!
Top Five Fantasy Football Running Backs
My top five: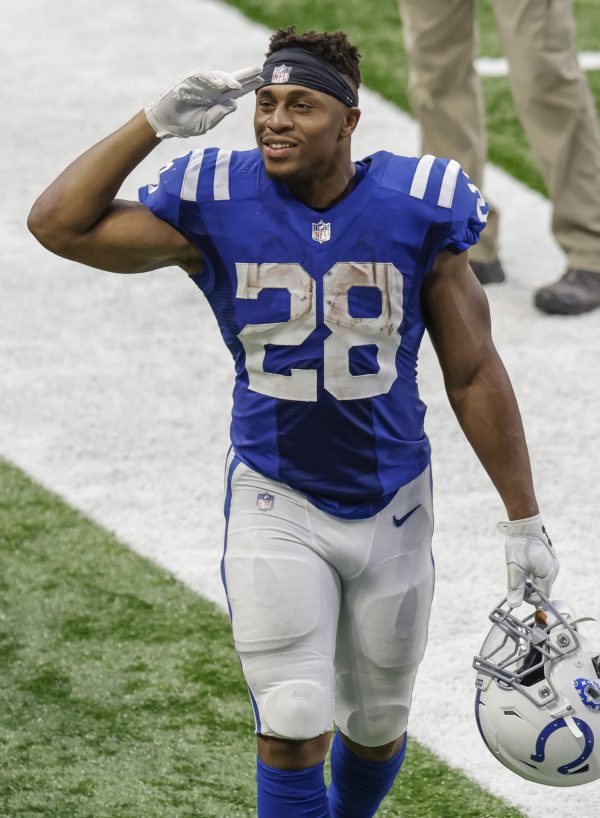 (Photo courtesy of horseshoeheroes.com)
Jonathan Taylor, IND, Bye week 14 – "Hey, throw me the ball!"
The Wisconsin back has found a home in Indiana! At 23 years of age he is entering his third year in the league. Winning the rushing title was a great feat last year, but just imagine what his numbers would be like if he were used more in the passing game! Many of the other backs had more receiving yards than the former Badger! Bet on him being the top pick! And with the bye week being 14, you have him every week!
NEO contributors: Devin, Bill, Kory.
Najee Harris, PIT, 9 – "Hey, Mitch, I can help you!"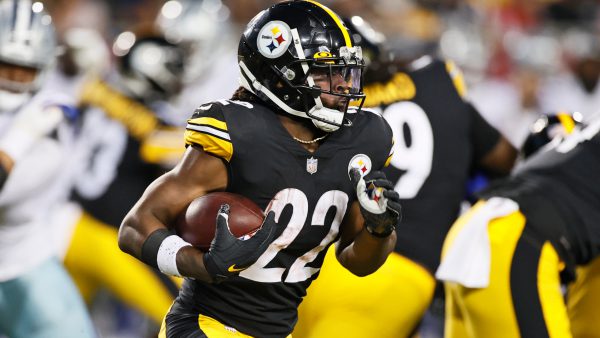 (Photo by Ron Schwane, AP Photo)
The second-year player from Alabama was Ben's most trusted player last year, dumping off for 74 pass receptions last year to lead all running backs. He should be given more opportunities for TD's on the passing end. But ask any Pittsburgh fan and they'd tell you: "How did we improve our OL this offseason?"
NEO Contributors: Natalie: "Won me a championship last year!"
Derrick Henry, TEN, 6 – "Hey, I'm not retiring any time soon!"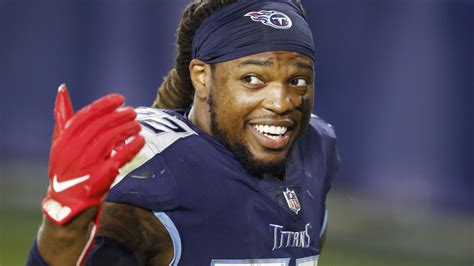 (Photo by Wade Payne, AP)
Could we be witnessing the beginning of the downward slide of one of the most dynamic, powerful backs ever in the league? He only played in 8 games last year but still managed more TD's rushing than Harris, Alvin Kamara of the Saints, and Dalvin Cook of the Vikings, just to name a few! Bet on the main horse, even at 28 years old, to return to another year of dominance!
Christian McCaffrey, CAR, 13 –  "Hey, I'm back like it's 2019!"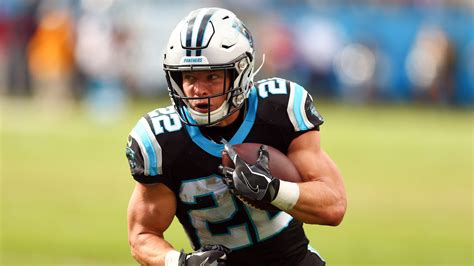 (Photo courtesy of Jeremy Brevard, USAToday sports)
McCaffrey's last two years have been a mess. Expect him to be hurt again. But there is no denying the 2019 year he amassed was magical! 2,392 total yards and 19 TD's. My nephew crushed me when we played in 2019 with McCaffrey in beast mode! Don't be surprised if he lights it up this year with a new QB under center! I just can't remember who that new QB is.
Austin Ekeler, LAC, 8. "Hey, coach, I did run the ball at Western Colorado!"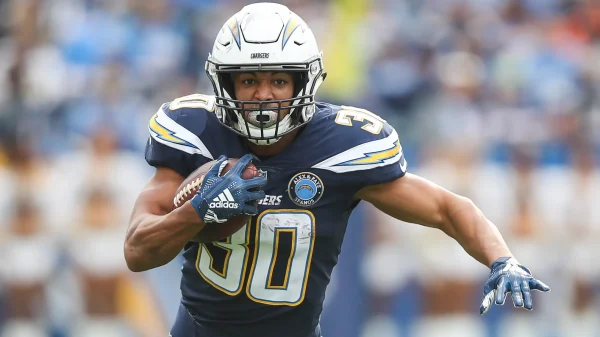 (Photo via article by Oliver Hamilton, upasted.com)
Austin is not your typical RB1. 5' 10" and 200 pounds doesn't seem like a back that will run often. He only ran for over 100 yards once last year. But his QB, Justin Herbert, loves to look for him in important situations. He was the top RB in receiving yards at 647, almost 100 more than Cordarrelle Patterson with Atlanta, who was second on the list. The undrafted free agent from Western Colorado could be the greatest RB NOT drafted in April! At least for fantasy owners.
NEO Contributors: Brandon.
Fantasy Football RB Sleepers
Three sleepers that could be great choices for your RB1, RB2 or flex include three gentlemen ready to make their mark in the NFL.
Will Elijah Mitchel pass 1000 yards rushing this year?#49ers #ElijahMitchell

For full episode with film and projections👇https://t.co/4dlbVA9v9A pic.twitter.com/oel7GmYA8j

— John Chapman (@JL_Chapman) July 22, 2022
First, we have Elijah Mitchell, 49ers, 9. He will get the lion's share of the carries again this year. Will Trey Lance look to his RB1 for more than 7% of the targets than he received last year? Yes, the Niners have George Kittle (TE), Deebo Samuel (WR with a new three year contract), and Brandon Aiyuk (WR) and their combined 60% target shares, but you have to wonder if Lance has trouble in his first starts will he look for Mitchell early and often? I think so!
No one more deserving than @ceeflashpee84#NFLTop100 x #NFLVols pic.twitter.com/Qc0qpPsarJ

— Tennessee Football (@Vol_Football) August 20, 2022
Next is Cordarrelle Patterson, ATL, 14. At 31 years of age, how could he repeat his last season success? Because Atlanta has Marcus Mariotta as the starter and a rookie, UC's Desmond Ridder, as his back up, Patterson is geared for another solid season. And who cares if Atlanta limits his touches later in the year, most fantasy seasons are no more than 14 weeks!!!  
We got to see it all from Chase Edmonds last night. The vision, the burst, the ability to catch the ball out of the backfield, the ability to make defenders miss, etc…
He is HIM pic.twitter.com/AzffCiensm

— King of Phinland🐬👑 (@KingOfPhinland) August 21, 2022
Finally, there's Chase Edmonds, MIA, 11. Leaving the Arizona desert, he won't have a running QB and James Conner to worry about! He broke down after week 12, but new Miami coach Mike McDaniel should have fun dialing up plays for the 26 year old from Fordham. He has increased his yards rushed per season EACH year! I'm expecting Chase to have 10 TDs this year for the Fins in their quest for the playoffs! Imagine him and Tyreek Hill! Wow!
Danger, Will Robinson! Danger!!
Do NOT take Saquon Barkley from the New York Giants. Never. Nope. Not gonna do it! His injuries the past two years scream, "For the love of God, NO!" I love my cousin who graduated from Penn State, but Pam, no WAY am I taking the "thigh man!"
Rookie, you're gonna be a star some day!
Breece Hall is currently the favorite to win Offensive Rookie of the Year on DraftKings 👀 pic.twitter.com/l2Glbr0c6f

— NFL Rookie Watch (@NFLRookieWatxh) August 24, 2022
Breece Hall, NYJ, 10. That OL filled with #1's…the rookie from Iowa State will be a star. And I believe it starts this year! I'd take a flier on him in maybe round 5 when people are worrying about their kickers!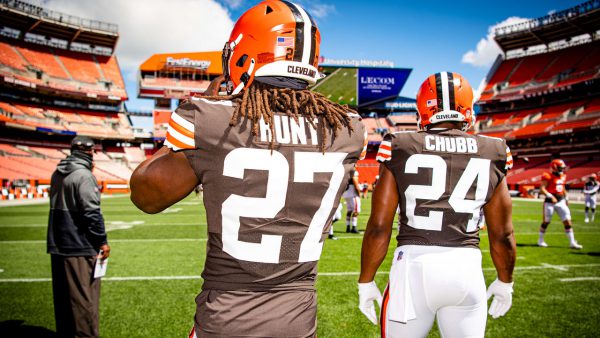 (Photo by Matt Starkey, clevelandbrowns.com)
So there you have it. We hope for good health for your backfield. Want to be different? You could possibly pick a team duo like Nick Chubb and Kareem Hunt. Many fantasy managers are doing that in a strong trend. And these two Browns could give you solid, consistent points each week. Just watch out for their bye week! (Psst: it's week 9).
Feel free to share with us your picks in the comment section! 
Next article…Quarter Backs!

NEO Sports Insiders Newsletter
Sign up to receive our NEOSI newsletter, and keep up to date with all the latest Cleveland sports news.