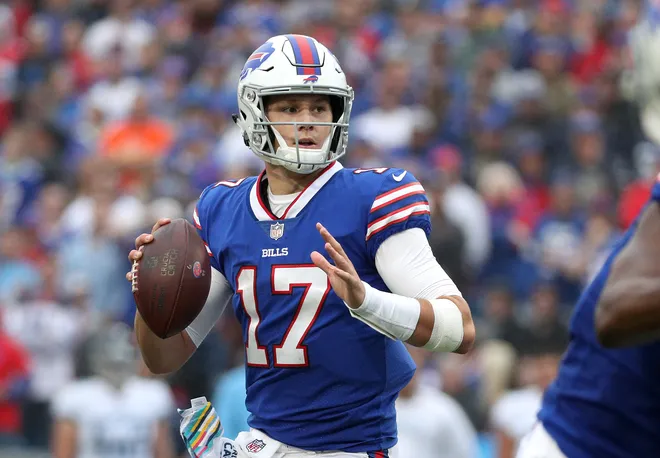 Choosing an NFL quarterback (QB) in your fantasy football draft is a difficult dilemma. They can score you big points, but cost you. If your draft is more a standard league based on dollars and let's say your salary "cap" is $200, then choosing a QB like Josh Allen of Buffalo might cost you $32 (Sport Fantasy Football) but Aaron Rogers of Green Bay would be $15. That's a big difference.
If your draft is more toward valuing running backs and receivers (PPR or points-per-reception League), then a Jonathan Taylor, who we picked in an earlier article, would be $61 (ESPN Fantasy) and a QB Russell Wilson, now with the Broncos, would be a steal at $4.
Help for choosing your fantasy football QBs
There will be one "GM" that will jump at the chance to pick a QB in the first round. DON'T! Be patient. A solid QB will be available in rounds 5 or 6. There's plenty of value at that position!
If you are still worried, we at NEOSportsInsiders.com have you covered. As you grab your cheat or tip sheets, order your pizza, and crack open some frosties, make sure you have our website open, too. For we are jumping into the ratings for QBs.
The consensus top 5!
Most publications and sites have the following fantasy football QB's in this order:
Josh Allen, Bills

Justin Herbert, Chargers

Patrick Mahomes, Chiefs

Lamar Jackson, Ravens

Joe Burrow, Bengals
What makes them the top?
Each QB has a skill set they bring to their team. Fantasy football rewards QBs that can throw well, have a low interception rate, and can be an asset in the running game! Let's delve a bit into each one.
Josh Allen, Bills, Week 7 bye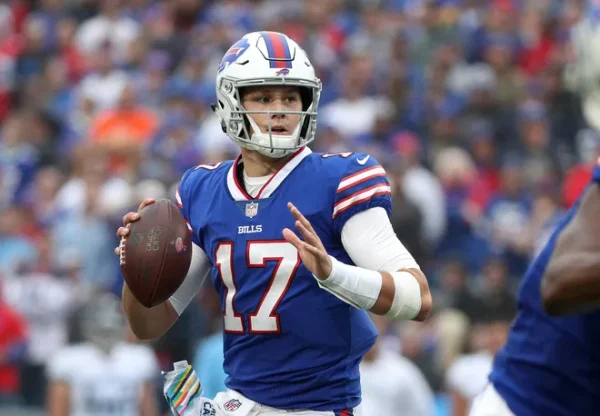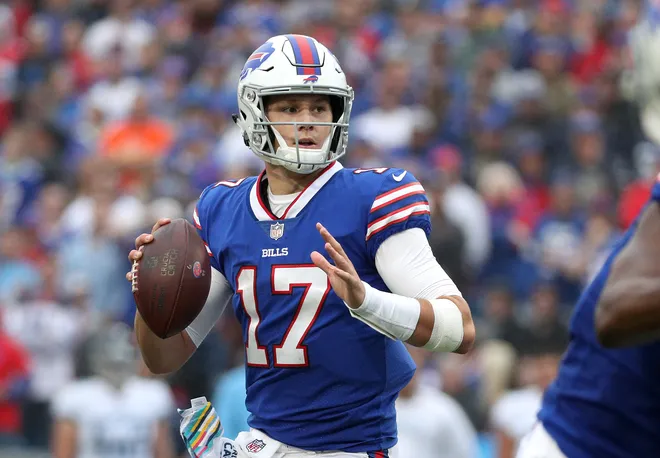 (Jamie Germano, Rochester Democrat)
Let's face it. He was the number one QB last year on an explosive team. His 763 rushing yards was only four away from Lamar! His six rushing TD's were second to Jalen Hurts. Expect him to be the first QB chosen by a Bill's Mafia fan in round one. 
Justin Herbert, Chargers, 8
Most 300-yard-passing games since start of 2020:

Justin Herbert* 17
Tom Brady 16
Josh Allen 14
Patrick Mahomes 14

*Drafted in 2020. pic.twitter.com/7RERPjEaLC

— Pinhead Sports (@_PinheadSports) August 17, 2022
NEO contributors: Natalie.
One can make a strong case that Herbert, the third year QB from Oregon, is THE BEST QB. Period! He's 24 years old, averages 38 TDs a year total, and had over 5000 yards passing last year. 
Patrick Mahomes, Chiefs, 8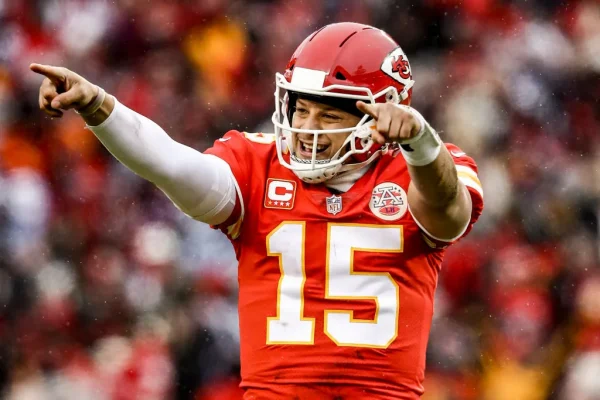 (Photo by Jamie Squire/Getty Images)
He excels in this offense with run-pass options and numerous wideouts that can fly. But who knows if a replacement can be found for the speedy Tyreek Hill, who left for South Beach. Mahomes did have his most prolific running season last year. Travis Kelce is a year older, too. Should be interesting in Kansas City this fall.
Lamar Jackson, Ravens, 10
Year five for the Louisville Cardinal should be a fascinating one. He is working on a contract extension, but will that cause his focus to be elsewhere? Injuries limited his play last year but he is a 1,000 yard rusher. And that running component is powerful for fantasy owners. He needs JK Dobbins back, but as every Browns fan knows…never count out the Ravens.
Joe Burrow, Bengals, 10
The Legend of Joe Burrow's Deep Passes. I asked for the stories behind Burrow's deep touchdowns last year and they were completely ridiculous. One of the coolest things I've ever had the privilege of reporting. Read: https://t.co/LWY80zSexX

— Kevin Clark (@bykevinclark) August 18, 2022
Joe will not run like the others, even with three rushing TDs last year. But with the weapons available to him, what defense can stop the Bengals? Joe's play last year was the main reason the Bengals were so close to a Super Bowl victory. If he plays every game, his value will continue to rise!
Sleeper QBs
Russell Wilson, Broncos, 9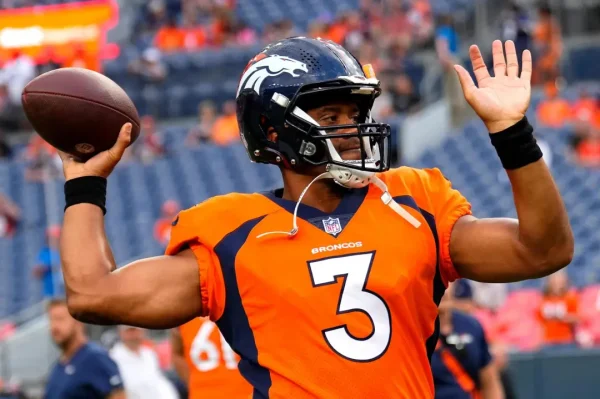 (AP Photo/Jack Dempsey)
I think this is the perfect place for Wilson. The former Wisconsin Badger has arguably his best team around him and an outstanding line protecting him. And it doesn't matter what league you participate in, he has great value for the points he'll generate.
NEO Contributors: Bill.
Jalen Hurts, Eagles, 10
Jalen will probably get to that Lamar status in rushing yards, and that makes him valuable. A playoff loss and acquiring AJ Brown on draft night could push this offense to a much higher level.
NEO Contributors: Brandon.
Trevor Lawrence, Jaguars, 11
Doug Pederson was a great hire for Lawrence. The former QB can help Trevor develop with a solid cast. Travis Etienne is back, and the Jags shelled out a whopping $72 million dollar, four year contract for Christian Kirk at the receiver position. This team is probably a year away.
If you're a fan of the Jaguars and you're not on the Trevor Lawrence train, jump on before you look even more silly. Super talented, smart, competitive, high football character young QB w/ a good coach. He's the best thing to happen to the franchise in a long, long time. pic.twitter.com/7784x1kgIH

— Jordan de Lugo (@jordandelugo) August 22, 2022
Danger, Will Robinson!
Mac Jones is NOT someone to pick. The Patriots have a defensive coordinator by trade as their offensive coordinator! Run away! Fast! Your fantasy football team might suffer greatly!
Remember Mac Jones is an NFL Top 100 player. Here he is showing off his elite pocket presence and elusiveness!🤣🤣🤣 pic.twitter.com/DGkLNi5H42

— I Ain't Him (@Phincane) August 27, 2022
Age before youth?
Tom Brady, Buccaneers
In Tampa, the eldest statesmen of QBs has only averaged 44 TDs. That's remarkable. But with uncertainty on the offensive line and his time off during the preseason, this could be a risky pick.
Aaron Rogers, Packers
Aaron won the MVP last year but he had Devonte Adams, who left for Las Vegas. I think it's fair to say his production might take a hit without his partner in points!
Rookie, you're gonna be a star some day!
Kenny Pickett, Steelers, 9.
Highest passer rating among all rookies in a single preseason since 2015:

1. @KennyPickett10 (138.6)@steelers fans you got a good one 👏 pic.twitter.com/o5GymUBqWo

— NFL GameDay (@NFLGameDay) August 25, 2022
His camp so far has been solid. The hometown kid will battle Mitch Trubisky for the right to start for the Black and Gold. Don't be surprised if Coach Tomlin calls on the young man to be the next Steeler Nation QB. 
So, what's your plan?
Tough choices, everyone. Go with your heart or go with your head? Remember, fantasy football QBs can be flashy and the face of your fantasy team. But if you pick all the best WR's and TE's and RB's and find you need a QB in your last pick, Trey Lance with the 49ers might be available. Heck, some Browns fan might grab Jacoby Brissett! And if either leads you to a championship, you will go down as Fantasy GM of the Year! Good luck everyone!
Share your comments below!

NEO Sports Insiders Newsletter
Sign up to receive our NEOSI newsletter, and keep up to date with all the latest Cleveland sports news.