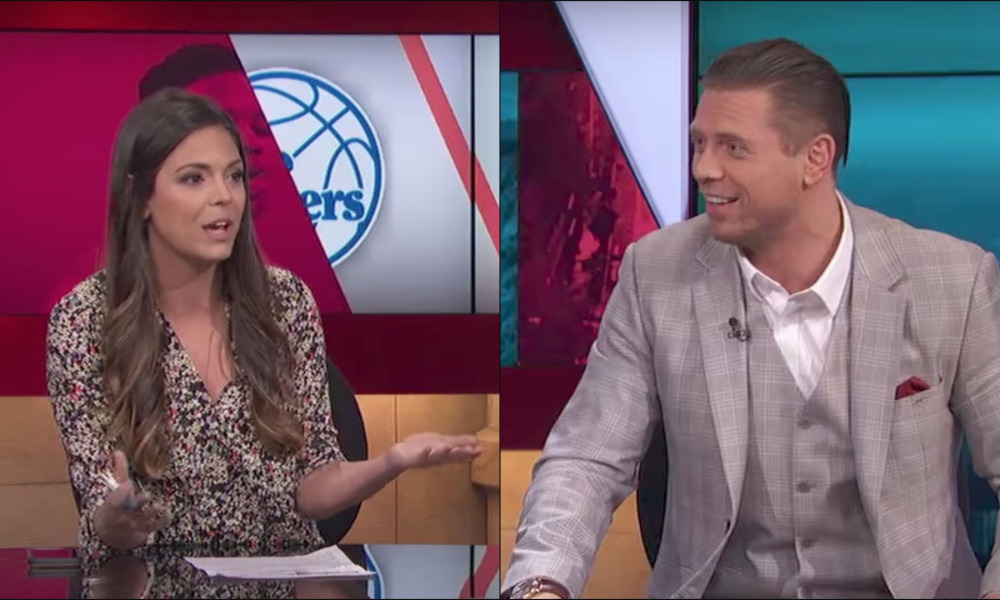 Katie Nolan who has been working in sports for quite some time now is officially with ESPN. Nolan was previously with Fox Sports 1 and had her own show "Garbage Time with Katie Nolan".
Nolan has made appearances on SportsCenter, Highly Questionable, and added SportsNation to the list after today. Things got a bit heated today between Nolan and WWE Superstar The Miz.
Nolan is from Boston and got into it with The Miz, who is from Cleveland. According to TheSpun.com, Nolan questioned the popularity of The Miz in the city of Cleveland and the two also debated on which city has better "sports greatness".
A rivalry between the two cities came about within the past few months since Kyrie Irving asked to get traded out of Cleveland and once being traded to Boston said the following:
"It's a really major city. Coming from Cleveland, the Midwest, where the culture is different. And then you move to the East Coast — into Boston — and it's so real and alive. An ongoing, thriving city. Consistently. No matter what hour throughout the night. You would go to Cleveland, and it would be at nighttime, and things would be going on, but you just see a vast difference in terms of what the Midwest is — Cleveland — and what Boston is. Boston, I'm driving in and thinking, 'I'm really playing in a real, live sports city?' And a great city."
The Video below is of Katie Nolan and The Miz on SportsNation, things start to get heated at the 1:42 mark:
Nolan tweeted out the following after the segment (while also taking a jab at the Suns' Eric Bledsoe who tweeted something similar Sunday.)
I Dont wanna be here

— Katie Nolan (@katienolan) October 25, 2017
Close to the end of the show (before Nolan made her departure for Jalen and Jacoby), there was yet another exchange:
The following is the transcript of the segment from USAToday.
Michelle Beadle: Will you shut up? He's also one of the faces of the league.
The Miz: Exactly. He's the baby face. He's the good guy. He's the person that we all go, 'Oh, I want his jersey. He's so good and great and everything.'
Katie Nolan: What is that voice?
Beadle: Nobody does that. That's weird.
Nolan: What is that voice?
The Miz: That is every fan that likes Steph Curry because I don't like him. Because I'm a Cleveland Cavaliers fan!
Beadle: 'He's so good and great.' Who does that?
Nolan: Nobody. Literally, nobody.
Beadle: Katie. (Signals to her nose) Are you going to be back tomorrow?
Nolan: I'm gonna think. Is he coming?
Beadle: No, he's not.
Nolan: OK, cool. Then I will gladly be there.
The Miz: Would you like me to be here tomorrow?
Nolan: No. I could think of nothing I would want less than for you to be here tomorrow.
Beadle: If you could clear your schedule.
The Miz: Katie, what happened to you?
Nolan: I don't know …
The Miz: At the beginning, you were so nice.
Nolan: And then I opened my mouth, and I should have just smiled.
The Miz: I feel sorry for myself.
Beadle: You guys just go to commercial. We'll let this play out.
*Quotes courtesy of BostonGlobe*
*Videos from YouTube and USAToday*

NEO Sports Insiders Newsletter
Sign up to receive our NEOSI newsletter, and keep up to date with all the latest Cleveland sports news.