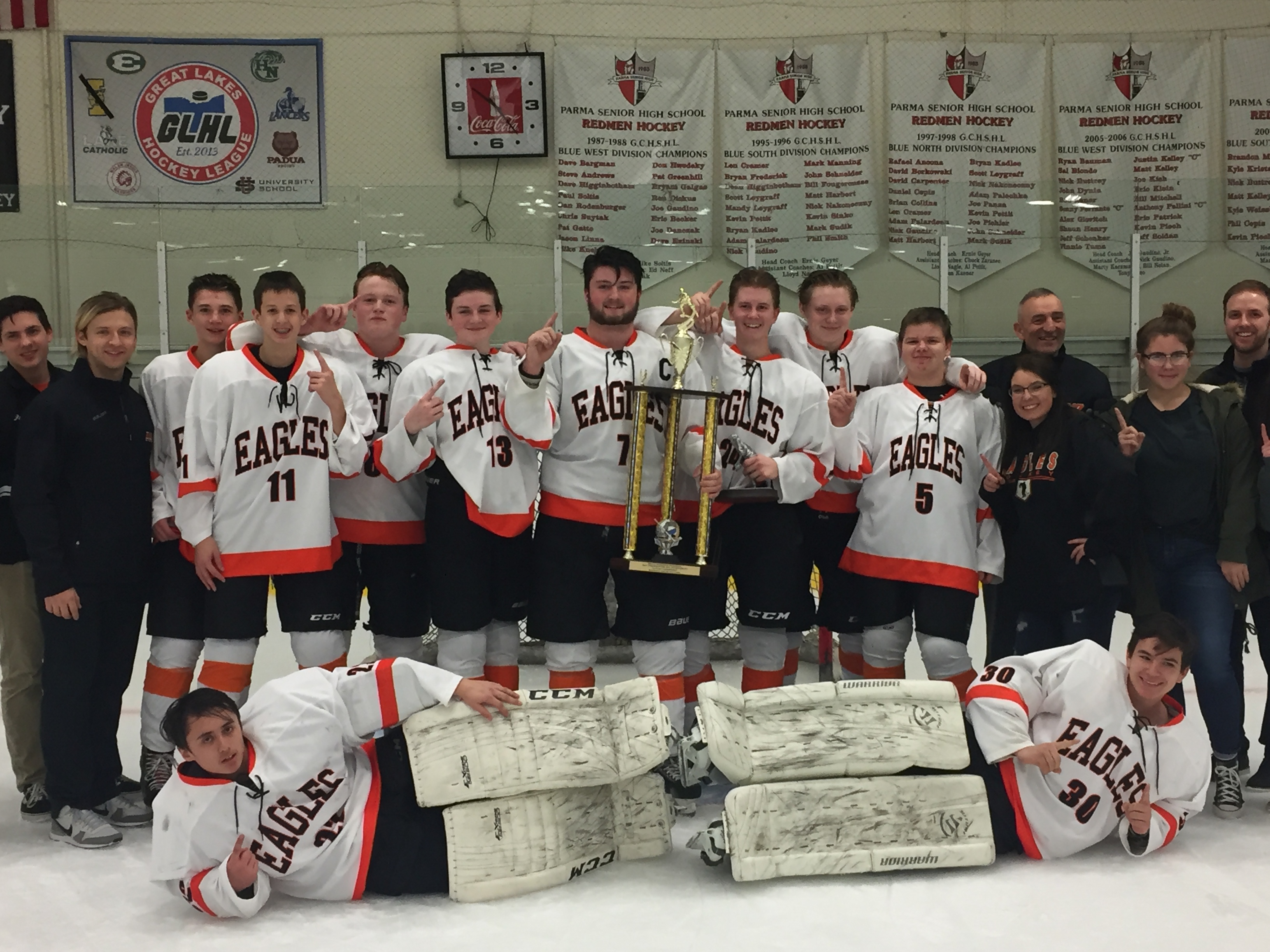 PARMA, Ohio- The Championship game of the Bruce Anderson Memorial Tournament featured two explosive offenses and talented goaltenders. North Olmsted and Chagrin Falls both found their way to the final game of the holiday tournament hosted by Normandy High School through lots of goals and clean hockey, combining for twenty goals throughout four total games. The key to the matchup would be who could limit the damage in net just enough to give the victory.
Shawn Donovan got the Eagles on the board first by potting a rebound attempt for the 4:06 mark. Just a few minutes later, Riley Vertosnik made it 2-0 North Olmsted on a short-handed goal. With only eight skaters on the squad, it would be crucial for North Olmsted to get out to an early lead against a game Chagrin Falls roster. The teams would head into the break with North Olmsted leading 2-0 in what was a dominant opening frame for the Eagles.
North Olmsted continued their success in the middle stanza with a Vertosnik marker at the 1:31 mark to quickly make it 3-0. It was Vertosnik's second goal of the game and started to frustrate the young Chagrin Falls team. Though Ted Aerni cut into the lead for the Tigers, Vertosnik was just on fire and there was nobody on the ice that was going to stop him. The junior forward locked up a hat trick with a frame still to play, making the score 4-1 in favor of North Olmsted off of the 11:16 marker. The Eagles went into the break with a nice lead but knew that Chagrin Falls had enough firepower to mount a comeback.
A mostly silent period in terms of shots on goal ended with a bang when Jake Mlady and Riley Vertosnik each potted home the puck within the final three minutes of the contest. It was Vertosnik's fourth of the game, capping off a huge tournament weekend for him and his Eagles squad. North Olmsted claimed the Bruce Anderson Memorial Tournament Championship with their 6-1 victory over Chagrin Falls.
North Olmsted Head Coach Ben Polacko talked about
"I think when you're playing in the offensive zone, they seemed to have better legs than you would think," said North Olmsted Head Coach Ben Polacko on playing so well on offense with a limited amount of guys. "The guys get excited when we're playing in the offensive zone. We scored first which is big because momentum is a big thing and then just had to buckle down after that."
North Olmsted takes on Strongsville at home this Sunday at 3:15 pm. Chagrin Falls will look to build upon a positive tournament run on Friday against Kenston at The Pond starting at 7:30 pm.
Click the Pages Below to See More Pictures From the Game between Chagrin Falls and North Olmsted!