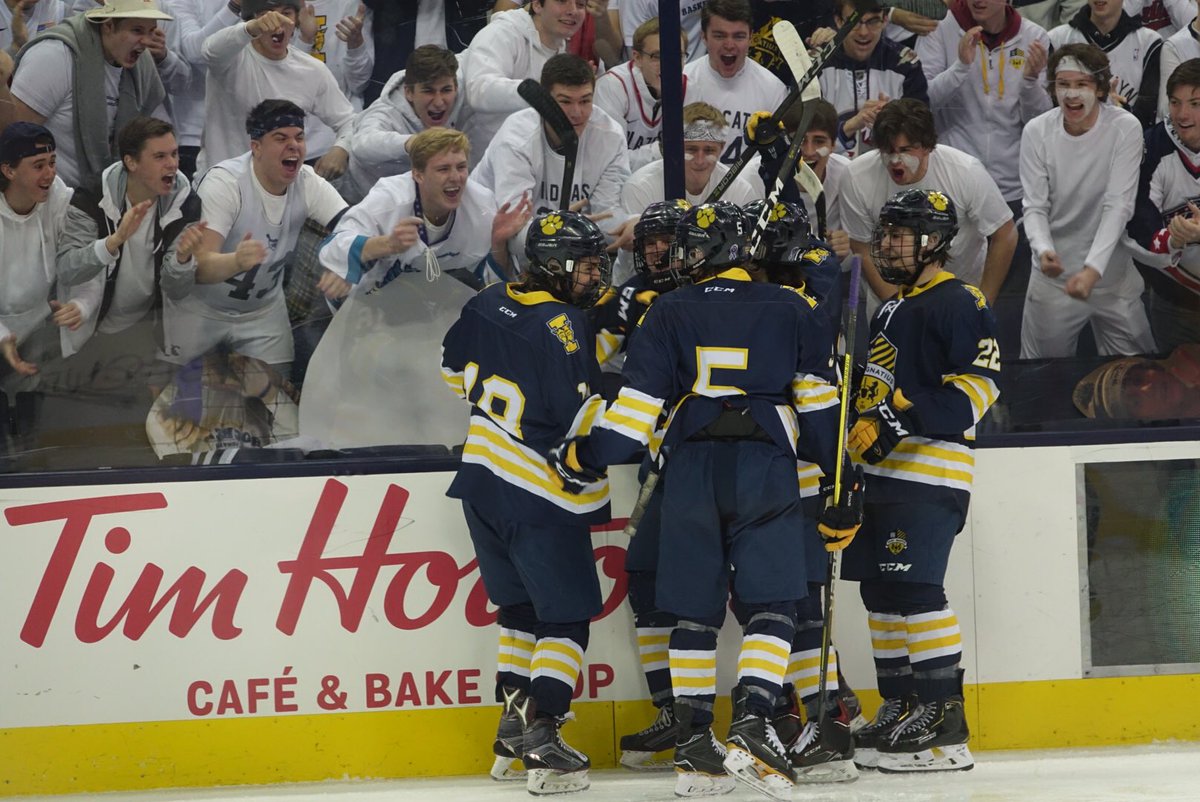 It's becoming routine for the St. Ignatius Wildcats to hoist a state title in hockey, but it never gets old, and Saturday the Wildcats raised the trophy for the fourth straight year, taking home the title of State Champions in hockey with a dominating 7-2 win over Dublin Jerome in Columbus at Nationwide Arena.
The Wildcats, who wrap up the year 27-10, got off to a quick start, much like they did in Friday's matchup to get to the title affair, leading it 2-0 after one, and never looking back.
Matt Sullivan scored just 66 seconds into the game to set the tone, and Joey Trobenter scored the first of his three goals at the 8:06 mark of the first to extend the Wildcats lead on a power play goal.
The same two Wildcats combined to score two more goals to make it 4-0 early in the second, with this time Trobenter scoring 20 seconds into the period, and then at the 2:49 mark Sullivan lit the lamp, pushing the Iggy lead to 4-0.
Dublin Jerome, who Friday with an overtime win over University School became the first team in Central Ohio ever to reach the state title game, got on the board in the second period on a power play goal from Matt Kish to make it a 4-1 game.
Just 14 seconds later the Celtics made it 4-2, as Nick Augenstein, who scored Friday's overtime game winner, scored to give Dublin Jerome their best chance to get back into the game
It was not meant to be, as the Wildcats defense stepped up, and they scored three times in the third period to put the game away to take home the title.
Trobenter scored 22 seconds into the third to make it 5-2, and then George Langermeie scored at the 7:27 mark and a short handed goal by Cam Kurtz at the 11:27 mark put the finishing touches on the victory.
The Wildcats domination was also in the shots on goal, as they outshot the Celtics in the victory 33-12.
Benny Savarino made 10 saves for St.Ignatius to seal the win, with Mark Bishopp stopping 26 of 33 shots for the Celtics.
The Wildcats win puts them in rare air, as they are the first team to win four straight titles, breaking a tie with St. Edward (1994-96) and Bowling Green (1997-99).
HKY: GREAT START!

Matt Sullivan scores just 1:06 into the game! Boehm with the assist#GoCats pic.twitter.com/P5Ze8IJxHm

— SIHS Sports (@SIHSSports) March 9, 2019
HKY: POWERPLAY GOAL!

Trobenter scores! Bilardo and Galauner tally helpers.

2-0 Cats!#GoCats pic.twitter.com/z28rRcXlV5

— SIHS Sports (@SIHSSports) March 9, 2019
HKY: ANOTHER ONE!

Erbs with his second in two days! 4-0 Cats early in the 2nd!

📲 https://t.co/4Vj9Vgmmj0 pic.twitter.com/d2cJRgHzUY

— SIHS Sports (@SIHSSports) March 9, 2019
HKY: ANOTHER ONE!

Erbs with his second in two days! 4-0 Cats early in the 2nd!

📲 https://t.co/4Vj9Vgmmj0 pic.twitter.com/d2cJRgHzUY

— SIHS Sports (@SIHSSports) March 9, 2019