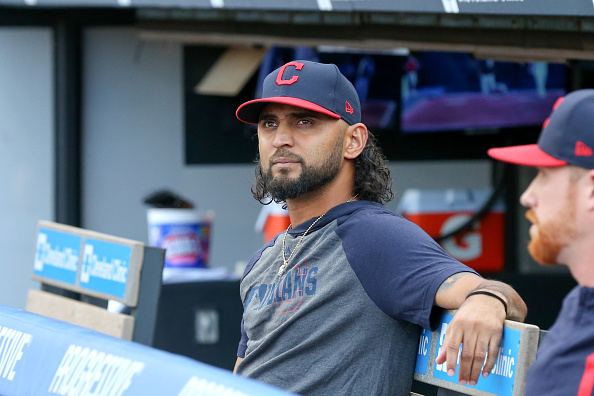 The Cleveland Indians' reliance on pitcher Danny Salazar has been apparent all season long. It's also been more than a little questionable.
After all, the idea of regularly relying on a pitcher who's struggled to stay healthy his entire career doesn't exactly sound like bulletproof planning.
Still, that's what Cleveland continued to do when deciding to pick up his $4.5 million option this offseason. Yet, in just one start, Salazar hammered home the fact that money may not have been well spent.
The Indians spending two years holding out hope for Salazar to return to form was admirable. That said, we learned last night he still can't be relied upon.
In fairness, things seemed like they'd be different this time.
Salazar, who'd been out since 2017 recovering from shoulder surgery, had made several successful rehab appearances. He left each with impressive stat lines and no sign of injury, about as much as you can ask from him. There was reason to think that maybe, just maybe, Salazar could get back to contributing for Cleveland.
One severely questionable start later, and it's fair to say we can shelve those hopes for a while.
Salazar spent Thursday night's start against the Houston Astros struggling to display the velocity he's known for. His fastball topped out at 88.3 MPH, well below what we're used to seeing. Though he wasn't hitting triple digits on the radar gun during his rehab starts, he was still able to consistently able to throw in the low 90's.
His lack of velocity against Houston was concerning enough on its own. His explanation for it, though, just made things worse.
Per Salazar, he suffered a groin injury on the mound during Thursday's start, which he kept throwing through until bringing it to the attention of his coaches in the fourth inning. This was followed with today's update that he's once again heading back to the IL.
It's news that's equal parts disheartening and unsurprising.
Throughout his time in Cleveland, shaky starts from Salazar have often been followed by injury updates like this. It's part of what makes it difficult to count on him, as it always seems as though he's one rough outing away from being sidelined once again.
So, when a night of alarmingly ineffective pitches is followed by him saying he was dealing with groin pain – which he admitted he hadn't felt in two months – it's tough not to see this as another example of the Danny Salazar experience we've come to know.
With that in mind, it sure seems fair to question why the Indians keep holding out hope for him to bounce back.
A notoriously penny-pinching front office set aside nearly $5 million for Salazar this winter despite his not having thrown a big-league pitch since 2017. GM Mike Chernoff recently labeled him as a reinforcement the team could rely upon down the stretch.
Just a couple weeks after that comment, Cleveland dealt fellow starter Trevor Bauer in a trade which, while extremely favorable for the team, increased the expectations for Salazar. A rotation which was once the Indians' strong suit suddenly found itself hoping an oft-injured pitcher could help carry the load left behind by Bauer's departure.
Cleveland's season certainly doesn't hinge on Salazar. His health and performance on the mound won't determine whether the team makes the playoffs this year.
However, you have to wonder how much longer the Indians will hold out hope for him.
He hasn't made it through a full season without injury in years, yet the Indians hardly hesitated when picking up his option this winter.
He hadn't touched a major league mound since 2017, yet the team still viewed him as someone who could step up in Bauer's absence.
The knock on Salazar has always been that he struggles to stay healthy. After a two-year injury hiatus, it took him just one inning of big-league work to get hurt again.
Cleveland is surely hoping this latest ailment won't keep him shelved for long. If it does, it may be time for the team to make peace with the fact relying on Salazar is just not a fruitful endeavor.

NEO Sports Insiders Newsletter
Sign up to receive our NEOSI newsletter, and keep up to date with all the latest Cleveland sports news.