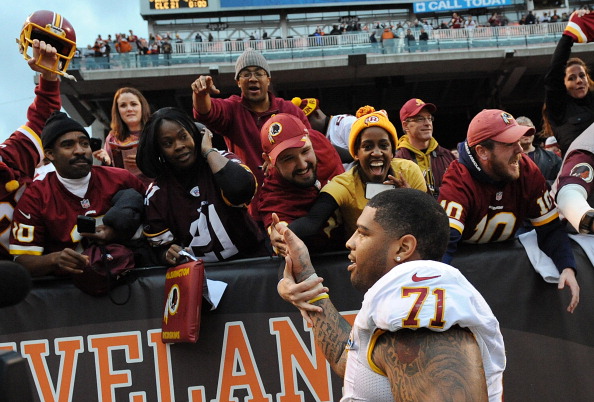 The NFL trade deadline has come and gone, with the Cleveland Browns unable to acquire the one player who's been linked to them for the bulk of the season. Despite reportedly very frequent attempts to make a deal, GM John Dorsey was unable to pry left tackle Trent Williams away from Washington.
Many within the Browns fan-base found this news upsetting. Cleveland's offensive line has been an issue this year, and adding a Pro Bowler to the mix would've helped mitigate this.
However, there was always a difference between viewing Williams as an upgrade to the line and seeing him as the solution to all the Browns' problems. Cleveland's endless pursuit of the left tackle indicated they considered him the latter, which is completely off-base.
This isn't to degrade Williams. When healthy, he's one of the best tackles in the NFL. Adding him to the left side of Cleveland's line would have been a solid move. The 31-year-old may not have been considered a long-term solution, but there's no denying he would've been an improvement.
That said, there were obvious flaws with the negotiations which gave me pause.
For one, Washington was reportedly demanding high draft picks and Cleveland cornerback Denzel Ward, an obviously ludicrous ask. Likewise, Williams would've required at least a couple weeks to get back into game-shape, especially considering he hasn't played a down since last December. Expecting him to hop right in and be a difference-maker would've been unfair.
This wasn't my biggest concern with these trade talks, though. As mentioned, the Browns have a lot of problems to worry about, and Williams would've only solved a handful.
Yes, the line has been struggling this season. Still, this unit isn't the biggest concern in Cleveland.
Williams wasn't going to help the Browns' issues with turnovers. They've given the ball away 17 times this season, more than all but one team in the league.
Williams wasn't going to help significantly cut down on Cleveland's historic rate of penalties. The team has been flagged 70 times this year, averaging ten per game and currently on pace to be the most penalized team in NFL history.
Williams wasn't going to help a defense which has given up 83 points over the past three games.
Williams wasn't going to help with the constant in-game mismanagement plaguing head coach Freddie Kitchens all season long.
Williams wasn't going to suddenly make quarterback Baker Mayfield's accuracy improve.
Bottom line – Williams would've been a nice addition for Cleveland, but he wouldn't have been a cure-all.
Instead, trading for him would've been another instance of the Browns assuming left tackle is the only thing holding them back.
The obvious reality is this isn't the case.
Cleveland has been a sloppy, disorganized, undisciplined, poorly coached, turnover-prone mess. The team spends more time getting in its own way than it does playing competitive football. Players head into games insisting they've had a great week of practice, then spend Sundays failing to execute almost immediately.
These issues have been glaring for most of the season. They're also issues which can't be solved by one player, no matter how talented he is.
As a result, Cleveland shouldn't see its inability to acquire Williams as a failure. Instead, the Browns should now shift their focus away from assuming he was a remedy for all their ailments and back towards the lengthy list of problems which have set them back all season long.
At the right price, Williams could've been a good addition for Cleveland. However, if the Browns would've followed this acquisition with more of the self-destruct football we've seen this year, it wouldn't have made a difference.

NEO Sports Insiders Newsletter
Sign up to receive our NEOSI newsletter, and keep up to date with all the latest Cleveland sports news.