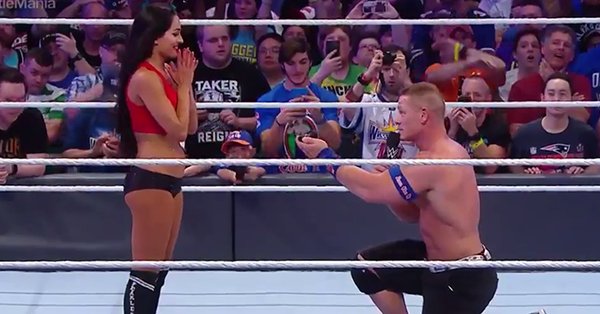 In a 7 hour long WrestleMania you will have a number of things you enjoy, and a number of things that will leave you scratching your head. Last night's 7 hour long WrestleMania 33 had plenty of both.  While these may be debated over time, I personally found these 5 moments to be the ones that stood out the most in a positive way.
Three different times during the WWE World Heavyweight Title Match between the Champion Bray Wyatt and challenger Randy Orton the mat turned into images of bugs, maggots and other creepy crawlers. I actually thought this was pretty cool and took away the attention from what was a pretty awful match.
As mentioned, the match itself felt rushed and not worthy of a Mania title match. It was a shame too because this would have been the perfect time to develop a storyline even further that saw Wyatt rightfully take his place on top of the Smackdown brand.  Strange booking to have Orton go over for the title in another lackluster performance from him in a big match.
Rob Gronkowski enters the Andre The Giant Battle Royal to help Mojo Rawley win. I thought this was another cool moment no one expected. While this may cause the Battle Royal to lose some of its prestige, I still think it was worth it considering the celebrity element always involved in WrestleMania.
It was also a neat surprise to have both the Big Show and Braun Strowman eliminated so quickly as it then gave the match a wide open anyone can win feel to it. I may be wrong but it seemed as though this match was thrown together at the last second when Shaq officially bailed out of Wrestling The Big Show.  Kudos to the WWE for scraping together a pretty decent showing.
The Hardy Boyz return to win the RAW Tag Team Championships in a four-way ladder match. Not too much to say about this one other then it was perfectly done and a great nostalgic moment. Jeff capped things off perfectly with a Swanton off the top.
The only issue I see here is backstage aggravation as you now have these two come in out of nowhere, after both burning the WWE in their last stay upon exit, getting to win the titles on their first night back. It says a lot about the RAW Tag Team Division that was supposed to be a strength.
John Cena proposing to Nikki Bella and her accepting his proposal. This was easily one of the best feel good moments at WrestleMania since Rey Mysterio won the World Heavyweight Title at WrestleMania 22.
Say what you want, (and I'd agree) with The Miz should have won this match argument, but no one can disagree this was beautifully done by the WWE and Cena. Did Nikki know it was coming, probably, but it was still awfully nice!   Again, like the Mysterio win, a feel-good moment for the entire family.
Clearly at this point, The Undertakers WrestleMania streak was in the back of fans minds as the focus remained on if this would be his last match. He ended all doubt on that mystery after he fell at Mania for only the second time in history to Roman Reigns, by placing his gloves, hat and coat down in the middle of the ring. He then broke character and went outside of the ring to kiss his wife Michele McCool and completely ignore his daughter, (thanks Dad!) It was a great run and it ended perfectly too. The only issue I have with this is allowing Lesnar to beat him at WrestleMania XXX, but that remains an argument for a different day.
For this to remain a WrestleMania moment this truly needs to be his last match.  Shawn Michaels has shown that it can be done no matter how much money is thrown at you.  Roman Reigns may have not been "The Guy" the fans wanted to see do this, but they cannot argue he fulfilled his role perfectly last night.

NEO Sports Insiders Newsletter
Sign up to receive our NEOSI newsletter, and keep up to date with all the latest Cleveland sports news.