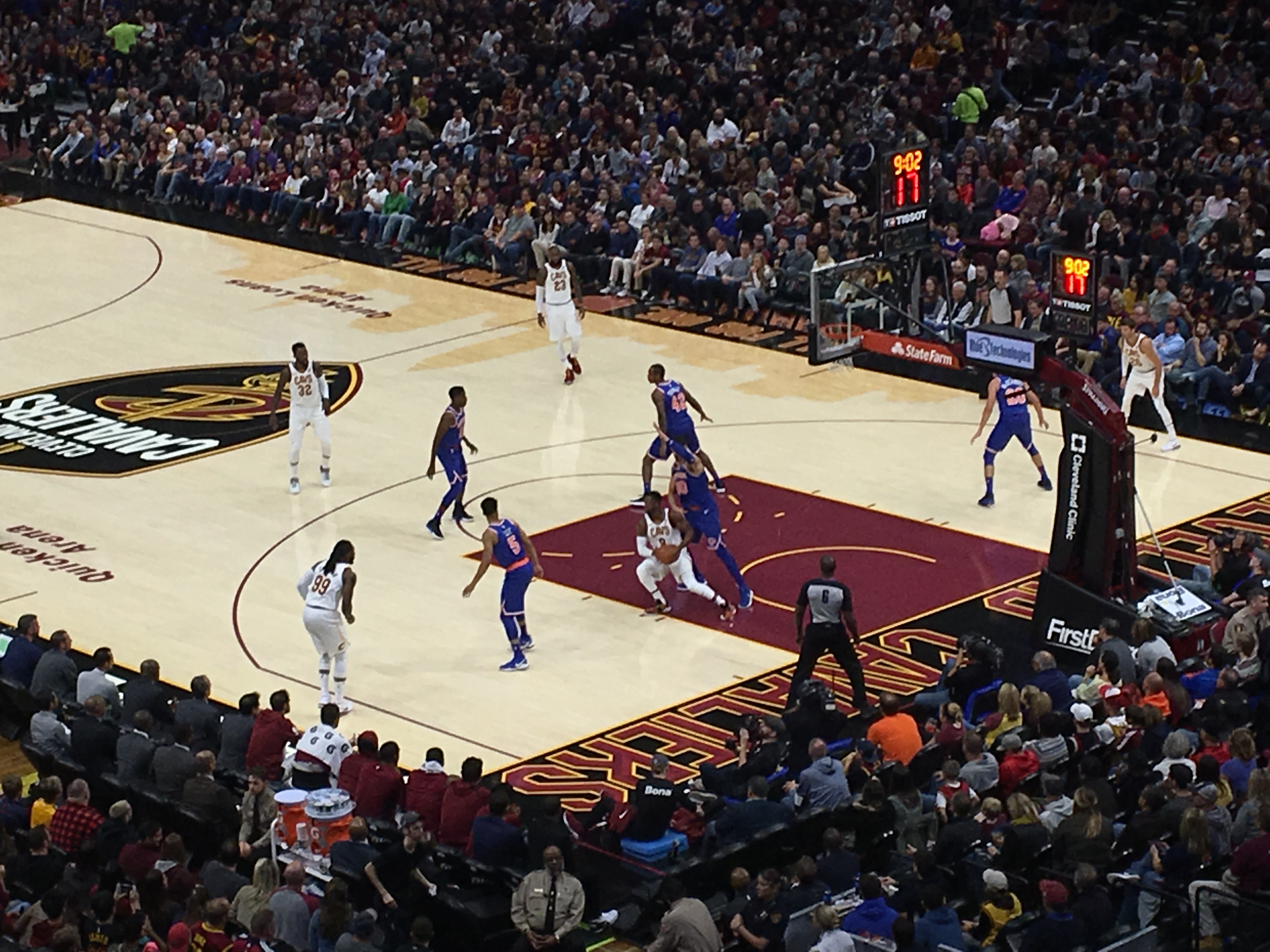 by Nick Broulis
CANTON, Ohio– The Cleveland Cavaliers have plenty of offense, but "Where's the defense?!" That and more, in this edition of the Broulis Beat Report.
ABOUT ISAIAH THOMAS:
The Cavs don't have to worry much about offense anymore from the PG position. Thomas has looked good on the court, and he's only played in two games. Once Thomas gets in game condition and no longer has a minutes restriction, he'll be a force. This will help LeBron James get some rest. James is currently third in the NBA in minutes per game at 37.2. Only Khris Middleton (37.3) and Giannis Antetokounmpo (37.9) play more.
Isaiah Thomas can also create his own shot, play well off the ball and facilitate for others. Thomas doesn't need the help of James or anyone to get his shot or score. Cavs' fans have already seen how beautiful a pick and roll play can work between Thomas and James and anyone else that is rolling to the rim while Thomas dribbles the ball. Defenses are so worried about Thomas pulling up for a jump shot or driving to the rim, that they really aren't sure what type of defense to use yet. Cleveland will start to run the offense more and more through Thomas the more he gets comfortable with his teammates.
TYRONN LUE:
Lue is in a good situation right now. He has the luxury of having the best player in the NBA on his team and a team that is loaded and will only get better as the season goes along. A lot of winning can sometimes overshadow how good a coach really is. I'm not here to slam coach Lue, but I have some problems with his coaching that, perhaps nobody is paying much attention to.
Why isn't Channing Frye playing Tristan Thompson's minutes? Frye is a decent rebounder, can spread the floor with his ability to hit from deep and has shown the ability to get points in the paint. Frye isn't a horrible defender either.
With Thomas coming back, Lue also must figure out a way to get LeBron's minutes down. This happened last year and, whether or not it caught up with James in the Finals is debatable, but there is no reason for James to be averaging 37+ minutes a game.
Finally, Cedi Osman. Osman seems to be getting more and more comfortable on the court despite being very young. Osman is 6'8 and 220, but has shown the ability to defend and shoot from outside and finish at the rim.
DERRICK ROSE:
Earlier in the week, news broke that Derrick Rose could potentially come back during the Cavs' current five-game road trip.
My question is, how and why is Derrick Rose still being considered to be on this roster, let alone getting a chance to play meaningful minutes? Rose has issues with defending an staying healthy. Therefore, it's difficult to understand what his role could be on a team that is trying to win an NBA title.
Rose was extremely talented when he first came into the league, but the injury bug got ahold of Rose and has never really let go. I wrote a few months ago, when Rose left the team to consider retiring, that it would be in the best interest of both him and the Cavs, to retire. Today's NBA requires guards to be able to shoot well from the field. Not just the ability to drive to the rim. Rose shot 43 percent or higher from the field in his first four seasons. Then his ACL injury happened. Rose shot 47 percent from the field last season with the Knicks when he played in more than 60 game, but this season he hasn't been able to shake an ankle injury he suffered in the second game of the year.
With Wade running the second team, I think it would hurt the team, both offensively and defensively, if Lue put Rose out on the court with Wade or James at the same time.
NO DEFENSE:
Cleveland has the offensive fire power to compete with just about anyone. But, the Cavs are terrible on defense. Going into Monday night's game in Minnesota, Cleveland's defensive rating 108.5 (28th). That's not going to win you a title. When Cleveland beat Golden State for the title kn 2016, they were ranked as the 10th best defense in the NBA. That'll give you a chance, as long as you can score as well.
Boston ranks first and Golden State is second in defensive efficiency, followed by OKC, Portland, Toronto, Philadelphia, Washington, Utah and Charlotte.
Cleveland ranks 14th in opponents' points off turnovers, 17th in opponents' second chance points at 12.4. Perhaps the most glaring stat defensively for Cleveland right now is the fact that the Cavs are ranked 21st in the NBA in points allowed in the paint with 45.5. Cleveland is also allowing their opponents to shoot 37 percent from deep, which ranks them 21st in the NBA.
The defense must get cleaned up.
Defense comes down to effort, but effort only gets you so far when it comes to rim protection. And Cleveland doesn't have anyone that is a true rim protector. They may have to go out and get that by trading. Cleveland doesn't have a player in the top 30 of blocks per game. James ranks 32nd with 1.03 blocks a game.
The man in front of James? DeAndre Jordan. There have been rumors that the Clippers may be willing to trade Jordan. While the asking price isn't completely known yet, the deal would have to include Thompson. But, who else would the Clippers want? The Cavs will need two players to complete a trade for Jordan, as Jordan is owed $22 million and Thompson is owed $16 million. Cleveland could throw in Iman Shumpert or Channing Frye.
Also, it's being mentioned that the Clippers would want the Brooklyn pick that Cleveland currently owns thanks to the Irving trade. Reports are coming out that Cleveland isn't willing to include that pick, which is smart.
Either way, Cleveland needs to figure out a way to get better defensively and that means finding someone who can protect the rim better than Thompson.

NEO Sports Insiders Newsletter
Sign up to receive our NEOSI newsletter, and keep up to date with all the latest Cleveland sports news.