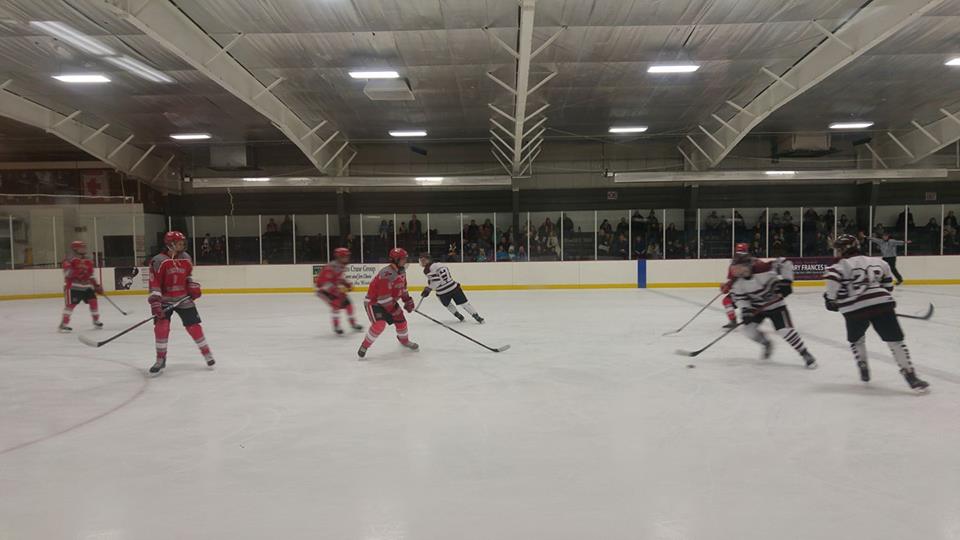 ROCKY RIVER – A thrilling finish saw Rocky River survive a 5 on 3 man disadvantage to cling to victory at home tonight over Mentor.  The final score was 4-3 in a bloodbath game filled with hard hits, incredible saves and plenty of action. The star of the game was Nolan Weaver with 1 goal and 2 assists.
The Pirates broke the scoreless tie on a beautiful end around power play goal with 2:53 left in the first period by Nolan Weaver.  The goal was textbook and picture perfect.  Weaver flew around the back of the net, coming around the other side and blitzing the puck past Mentor goal keeper Jacob Tackett.  The Pirates would tack one more on a little over a minute later when Aiden Dempsey found the back of the net following a nice set up from Frankie Lord.  The latest goal resulted in a Rocky River 2-0 lead after one period of play.
Mentor had a chance to get back in the game to start the second period as they began the frame on a power play but failed to convert.  Rocky River would make them pay seconds later on a beautiful odd man rush and tailor-made goal for Teddy Steuber off a cross ice pass from Nolan Weaver.  It was the kind of goal you see on ESPN Sportscenter.
As the second period went on, Mentor continued to miss chances as River goalkeeper Ryan Dunning shut them down on several hard-shot attempts.  Dunning was a magician between the pipes.  Eventually Mentor would find the answer however and begin to rally.  A late second half flurry of aggression and brutality resulted in two Cardinal goals, making it 3-2 as we headed towards what was shaping up to be a dramatic third period.  The Mentor goals were scored by Zach Burke and CJ Will.
Mentor would get a chance to tie the game as the third period began with an interference call on River.  Then seconds later, it was a tripping call on River giving Mentor a 5-3 man advantage. It was a golden opportunity for the Cardinals to tie the game, and they couldn't as the Pirates killed the two minute 5 on 3 penalty to perfection. Both teams would swap goals before it was over, as the Pirates clung to the 4-3 win.
Goal Summary
First Period
Rocky River Weaver from Routenberg at 2:53 (PP)
Rocky River Dempsey from Lord at 1:37
Second Period
Rocky River Steuber from Weaver at 12:06
Mentor Burke from Toth at 5:50
Mentor Will from Burke at 2:59
Third Period
River Asmar from Weaver at 6:28
Mentor Burke unassisted at 5:42
Power Play Summary
First Period
Rocky River 4:41 – Converted
Mentor :01 – failed to convert.
Second Period
NONE
Third Period
Mentor 12:23 – failed to convert
Mentor 11:49 – failed to convert
River 8:29 – failed to convert.
River 3:49 – failed to convert.

NEO Sports Insiders Newsletter
Sign up to receive our NEOSI newsletter, and keep up to date with all the latest Cleveland sports news.