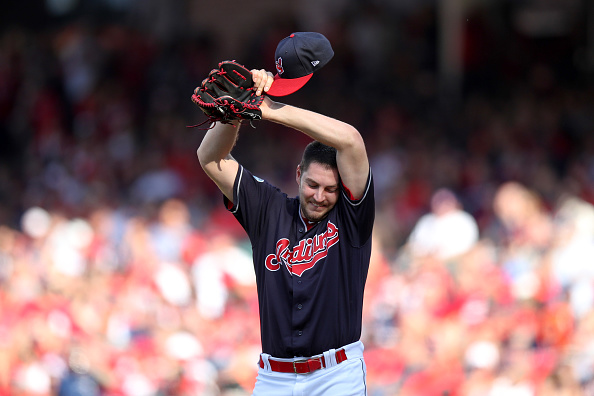 Trevor Bauer is an excellent pitcher. I'm not here to even remotely deny that, as this fact is obvious to anyone who's casually followed him throughout his career.
Another fact obvious to those who only know a little bit about Bauer is that his personality is, to be polite, abrasive.
For most of his time with the Cleveland Indians, Bauer's potential has outweighed any headaches he may bring into the clubhouse. Lately, however, he's starting to toe the line. As Bauer continues becoming more outspoken, you have to wonder how much longer Cleveland will accept this routine solely because of the talent which comes along with it.
For the most part, Bauer has only had a few hiccups during his time in Cleveland. A Twitter scandal here, a denial from a bad outing there, but all in all nothing too serious. One could argue his biggest red flag occurred during the 2016 postseason, when a drone accident nearly severed his finger.
That said, this past offseason has been an entirely different beast. Bauer seems to be leaning further into his "I'm just being me" shtick, and it's fair to wonder how it's being received by his teammates.
In the past few months, Bauer claimed he's a better pitcher than Corey Kluber. A random girl on Twitter said she didn't like him, and he heckled her to the point where she claimed she was driven to tears. Last week, after winning his latest arbitration hearing, he said Indians representatives assassinated his character. He noted this despite claiming he enjoys the arbitration process.
All of this came before SI published its…we'll call it "unique" profile of Bauer yesterday.
Within the column, Bauer seemed to embrace his abrasiveness, hardly holding back when discussing his opinion of himself or his truly bizarre dating checklist.
He also didn't hold back on comments which will certainly catch the attention of Indians players and coaches.
Bauer seemed to paint himself as someone who possesses all the answers, if only his teammates would listen to them. For example, he noted Cody Allen's issues could've been resolved had the team's former closer asked Bauer for help.
"I could've fixed Cody Allen's curveball in two days last year, but I couldn't tell him anything because he's a veteran and he doesn't want to listen."
While some teammates, specifically fellow starter Mike Clevinger, note no concerns with Bauer's brutal honestly, it's safe to wonder just how many other players feel the same way.
The SI column made a point to note some within the organization believe the team consists of "24 plus Trevor." I'm assuming this opinion hasn't changed much this winter.
Knowing this, you're forced to wonder just how much longer the Indians can tune out the sideshow aspect which comes along with having Bauer on your team.
Everyone knows he's never going to change. Everything from the past few months indicates this routine could become even more attention-grabbing. Making matters more complicated is Bauer's insistence on only signing one-year deals, ensuring the Indians will have to go through annual contract talks with him if they want to retain him.
With his being arbitration eligible after this coming season, it feels safe to go ahead and pencil in another hearing around this time next year.
However, this also highlights the crossroads Cleveland is approaching.
Next offseason represents Bauer's final year of arbitration eligibility. After this, becomes an unrestricted free agent.
As a result, it's fair to wonder if the Indians are considering moving on. With one final year of team control left, his trade value will only go down from here.
Do they want to spend another year dealing with another arbitration hearing? Do players want to keep hearing about how their best coach happens to be a member of their rotation? On top of this, do they want to be publicly chided for ignoring any advice he may have?
Bauer doesn't care about what people think of him. He's made this point very clear. It doesn't sound like anyone within the organization will ever change this.
Knowing this, the Indians need to consider whether the clear talent Bauer brings to the table is worth dealing with a personality which is getting more distracting by the day.
When it comes to Bauer's place with the team, the front office needs to ask itself how much longer until Bauer's routine wears thin. Or, more importantly, have we already passed that point?

NEO Sports Insiders Newsletter
Sign up to receive our NEOSI newsletter, and keep up to date with all the latest Cleveland sports news.