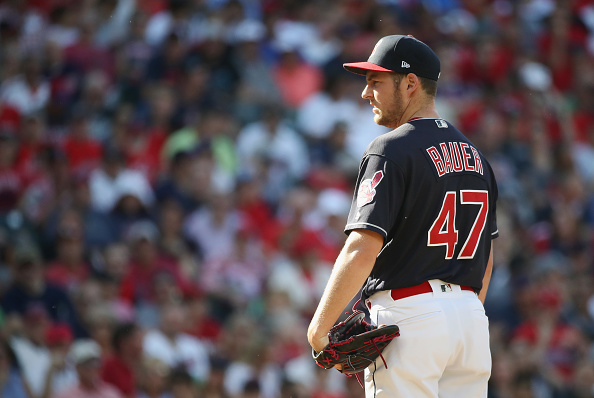 If you're a Cleveland Indians fan, you're sure to be counting down the weeks until Opening Day. However, you're likely doing so not because you're eager to get this season started, but instead to put an admittedly frustrating offseason behind you.
The past two months have been an unpleasant combination of inactivity and cost-cutting in a contending year. Many hoped last week's news regarding Francisco Lindor's calf strain would be the last bout of bad news before spring training.
Unfortunately, today we added another item to the list in the form of the team's arbitration hearing with pitcher Trevor Bauer. Unlike the aforementioned issues, this one is especially upsetting due to how avoidable it was. On top of that, Bauer's comments since the hearing have only made matters worse.
Let's start with the painfully obvious issue at hand. In general, teams attempt to avoid arbitration at all costs, and for good reason. The idea of explaining to a third party why a player doesn't deserve the money he's asking for is about as pleasant as it sounds.
Knowing this, the news Bauer and the Indians were heading into a hearing was admittedly unnerving. It was made more so by the simple fact the two sides were arguing over a difference of $2 million.
Yes, the Indians decided to dig their heels in, insisting Bauer be paid $11 million this year as opposed to the $13 million he was asking for. While we knew the team was focusing on shedding salary this offseason, it's safe to say this was pushing it.
Right away, we have a negative story Cleveland could've easily evaded. All the team had to do was make peace with the idea of adding a couple million to Bauer's salary for one season, and none of this would've happened. To instead decide to push forward and explain to one of the best pitchers on the roster why he doesn't deserve the money he's asking for sounds even more ludicrous when you consider this.
The fact this arbitration even occurred in the first place is bad enough. However, the situation was made worse when Bauer decided to share his thoughts after winning the hearing.
Today, he took to the media to air his grievances about the entire process. While he admits the majority of the hearing wasn't too bad, he claimed the final ten minutes were a "character assassination."
Any other player may have stopped there. However, Bauer isn't one to hold back, and he certainly didn't do so in this case. He claimed the Indians representatives explained why he was "a terrible human being," which he attempted to dispute by noting his charitable efforts. ESPN's Buster Olney later chimed in to note the Indians also felt Bauer's infamous social media habits were another reason why he didn't deserve the money he asked for.
Did I mention arbitration should be avoided at all costs?
The Indians didn't need this. Any of it. They didn't need to head into arbitration to squabble over what was essentially pennies on the dollar, and they certainly didn't need to tear Bauer down enough for him to feel as though he needed to share what happened to the media.
Making matters worse is the simple fact Bauer is hardly innocent in all of this.
You have to admit there's irony in Bauer griping about Cleveland's "character assassination." After all, Bauer has made a habit of taking similar approaches on Twitter. Already this offseason, he took a jab at fellow starter Corey Kluber, flat-out stating he was a better a pitcher than the two-time Cy Young winner. Bauer has also essentially accused the Houston Astros of cheating.
Toss in the fact that we're only a few weeks removed from Bauer mercilessly heckling a random Twitter user for days on end as punishment for her crime of saying she didn't like him, and you can see where his harping about character assassinations is a little hypocritical.
All in all, this was a wholesale mess in an offseason where such a thing is just salt in the wound. The Indians look bad for cutting down their own player over $2 million. Bauer looks bad for complaining about the rudeness despite him showing similar behavior on Twitter.
On the bright side, spring training is right around the corner. Perhaps then, this string of offseason blunders can finally come to an end.

NEO Sports Insiders Newsletter
Sign up to receive our NEOSI newsletter, and keep up to date with all the latest Cleveland sports news.