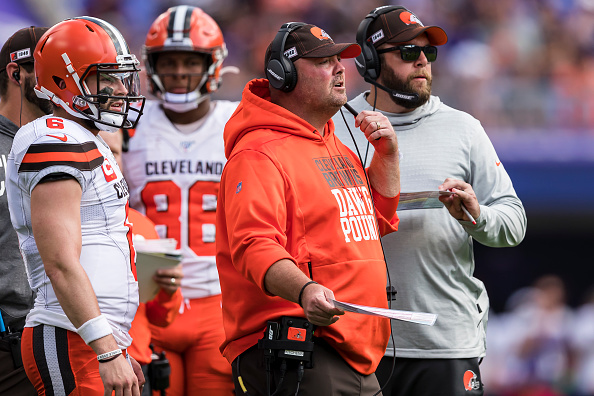 Nobody with the Cleveland Browns is happy right now, and for good reason.
This was supposed to be the year the team finally left the NFL's dumpster and became a legitimate playoff threat. Instead, Cleveland is 2-5, mostly due to getting burned by countless game-day mistakes.
So, yes, frustration is unavoidable under these circumstances. With the Browns, though, we're seeing much more than this.
While a shaky start to the year would have any team on edge, this particular string of losses appears to have put this team on the verge of falling apart.
The signs have been growing for weeks now. The Browns have struggled with internal communication, and went into their recent bye week with leaks springing everywhere. Mistakes piled up on the field, with both coach Freddie Kitchens and quarterback Baker Mayfield continuing to insist the problems will get fixed.
While things have been teetering for a while now, it appears this past weekend may have been a tipping point.
In the days since Cleveland's sloppy loss to the New England Patriots, the Browns have been displaying an alarming fragility off the field.
For one, Kitchens' spat with wideout Rashard Higgins appears to have reached new heights.
Two weeks after Higgins contradicted his coach's claims that he was held off the field against the Seattle Seahawks because he needed more time to recover from a knee injury, Kitchens doubled down and took a dig at his wideout on Monday.
Those asking about Rashard Higgins' playing time – Freddie Kitchens noted he feels Antonio Callaway "doing a better job right now" & adds that Higgins wasn't ready 3 weeks ago. "Ask Higgins again about 2 weeks ago. He might have a different answer this time" #Browns

— Daryl Ruiter (@RuiterWrongFAN) October 28, 2019
For the record, Higgins refused to speak to the media today during open locker room sessions.
Kitchens also spent today sleepwalking through a press conference, repeating the same "we've identified the problems and hope they get fixed" lines we've heard throughout the year, albeit with the energy of a fence post. This came days after he scoffed at reasonable questions about not getting the ball to Odell Beckham Jr. enough and Sunday's infamous intentional false start.
And then, of course, we have this.
Baker Mayfield got into a back-and-forth with a reporter and walked out of his weekly press conference.

(via @clevelanddotcom)pic.twitter.com/erQ2DCCmFn

— NFL Update (@MySportsUpdate) October 30, 2019
Browns fans have practically come out in unison defending Mayfield, mostly due to the reporter asking the question. Say what you want about the source of his frustration, it's tough to watch this and not worry about the lack of poise we're seeing from this team.
It's yet another example of Cleveland bristling at critique and focusing its attention on the wrong targets.
Instead of concentrating on the problems he's claimed to have identified, Kitchens seems more concerned with one-upping media members and endlessly defending his most head-scratching moves.
Ahead of last week's game against the Patriots, Mayfield spent a chunk of his weekly media session chastising league officiating. This week, he's making a show out of his grudge with a local beat reporter.
The question I have in all of this is simple – why is a team which is on a three-game losing streak solely because of its struggles with execution continuing to focus on things that have nothing to do with preparing for opponents?
Why do we keep hearing things will get better, then watch members of this team get defensive when questioned about why they haven't yet?
The Browns are 2-5, and apparently take issue when forced to answer for it. They've spent more time picking fights with referees and local media than they have on fixing the turnovers and penalty issues which have plagued them the entire season. They are, for all intents and purposes, cracking under the pressure caused by such an underwhelming start to the season.
Obviously, winning cures everything, and Cleveland has a great opportunity for a victory this Sunday in Denver. If the team can snap this three-game skid, it'll go a long way towards calming the waters.
Still, this lack of poise and composure has been increasing over the past few weeks, and if losses continue to pile up, there's no reason to believe the wheels won't fall off completely.

NEO Sports Insiders Newsletter
Sign up to receive our NEOSI newsletter, and keep up to date with all the latest Cleveland sports news.