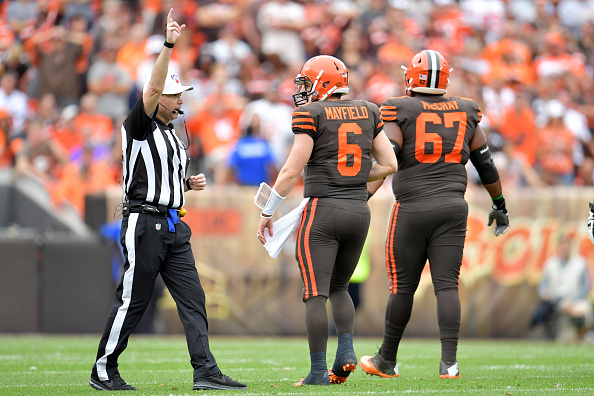 I'm not here to tell you the refs called a good game during the Cleveland Browns' loss to Seattle last week. They didn't. In fact, some of the flags were downright embarrassing.
This was not even close to a blindside block by Jarvis Landry. Refs hate the Browns so much pic.twitter.com/AwsseApyfs

— 🌴🎃Sir Yacht🎃🌴 (@SirYacht) October 13, 2019
Despite this, my stance on that game remains the same. The Browns didn't lose solely because of officiating. While some poor calls hindered them, they made plenty of mistakes which played a bigger part in the final score.
This is the approach the team should be taking as it preps for this weekend's daunting match-up with the New England Patriots. Instead, the Browns are still talking about referees.
Frankly, it's high time they ditch this habit and focus on the problems that are plaguing this team.
The commentary on officiating has been taking place for over a week now, starting after the loss to the Seahawks.
So much of the discussion on NFL officiating this morning I feel we discussed during & after Seahawks at Browns game Sunday in which there were a # of notable calls that were bizarre & impacted the game. Players have to play & focus, but also shouldn't feel it's being taken away. pic.twitter.com/rCGRwfjdsU

— ig: josinaanderson (@JosinaAnderson) October 15, 2019
To his credit, Sheldon Richardson didn't take the bait when asked if the refs were the reason Cleveland lost. Still, this mentality of assuming their momentum will always be stopped by a bad call is a dangerous one to carry.
Equally dangerous are the continued jabs from quarterback Baker Mayfield, who doubled down on his initial post-game critiques on officiating earlier today.
#Browns QB Baker Mayfield defends his criticism of officiating, knew he'd get fined "but it needed to be said" pic.twitter.com/zUnPNN8Arb

— Keith Britton (@KeithBritton86) October 23, 2019
Again, I'm not here to defend the refs. Poor officiating has unfortunately become a major narrative throughout the entire NFL this year.
That said, hearing members of a 2-4 team spend this much time focusing on referees, and not on the numerous mistakes they've made which have played a bigger factor in their underwhelming start is incredibly concerning.
Essentially, it just sounds like the Browns are trying to blame their issues on something besides themselves. Doing so would be an extreme misunderstanding of why this team has played poorly for the bulk of this season.
For one, the Browns are currently one of the most penalized teams in the league, with 57 flags thrown their way in 2019. While some of these have been bad calls, that's still far too many penalties to play the "well the refs just don't like us" card.
As noted, though, there are far too many other issues this team needs to worry about besides perceived agendas from the officials.
Mayfield's rant from today was rooted in accountability. One would hope he takes said concept seriously, because he currently leads the league with eleven interceptions and has the lowest completion percentage of any quarterback with at least 100 pass attempts. He's also suddenly become wildly ineffective in the red zone, having completed just nine of his 29 pass attempts within 20 yards of the goal line.
Simply put, if Mayfield is worried about people doing their jobs better, he should start by focusing on himself.
Meanwhile, poor coaching has undone the Browns' momentum far more often than penalties this year, as rookie Freddie Kitchens has continually appeared to be in over his head.
Defensively, Cleveland has given up a combined 63 points over the past two games. Of their four losses this year, half were by 28 points or more. One would hope this is far more concerning within the locker room than how officiating impacted these defeats.
Moreover, the team is just too fragile right now. It's been unable to maintain composure whenever adversity strikes, and this lack of self-control has had far more impact on the final score than flags.
As a result, the Browns playing with a mentality of "the refs are just trying to hold us back" only causes them to unravel whenever a questionable call goes against them. It creates a situation where any momentum is completely destroyed by an ill-timed flag.
In that sense, sure, the refs are playing a significant role in Cleveland's losses. However, this is only because the team can't seem to regroup when a call doesn't go their way.
The reality is bad penalties — even egregious ones – happen in every single game across the league. This isn't something only the Browns are dealing with. Good teams can keep their composure after a bad flag sets them back.
So far, Cleveland hasn't been doing this. Instead, players are continuing to make a routine out of blaming the refs.
Considering the lengthy list of problems the Browns need to address, it'd be wise for them to stop seeing officiating as the biggest reason why their season to date has been such a struggle.

NEO Sports Insiders Newsletter
Sign up to receive our NEOSI newsletter, and keep up to date with all the latest Cleveland sports news.