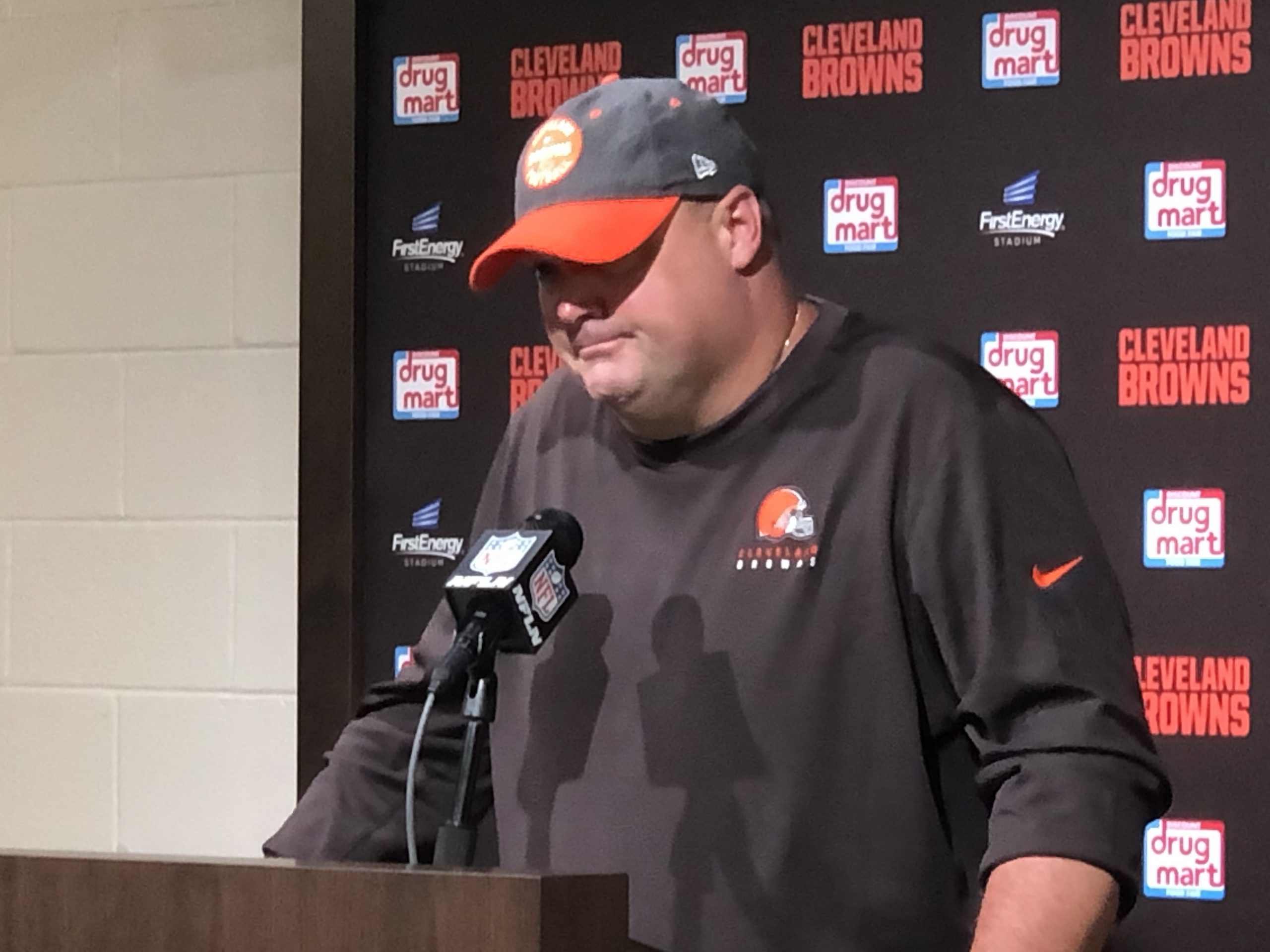 What exactly was that?
The Browns likely were already in a position to take a "L" on Sunday in Foxborough against the Patriots, but one sequence late in the game has fans both irate and wondering just what the heck head coach Freddie Kitchens was thinking.
The wildness took place with the Browns down 27-10 with just over six minutes left in the contest. The Browns were on their own 24-yard-line, and on fourth down they sent in the special teams unit to punt the ball.
Instead, the Browns took a delay of game, and instead of still kicking it, they sent the offense back onto the field to now go for it on 4th-and-16 from the 19.
Baker Mayfield was sacked, the ball went over the Pats, and fans were left scratching their heads.
Why would you take a delay of game, thus making it an even longer field for Mayfield against the top defense in all of the NFL?
Things got interesting when CBS Sideline reporter Tracy Wolfson did a report stating that the Browns "intentionally" got a penalty punting the ball so they could go for it on the next play, and it was due to the fact that Kitchens didn't want to use a timeout.
Seriously?
Both Jim Nantz and Tony Romo actually laughed out loud at the thought, not understanding the thinking as to why you would do such a thing.
While in the end the Pats didn't score, this is more about Kitchens, his ongoing inability to make wise decisions, and the team seems to be weekly suffering from it.
Don't believe me on how it's being perceived? Hall of Famers now in the media are even wondering if Kitchens knows what he's doing.
Browns HC Freddie Kitchens trying to get fired. Punt unit is on the field for 4th&11, whistled for false start, it's now 4th&16. Freddie brings offense bck on the field to for it on his own 30. Sack, turnover on dwns. WTF was that Freddie?

— shannon sharpe (@ShannonSharpe) October 27, 2019
And then there's this from the loss.
Freddie Kitchens was in his bag today 🔥🔥🔥🔥

13 penalties
6 false starts
3 turnovers
2 failed challenges
Terrible Play call
Goes for it after the penalty in the punt team
2 weeks to prepare
Terrible clock management

27-13 loss 🔥🔥🔥🔥 pic.twitter.com/imjK4C6fev

— Browns Country (@TheFanDomeShow) October 27, 2019
As always, it ought to be an interesting week as the team gets ready to head out to the thin air of Colorado next week to play the Broncos.

NEO Sports Insiders Newsletter
Sign up to receive our NEOSI newsletter, and keep up to date with all the latest Cleveland sports news.