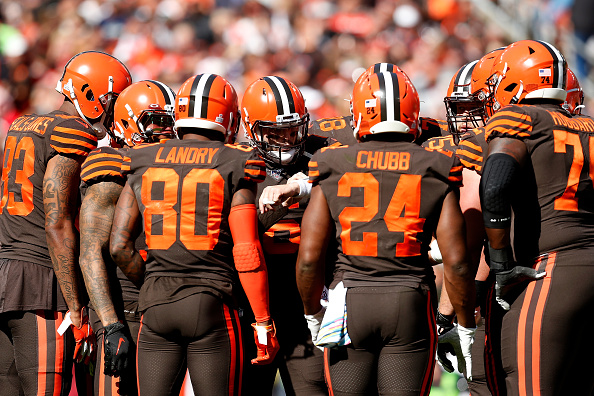 It feels like it was just yesterday.
Cleveland Browns fans were brimming with confidence. Their team's roster looked astoundingly good on paper. The belief, both within and outside the locker room, was the days of unmitigated chaos were finally being put behind this woebegone franchise.
Yet, here we are, watching the Browns head into the bye week displaying the same sideshow vibe we're used to.
The team, despite its talented roster, has been disjointed for the bulk of the season.
One year after turning into an up-and-coming commodity, head coach Freddie Kitchens appears to be in over his head.
The much-needed breather this week was supposed to represent has instead been littered with the same bizarre story-lines we typically see surrounding this team.
To be fair, a 2-4 record should hardly be considered a failed season. There's plenty of time left to get this ship out of stormy waters, and plenty of talent available to ensure that happens.
Still, the headlines this team has been getting over the past couple days sure do carry that familiar sense of chaos and confusion.
For one, miscommunication has become a popular trend within the team facility, particularly when it comes to the questionable absence of wideout Rashard Higgins this past Sunday.
On Monday, Kitchens claimed he had a package of plays designed for Higgins in Cleveland's loss to the Seattle Seahawks, but the situation to roll them out just never came up.
Actually, wait, never mind. Kitchens' tune changed the next day, noting he kept Higgins on the sideline because, with a bye week next on the schedule, he felt the receiver – who carried no injury designation – could use extra time to heal up from his knee ailment.
For reference, Higgins says he's been healthy for two weeks now.
We've also spent the past few days enduring the tried and true tradition of various leaks popping up across the organization.
On Sunday, ESPN's Josina Anderson gave a report featuring a heavy dose of the word "source," noting that the Browns see left tackle Greg Robinson as the biggest reason for the offensive struggles to date. Said source also told Anderson the lack of a true third receiver option for quarterback Baker Mayfield is having an equally negative impact.
Next, we had John Clayton claim he heard Kitchens was on the verge of being fired this past weekend.
.@JohnClaytonNFL reporting on Browns dyfunction: "I was there on Sunday. There was a lot of talk that Freddie Kitchens was almost fired after that Seattle loss."

— Andrew Fillipponi (@ThePoniExpress) October 16, 2019
No, wait, another source says everyone's on board with Kitchens.
.@TonyGrossi on the @JohnClaytonNFL comments: "I think he's way off base. There isn't a 'fire Freddie' thought in the building."

— Aaron Goldhammer (@HammerNation19) October 17, 2019
On top of this, yet another source says the Browns are on the verge of benching Robinson, if he hasn't been benched already.
ICYMI: #Browns LT Greg Robinson has either already been benched or it's in serious jeopardy of happening soon, source tells clevelanddotcom https://t.co/fGWZpe548G

— Mary Kay Cabot (@MaryKayCabot) October 17, 2019
Of note, this report came out almost two weeks before the Browns' next game.
Keep this in mind when you remember Kitchens insisted this would be a leak-free organization under his watch. In fact, he said anyone who leaked info to the media would be fired on the spot.
Well, by that logic, up to four separate people hopefully spent the past couple days polishing up their resumes.
Ice this cake with a story about a fan thinking it'd be a good idea to sucker punch defensive end Myles Garrett in the face, and all you're really missing from this past few days is the Benny Hill theme song.
A "fan" hopped out his car to take a picture with me and then punched me in my face. Hm, put your legs into it might have actually made me flinch. 👍🏾

— Myles "Flash" Garrett ⚡️ (@MylesLGarrett) October 16, 2019
I remind you, once again, that this has all taken place during the team's bye week, when the team is supposed to be spending time completely off the radar.
Will this season play out as so many of the previous years did, with the off-field chaos eventually throwing the entire organization off the rails? It's too early to tell.
Still, the Browns entered this year with the promise that those days were in the past. This was going to be different, this team was going to be known for its accomplishments on the field, not its tabloid-level headlines off it.
Right now, the on-field success is minimal, and the chaos we remember all too well is starting to ramp up at a frantic pace.

NEO Sports Insiders Newsletter
Sign up to receive our NEOSI newsletter, and keep up to date with all the latest Cleveland sports news.