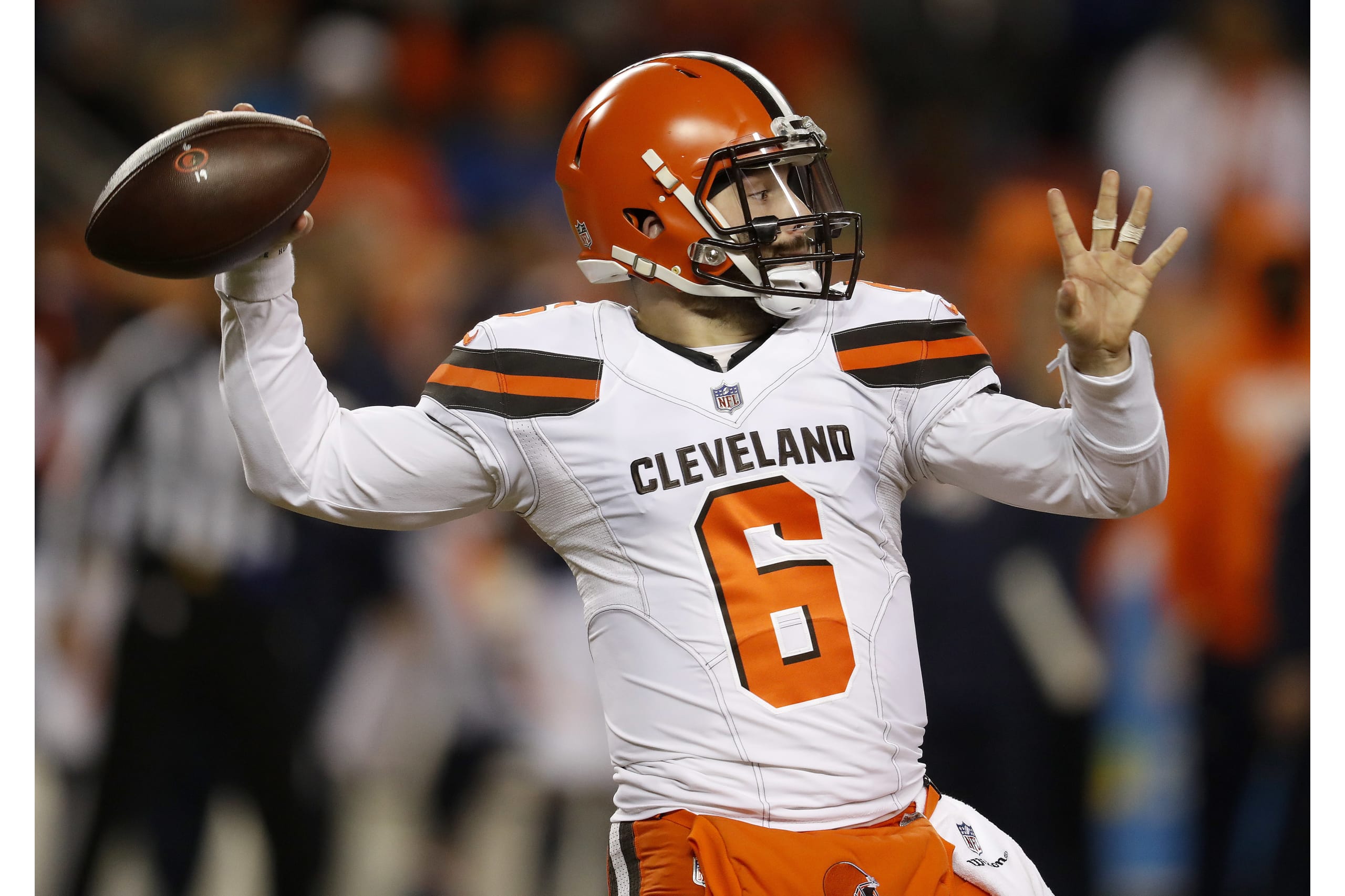 Baker Mayfield is catching some heat after walking out of a media scrum on Wednesday. Mayfield became noticeably frustrated with a line of questioning from well-known Browns beat reporter Tony Grossi who was asking about the team's final drive before halftime this past Sunday.
"I just told you the clock was running and we had a penalty. You want to give them the ball back? No. You don't play, you don't know. That's just plain and simple," Mayfield snapped back during part of the exchange."
Grossi followed up by asking if he was "happy with that drive?, to which Baker fired back: "Was I happy with the drive? No, we didn't score points. That's the dumbest question you could ask. What? Jesus, Tony."
Shortly after the exchange, Mayfield took to Twitter shortly after the incident to defend himself and Browns fans joined in to back their franchise QB.
Classic Baker, love this guy!! 👌🏼 https://t.co/f5Ehw302pW

— Necati Aksoy (@Necati_Aksoy13) October 30, 2019
You have no reason to explain anything Tony. You provoked The QB of the team your supposed to cover and act like your a fan of! #FireTonyGrossi #firegrossi #Browns @bakermayfield https://t.co/2Ce4MCev71

— Jesse NE Ohio (@jd1amond2) October 30, 2019
Baker answered the question. The hack journalist continued because he has a personal agenda. His press credentials should be revoked

— Brendan Jicha (@clehawk1) October 30, 2019
For those of you siding with Grossi…allow me to paraphrase his final question that set Baker off: "Do you like it when you don't score any points?"l#Browns pic.twitter.com/wpZDgMNkEp

— Browns Rally Possum (@Browns_Possum) October 30, 2019
"BaKeR's SuPpoSed tO bE A LeaDeR"

guys, i really don't think his teammates are going to question his leadership bc he told Grossi his dumb question was a dumb question, pls relax

— Mollis (@BurdsIVue) October 30, 2019
i'm always going to defend Baker, that's just who i am.

— Mollis (@BurdsIVue) October 30, 2019
Give me angry Baker on Sunday! Can't wait! #browns pic.twitter.com/LnsWdlJ6Wb

— Mike (@BestBarknCtown) October 30, 2019
I see all those bandwagon #Browns fans tryna bury Baker as they get off…

Remember this ya fair weather fans, Ryan Leaf never won 7 games… TOTAL.

Bake led a winless Browns franchise to a 7 win season YEAR 1 pic.twitter.com/W6ugxQdo0s

— Bob Stoops Statue (@BobStoopsStatue) October 30, 2019
I LOVE YOU BAKER MAYFIELD. NEVER CHANGE #Browns pic.twitter.com/LgvwEMocJz

— Chandler Adams (@ChandlerAdamss) October 30, 2019
I love that Baker feels the same way about Tony Grossi as the rest of Cleveland pic.twitter.com/BbVwFt4dHS

— Cory O'Connor (@CoryO24) October 30, 2019
I do not have an issue with this the way many others do. Baker was asked multiple dumb questions in a row. "Was there a lack of urgency on offense??" Dumb question. "Were you happy with a failed drive?" Another dumb question. #Browns media has to be better pic.twitter.com/FhUQac8eHD

— Brandon Wolf (@BrandonWolfCLE) October 30, 2019
That's my quarterback. @bakermayfield, we stand behind you!! https://t.co/Rt8qWYFCD5

— It's Just Me (@Hvnlyprncss13) October 30, 2019
That's my quarterback!! We got your back @bakermayfield https://t.co/8s0Nsted5w

— Matt (@CLE_FIT_FAN) October 30, 2019
MANNNN….. FXCK DAT!!!!! IM RIDING WITH BAKER FOR NOW ON….. AFTER THAT PRESSER, HE IS VERY PASSIONATE!! DONT ASK MY QUARTERBACK DUMB QUESTIONS.

THANKS @TonyGrossi ! U JUST UNLEASHED BAKER……..THAT PRESSER IS THE TURNING POINT OF THE SEASON

— Xavien Carter (@DirtDawg80) October 30, 2019

NEO Sports Insiders Newsletter
Sign up to receive our NEOSI newsletter, and keep up to date with all the latest Cleveland sports news.