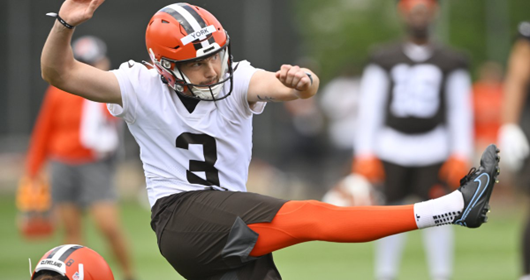 The Cleveland Browns battle the Carolina Panthers next Sunday at 1:00 PM in North Carolina. Here's our "hot takes" to watch for in Week 1 as the men from the Land prepare for their first game in 2022.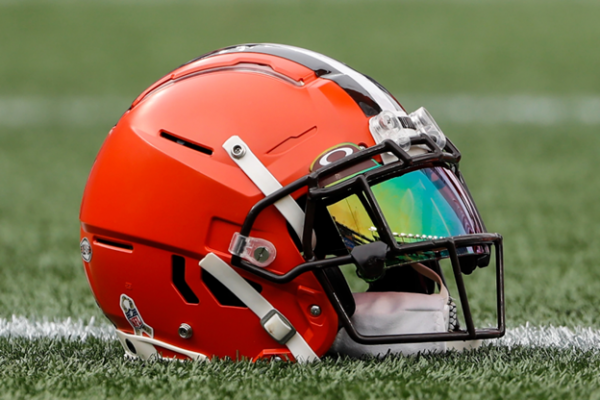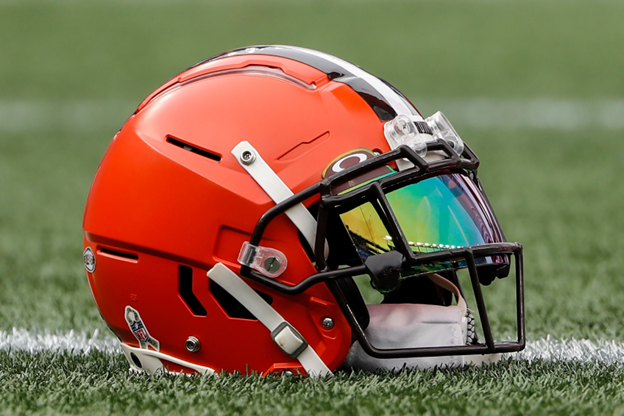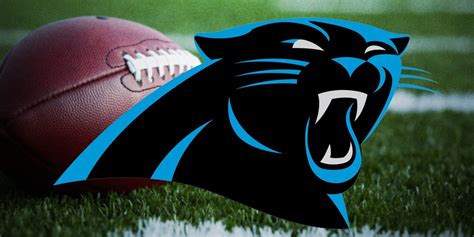 What to watch for Week 1 with the Cleveland Browns
Hot Take #1: Baker redemption?
This will be the first time Panther Baker Mayfield starts for a team not named the Browns. How he handles his emotions will be a telling signal early what Browns fans will see from the former #6.
What Baker actually said#bakermayfield #browns #Panthers pic.twitter.com/6wc3WBznfX

— @donttradejaylen (@donttradejaylen) September 4, 2022
His social media posts and interviews aside, Baker will have two things that could help or hinder him. First is the return of mega-back Christian McCaffery. The oft-injured running back is one of the NFL's most dominant all-round athletes when healthy, and he could take a great deal of pressure off Mayfield if he starts strong.
But a new starting left tackle for the Panthers, Ikem "Ickey" Ekwonu, might be just how Myles Garret wants to start his 2022 NFL Defensive Player of the Year campaign! The Panthers Ekwonu, born in North Carolina and fresh off his award winning season with North Carolina State, was the 6th pick in the 2022 NFL draft, and the world will quickly see if the Panthers made a wise choice.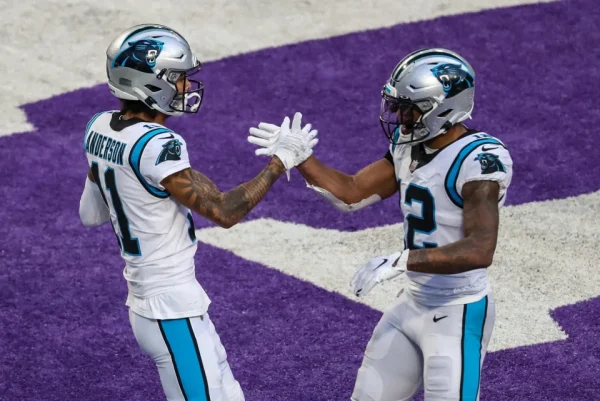 (Photo courtesy sports.yahoo.com, article by Anthony Rizzuti)
Baker has two solid receivers in DJ Moore and Robbie Anderson. Baker fave Rashard "Hollywood" Higgins will see plenty of action, too.
The Panthers defense was one of the top in the league until the later stages of the season. It's hard to predict where they will be this year. New faces dot the roster for the Carolina Blue and Silver. How quickly they mesh helps their offense have more opportunities.
Clearly the key will be which Baker shows up. The confident, gunslinger or the indecisive over thrower?
Hot Take #2: Browns Offense under Jacoby Brissett
Signing Brissett this off-season was an important move as the Browns found out with the suspension of Deshaun Watson. The Browns have some offensive line issues before the season begins as Jack Conklin is not slated to start next Sunday. Nick Harris, named the starting center after the Browns chose not to sign JC Tretter to a new contract, was injured in the preseason opening drive.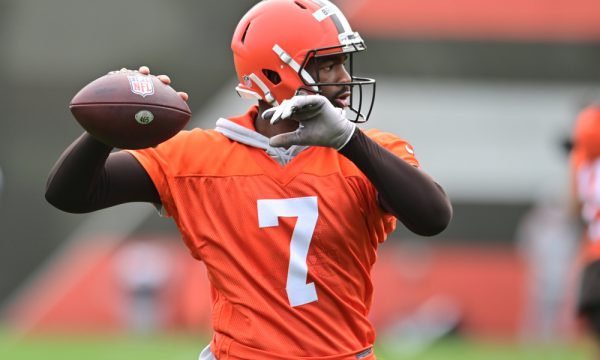 (Photo from brownswire.usatoday.com, article by Jared Mueller)
Ethan Pocic will be Brissett's center and the right tackle position could be James Hudson. Chris Hubbard has not practiced in a week or so according to Chris Easterling of the Akron Beacon Journal. Don't be surprised if the first few series for the Orange and Brown result in three and outs. The group didn't get much time in preseason game reps. The Browns announced the signing of Joe Haeg today, so clearly they know this position is a concern.
Donovan Peoples-Jones and Amari Cooper should be ready to go against a defensive backfield of the Panthers that need CJ Henderson to justify why he was a high draft pick by the Jaguars and why the Cats traded for him. But the Browns wide receiver room had a marginal at best preseason. The Browns staff are content with this group right now. They want this young group to gel.
It'll be quite a feather in Andrew Berry's cap if he's able to go from David Njoku requesting a trade, to a long term extension in Cleveland.

Keep the Chief. pic.twitter.com/LT3POaEpvy

— Nick Karns (@karnsies817) March 6, 2022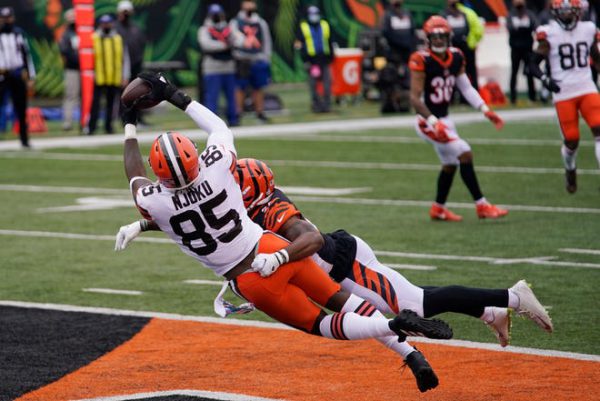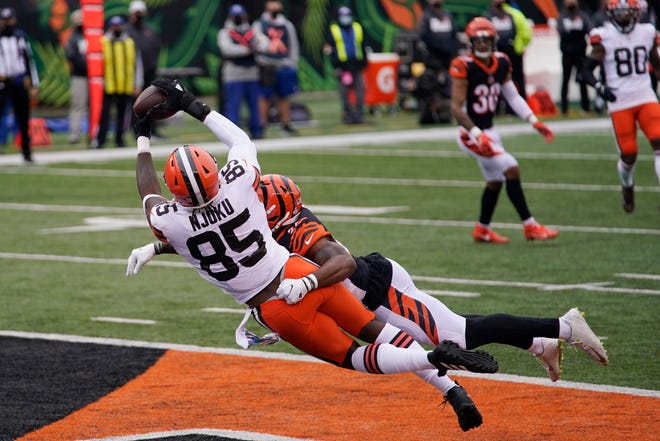 Having only two tight ends on a Stefanski-coached system that loves three is odd. But David Njoku should see quite a few targets his way. Nick Chubb and Kareen Hunt should get all the rushing snaps with a mixture of plays. But here's hoping Coach Stefanski opens the game with BOTH in the backfield. What a statement that would make! Who to guard? Yikes!
Hot Take #3: Can the Browns Defense stop the Run?
The Browns were 12th last year in the NFL in stopping the run. A better place than in years past. Ask any Browns fan! But some concerns are evident with drafting two defensive ends and a tackle in this draft. Is Tommy Togiai ready for the lion's share of the load? This is his best chance to perform or he might find a lengthy period of time on the bench.  Having two new starting defensive tackles is a bit of a concern.
The tackling was poor this preseason in just about every game. Realize that many of those players weren't going to make the squad, but to be a dominant defense, you cannot allow backs and receivers to gain extra yards when you stop them initially.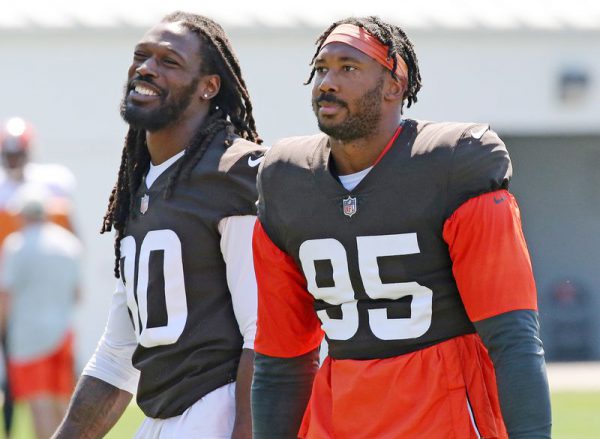 (Photo credit: John Kuntz, cleveland.com)
Myles and Jadaveon Clowney are back and should create havoc for opposing lines. The linebacker play early in the game will indicate to fans that this group is ready to lead three and outs against the Panthers.
The defensive backfield needs strong safety play this year. Some late preseason injuries could affect communication on passing downs. Strong safety Grant Delpit and CB AJ Green are listed as questionable after injuries in the last preseason game against the Bears.
Also included in the walking wounded list this past week for the defense was Chris Odom (Injury reserve), Stephen Weatherly (same), Perrion Winfrey, Clowney, and Ronnie Harrison. That's a pretty significant list of players.
Hot Take #4: Browns coaches on the hot seats?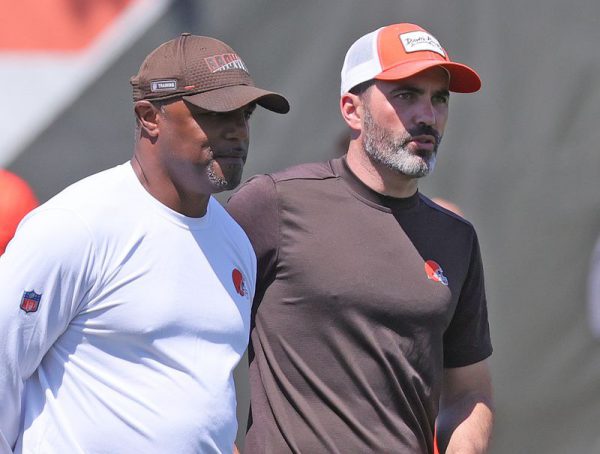 (Photo credit: John Kuntz, cleveland.com)
Lastly, both Kevin Stefanski and defensive coordinator, Joe Woods, could see their seats get warm if the Browns don't start well. Kevin is probably more secure than Woods, but we've seen how owner Jim Haslam has meddled before! It will be interesting to see if Stefanski gives more autonomy to Alex Van Pelt calling plays this year.
Stefanski is a robot no emotion lol https://t.co/bxyAfZu2Qo

— Kentucky Fried Christian (@KFChristian_) December 26, 2021
Make no doubt. The jury is still out on Kevin. An opinion shared by many fans on social media is that they'd love to see their coach get more animated and emotional. It is a game played on emotion, and head coaches like John Harbaugh and Sean McVay seem to know when and how to motivate their teams.
The defense showed great promise last year, and the offense regressed. With a new year and new starting quarterback no one can predict this team's success due to so much drama in the offseason. Hopefully John Johnson III, Browns starting free safety, correctly identified that the team as a whole seemed more together this preseason. They just might have to lean on each other a great deal for the first half of the season.
Conclusion?
This week's game against the Panthers might be dubbed "Mayfield's revenge," but more likely it will be a late game winning kick by new kicker, Cade York, that wins the game for the Browns. I'm going 23-20, Browns. Defense needs to win quite a few games this year. Mark this down…here's the first! And don't be surprised if Mayfield has the ball in his hands as the clock ticks down.
Always drama with this team, eh?
In the comments section, give us your outlook! Go Browns!

NEO Sports Insiders Newsletter
Sign up to receive our NEOSI newsletter, and keep up to date with all the latest Cleveland sports news.