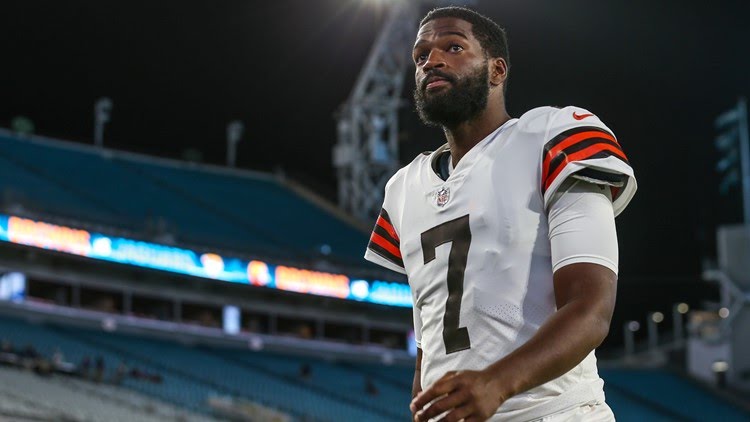 We are on the cusp of the 2022 NFL season for the Cleveland Browns. I'm not sure fans have any fuel left in their tank after the offseason in northeast Ohio. It was… I'll be kind and call it challenging and tiresome.
If you thought things were bad during the offseason, just wait until the Browns travel to Charlotte to take on Baker Mayfield and the Panthers. No matter the result of the game, the Browns fan base is going to be fired up. Good luck to us all at work on Monday and on social media. Maybe take a mental health day from both. Quite honestly, I'll be absent from social media on Sunday. Nothing good would come of my participation.
The Browns haven't won an opener since 2004 when Jeff Garcia beat the Ravens. I was a 23-year-old college student with a full head of hair the last time the Browns won an opener. I'm now a 41-year-old bald, married, father of 3. That's how long it's been. Another chance awaits Cleveland on Sunday in what will be an odd set of circumstances as they oppose their former #1 overall pick.
There will be a lot under the microscope for the Browns and Panthers. For the Browns, can Jacoby Brissett keep the Browns afloat for 11 games? Can the defense and running game carry the team? Did the Browns make the right move with Mayfield? The Panthers are tasked with answering the same question the Browns tried to answer for 4 years: is Baker Mayfield a franchise quarterback? Deep storylines both on and off the field.
I think it's safe to say that both local and national pundits are salivating over this game. This isn't a prediction, it's a spoiler: no matter who you listen to, he/she will tell you they were right all along and knew the result (whatever it is) was going to happen. Another spoiler: you will also hear and/or read a staggering number of excuses and rationalizations from "experts" proving they were right all along even though the result is not consistent with their narrative. I've been around the block a few times, so have you, don't get drawn into the noise.
As for the game itself, at last check the Browns are 2.5-point underdogs. I'm surprised that people are surprised by that. The line is right where it should be. I know hope springs eternal in Browns country but be very careful you're not overvaluing your team and undervaluing your opponent. The Panthers are not a bad team. I'm not a huge fan of Matt Rhule, but there's enough talent on that roster to win 7+ games, especially on the defensive side. The offense can be average or a bit more if Christian McCaffrey can stay healthy, but that's a huge if. The issue for the Panthers is their offensive line leaves a lot to be desired, at least on paper. If that group can't be passable nothing else will matter.
For the Browns, their running back room could fill starting roles for 3 different teams. They're that good. The offensive line should be solid, but the loss of Nick Harris is huge. Ethan Pocic will start, but who knows what that position will look like in November. The Browns quarterback situation is a mess as usual, but for varied reasons than we're used to. They're counting on Jacoby Brissett to hover around .500 for 11 games. I'm extremely skeptical of that. It's not that Brissett is bad necessarily, but this is a team with high expectations that historically has not lived up to them over the last 20+ years and this isn't exactly a spot start for Jacoby. He's the guy right now and consistency over the long-time whether it be a season or career is the most difficult thing to do in sports. That's a lot of pressure. Brissett also only has 1 proven NFL receiver: Amari Cooper. David Njoku is expected to get substantial targets and we'll have to see how he can produce. After Cooper and Njoku things are bare unless Donovan Peoples-Jones or David Bell can become viable targets. If Brissett can get the ball out quick and let his playmaker make plays, he can be ok. He must be just good enough in the passing game to allow Nick Chubb, Kareem Hunt, and D'Ernest Johnson some room to operate. The offense simply can't survive on less than 20 points per game. It's too much pressure on the defense.
While we're talking about quarterbacks, I'm not all that comfortable with the Browns relying on quarterback who hasn't played in 2 years to go 5-1 down the stretch and get them into the playoffs. Is Deshaun Watson capable of that? Sure, but it still strikes me as being unrealistic expectations. Since I'm in the mood to give you some spoilers, here's another one: the cry for Josh Dobbs will happen sooner than you think. I know the Browns' fan base. The first 3 and out for Brissett and the Dobbs chatter will start. We love our back-up quarterbacks in Cleveland, it's a sickness we can't seem to shake.
The Browns defense is where the talent is on this team. Myles Garrett and Denzel Ward play at pro bowl levels, Greg Newsome has a ton of potential as does JOK. The defense should be fast sideline to sideline, excellent in coverage, and should be able to heat up the quarterback without needing to throw exotic blitzes out there to do it. Health is a key, it always is. Ward, Jacob Philips, Jadaveon Clowney, Grant Delpit, Greedy Williams, etc. have all had issues missing multiple games with injury. That simply cannot happen. The Browns have a small margin for error this year and need their stars and depth players on the field.
Unfortunately, I see this season opener going the same way as others over the past nearly 2 decades. Maybe I'm wrong, I hope I am. I think the Panther defense will be too much for Jacoby Brissett, the lack of WR depth will show, the Browns will become one dimensional, too many 3 and outs causing the defense to be on the field way too long and wear down. 27-16 Panthers win it.

NEO Sports Insiders Newsletter
Sign up to receive our NEOSI newsletter, and keep up to date with all the latest Cleveland sports news.