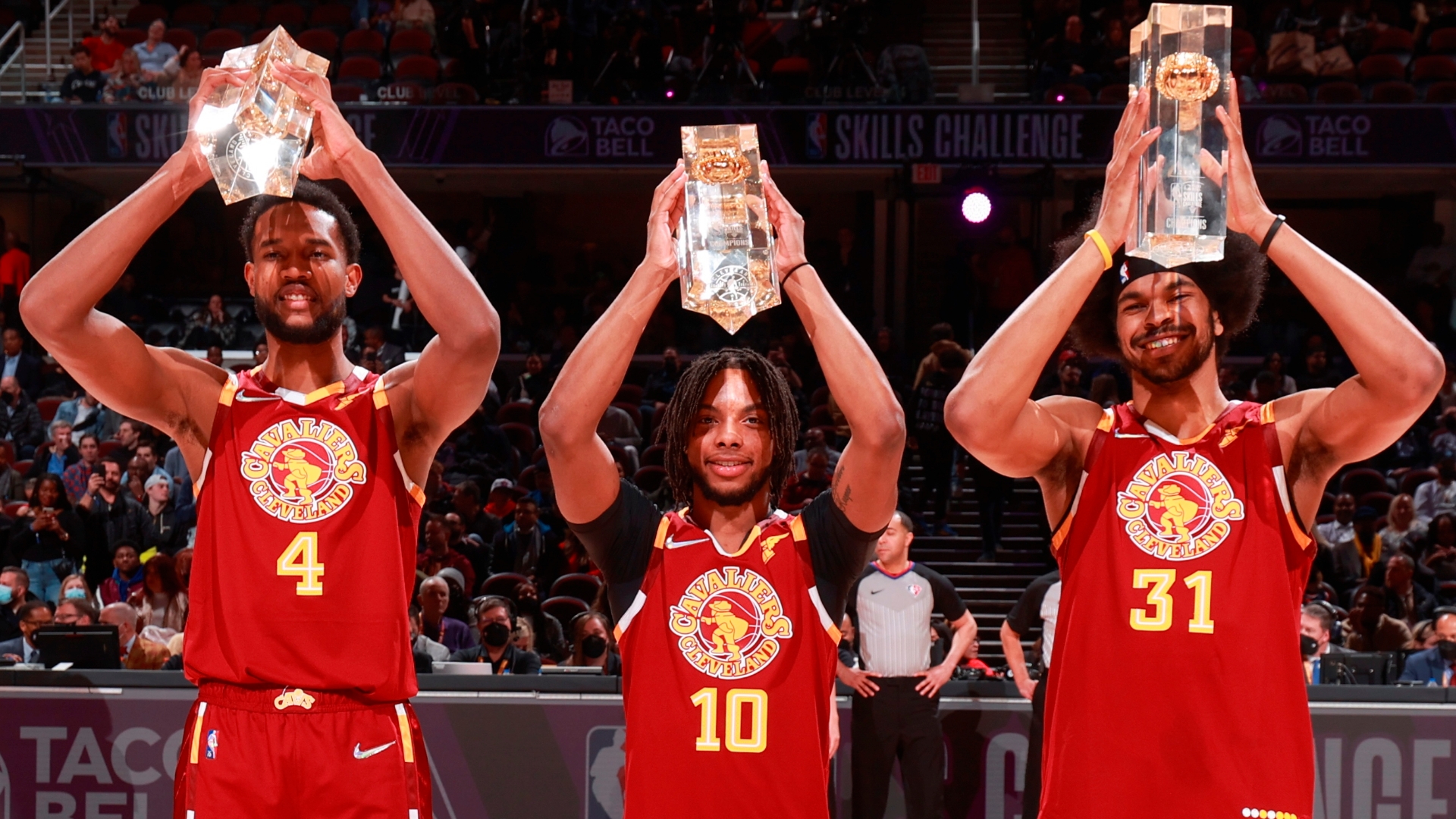 On Saturday evening, Team Cavs won the Taco Bell Team Skill Challenge with a half-court shot by Evan Mobley. Team Cavs were composed of Mobley, Darius Garland, and Jarrett Allen. They defeated Team Rook (Cade Cunningham, Josh Giddey and Scottie Barnes) on the final three pointer.
Round One
This year's Team Skill Challenge consisted of four rounds of different skills each individual and or team had to complete. The new format for 2022 was designed to increase the team nature of the event while minimizing individual success. Round one saw a shooting event where players took turns shooting from various places on the court for various points.  Individual scores would be combined to create a total team score. The winning team earned 100 challenge points for the round. Garland accumulated 21 points alone, more than the entire Team Antetokounmpos (brothers Giannis, Alex, and Thanasis) Team Cavs defeated Team Rook, 44-32.
Round Two
The second round was a passing challenge. Each player had thirty seconds to complete passes at oversized moving targets with varying points associated with the distance of each pass. Teams could not attempt consecutive passes to the same target. Again, 100 points were awaiting the winning team for this second round. Team Rook and Team Antetokounmpos tied. So, officials determined that Team Brothers were the winners because they completed more outlet passes.
Round Three
With their backs to the wall, Team Rook needed to win the third round to stay alive in the competition. Worth 200 points, the round was a team relay. Each player, in order, needed to throw an outlet pass at a moving target, dribble around cones, make a short shot, complete a corner three-point basket, and finally race from one end of the court to the other and finish with a jam or layup. Team Rook's one minute eighteen second run was so overpowering; the other two teams couldn't complete the task in that time.
Thus, Team Cavs and Team Antetokounmpos faced off in a tiebreaker to determine who would play in the final round against the Rookies. The two teams were to choose a player to take threes from the top of the key. Giannis missed on his first attempt while Garland's was true, sending Team Cavs to the final round with a boisterous crowd cheering them on.
The Final Round
The last round was a timed competition on half-court shots. Working together each team would begin and a timer would mark how long it took that team to make its first shot. Team Rook had what appeared to be a winning 9.9 second completion of the task. Team Cavs' Allen had his first attempt clang off the rim. Mobley followed with a perfect swish to complete the Team Cavs win with about four seconds remaining!
Overall, it was a great weekend for Cleveland. The city was full of athletes and celebrities. The national spotlight was on Cleveland, and they hosted with pride.

NEO Sports Insiders Newsletter
Sign up to receive our NEOSI newsletter, and keep up to date with all the latest Cleveland sports news.