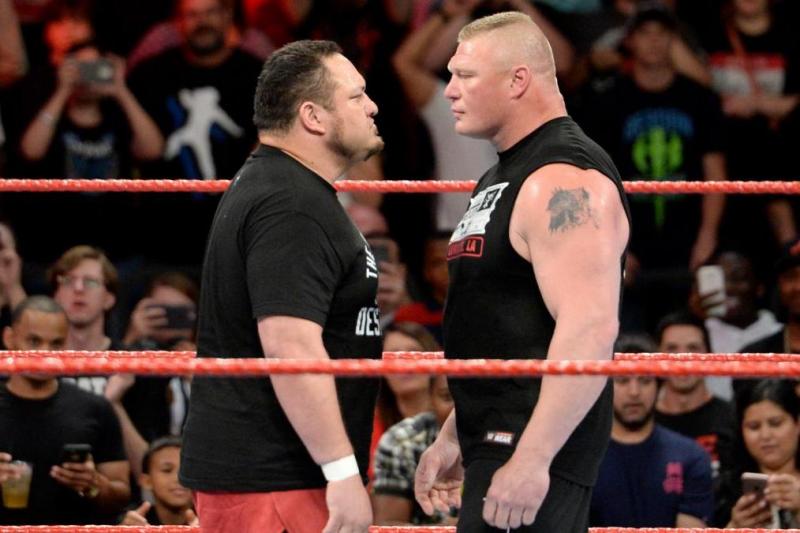 In a shock to no one, WWE GM General Manager made the SummerSlam main event official for this years WWE SummerSlam on August 20th from Brooklyn.
The match will be Braun Strowman vs Roman Reigns vs Samoa Joe vs Brock Lesnar in a Fatal Four Way match.  This was the perfect out for creative just in case Lesnar does leave to return to the UFC.  Because he doesn't have to be pinned to lose the belt.  It is a good way for him to save face upon exit until he makes his next return.
Now that Lesnar has his three challengers set, each one will provide his own set of skills that will be a threat to his title.
Samoa Joe has already proven that he can take Lesnar to the limit and come within seconds of putting the Beast to sleep.  Joe is over with the fans and incredible in the ring.  He combines brute force with agility and the ability to put on a long match when needed.  Joe might just be the new Universal Champion after SummerSlam.
Braun Strowman seems about as unbeatable as they come.  Roman Reigns even looks like he is starting to become frustrated by his ability to keep coming back from the dead.  These two have gone back and forth since before WrestleMania with no clear cut winner.  This seems like an interesting way to blow off the feud.
I do not see Strowman having any chance at walking away with the gold after this one is all said and done.  The one moment I do hope to see is a one on one with Lesnar for some extended period in the match as it has been teased several times already but is yet to happen.  From being an early exit in the Andre The Giant Battle Royal, to part of the main event of the biggest party of the summer, Strowman has come a long way.
Roman Reigns said it himself tonight, he has already won 3 WWE World Heavyeight championships, a United States Title, A Royal Rumble,  a Tag Championship, headlined 3 straight WrestleMania's and will forever go down as the man who finally buried The Undertaker into retirement.
He has lost to Joe several times, and Strowman several times as well.  His only appearance against Lesnar ended in classic fashion at WrestleMania 31 when Seth Rollins interrupted the main event to cash in his MITB briefcase.  Those defeats show he is human and vunerable.
Basically the way I see it, if Lesnar isn't going back to the UFC, then the belt is staying on him until WrestleMania.  However, where there is smoke, there is fire and this match is blazing with suspicion.  Given the loophole of Lesnar not having to be pinned to lose his belt, it almost seems guaranteed Reigns walks out of SummerSlam as champion and it is full steam ahead until WrestleMania against John Cena…….
Time will tell, but it is about to heat up!

NEO Sports Insiders Newsletter
Sign up to receive our NEOSI newsletter, and keep up to date with all the latest Cleveland sports news.