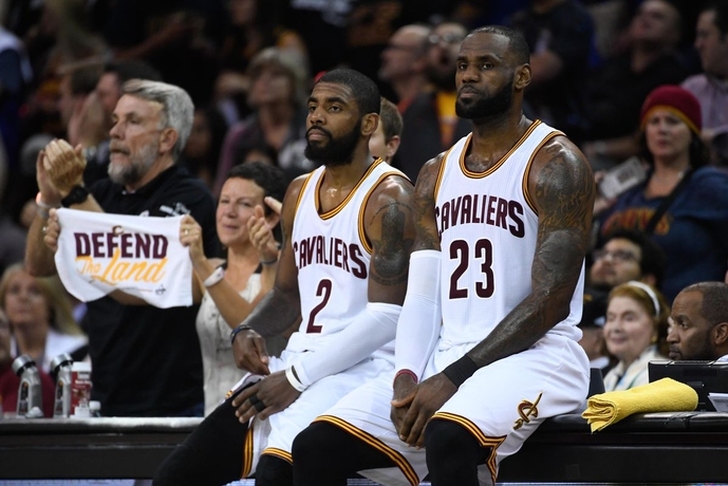 We are in the midst of a fresh feud between LeBron James and ESPN's Stephen A. Smith over James' feelings about Kyrie Irving's trade request.
If you can't keep up, here's some quick background. Smith reported yesterday that James was " tempted to beat [Irving's] a–." James later responded on Twitter, saying Smith didn't have his facts straight.
#NotFacts people! ?Boooo!! Get another source. ??‍♂️. #EnjoyingMySummer #YouDoTheSame ??? https://t.co/XvfRWKWdur

— LeBron James (@KingJames) July 25, 2017
Smith of course, was less than happy with James' response, and took to his radio show to blast James' criticism of him, saying:
"There are some moments when a professional athlete literally tempts you to go nuclear on them. And I stand here, right in that zone when it comes to LeBron James. And what I reported, I was told 'he would be tempted to whoop his a–.' That's what was told to me, verbatim, in that manner. It was meant to highlight his level of frustration, with what he perceives to be, something that Kyrie Irving is doing in his eyes. What did I say that was fake news? Was I wrong when I broke the story that he was going to South Beach? Was I wrong when I talked about how I'm hearing he's going back to Cleveland? The facts that I've accumulated by speaking to over 30 different sources this weekend, I stand by it, I'm not budging or inching back one bit. I said what I meant. I meant what I said. And if LeBron James wants to refute that, I welcome the opportunity for him to do so.
You can listen to Smith's full response to James here. It's safe to say this feud is far from over.
Sometimes @KingJames gets on my last damn nerves. https://t.co/XCwc4BhAAu

— Stephen A Smith (@stephenasmith) July 25, 2017

NEO Sports Insiders Newsletter
Sign up to receive our NEOSI newsletter, and keep up to date with all the latest Cleveland sports news.