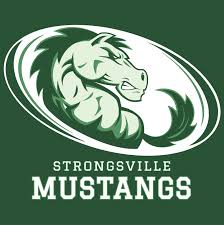 By: Jaret Andrews
BROOKLYN, Ohio- The nightcap saw two very talented teams go head to head. The Strongsville Mustangs went up against the Lakewood Rangers. The Mustangs, lead by Kyle Mattson and Logan Schramm, took an impressive 24-7-3 record into postseason play. After getting bounced from the Baron Cup tournament by Rocky River, the Mustangs rebounded nicely in their opening match of the district tournament. They dismantled Benedictine 4-0. They will be going up against an ultra-talented Lakewood team(18-9-1). The Rangers last action saw them losing in the Baron III semi-final game to the Shoremen of Avon Lake. The Holden brothers, Will and Rob, have led the team all year. Will Holden and Mac Macfarlin are two of the highest point scorers in their conference. And with Rob Holden between the pipes, that makes Lakewood a balanced team that can play multiple styles, and still be dangerous.
Despite the dangerous attack of Lakewood, it was Strongsville that dominated the time of possession battle. Outshooting the rangers 27-2 in the period. The Mustangs peppered Holden for most of the period, finally breaking through with a goal from Nate Rajecki. The Mustangs weren't done there, though. Captain Josh Grady added two more before the end of the frame at the 11:03 and the 13:59 mark. The Mustangs have bounced back and forth between Luke Bell and Clay Larissey at goalie this season. Larissey got the start and didn't see much action. Lakewood would go into the locker room down 3-0 trying to figure out how they could attack the Mustang goaltender.
More of the same in the second period. Strongsville absolutely dominated time of possession once again. An interference call on Rob Holden sent him to the box for 2 minutes, and the Mustangs capitalized. Jake Schuette found the back of the net at the 7:40 mark of the second period. Rob Holden had 21 saves in the period, but with Strongsville's relentless attack, there wasn't much Holden could do. Two goals in rapid succession from Nate Rajecki and Logan Schramm pushed the lead to 6-0 for the Mustangs to give them a six-goal lead, meaning a running clock until Lakewood could get the lead back within six.
The Rangers did a better job controlling the puck in the third, but it was too little too late. A heroic effort from Clay Larissey stopped the Ranger attack in its tracks. Larissey denied all shots that came his way. The running clock didn't help Lakewood's comeback effort either. A running clock for the entire third period ended this game in a hurry. Strongsville took down the Rangers by a final score of 6-0. They outshot Lakewood 61-6 in a dominant effort. Strongsville will move on to take on the Holy Name Green Wave.