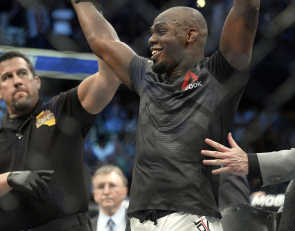 Jon Jones returned to his throne at UFC 214 when he defeated Daniel Cormier in their UFC Light Heavyweight Title clash, stopping Cormier in the third round with a brutal head kick that sent Cormier reeling to the other side of the Octagon before Jones would draw the referee's stoppage after strikes. Jones would fall to his knees when having the title put back around his waist, showing a rare humble side when talking about his return to greatness and even thanked Daniel Cormier for pushing him to his ultimate limits and gave tremendous praise to DC on him being a great role model.
Oh yea, and he also called out Brock Lesnar.
And thus, we are back in the Bones Era, where you must pick a side to represent with Jon Jones. Either you love the brash-talking, smooth-walking phenom and are glad to see him back on top of the mountain or you are still holding out hope that Jones will get his comeuppance.
Daniel Cormier failed to be the guy that delivered Jones a slice of humility pie twice, appearing to be one of the only guys to match up well with him. So where does Jon Jones go from here?
The obvious answer to most is a returning Brock Lesnar. But if you take a look at the 205-pound division, the answer is clear as day.
The next fight for Jon Jones should absolutely be Alexander Gustaffson.
Let's be honest here. As much as watching Jones return to greatness and being humble about his win was satisfying, it wasn't him. Giving praise to an opponent after a grueling fight is the last thing fans would expect from him. And also, the only other time I can remember Jones falling to the ground after a win was when he broke his big toe against Chael Sonnen.
Basically what I'm saying is Jones being a nice guy isn't what fans expect to see after everything that has went down in the last two and a half years.
That's where "The Mauler" becomes the perfect face to Jones' heel.
First off, it would be a very-pro Gustaffson crowd due to the fact that the new father and soon-to-be husband is such a standup guy. He handles his business in the Octagon and when he isn't being one of the best Light Heavyweights in the world, he's a family man. After the birth of his first child this year, Gustaffson proposed to his girlfriend. Not only did he propose, but he did it in the Octagon while in his hometown of Stockholm, Sweden following a fantastic knockout of Glover Teixeira. Things like that are what makes a guy like Gustaffson someone fans can get behind.
Also throw in the fact that Jones and Gustaffson have had a war of words on Twitter heading into UFC 214 and I would say there is enough interest from both men to do battle again.
Let's not forget, Gustaffson is the only man to truly test Jon Jones. He battered him and was able to land a takedown against the defensively-sound Jones within the opening rounds. Bones would rally back for a decision victory, but that fight put "The Mauler" on everyone's radar.
Gustaffson also had a shot to defeat Daniel Cormier for the UFC Light Heavyweight Title, but fell in defeat in another classic fight. Both men thanked Gustaffson for pushing them and making them better fighters, but obviously Gustaffson was hoping to win the title.
It's time for Gustaffson to get another shot.
If Gustaffson can finish what he started from last time these two met, it could be a short-lived reign for Bones.
As much as watching Lesnar and Jones wage in a war would be fun, we've already seen that before with the Swede. It's time for him to get another crack at Jones.
So will Jon Jones ever be a good guy again to most fans? Probably not. But that's for the better, because Jones thrives on being the villain. And when he fights Alexander Gustaffson again, Jones will be right at home.