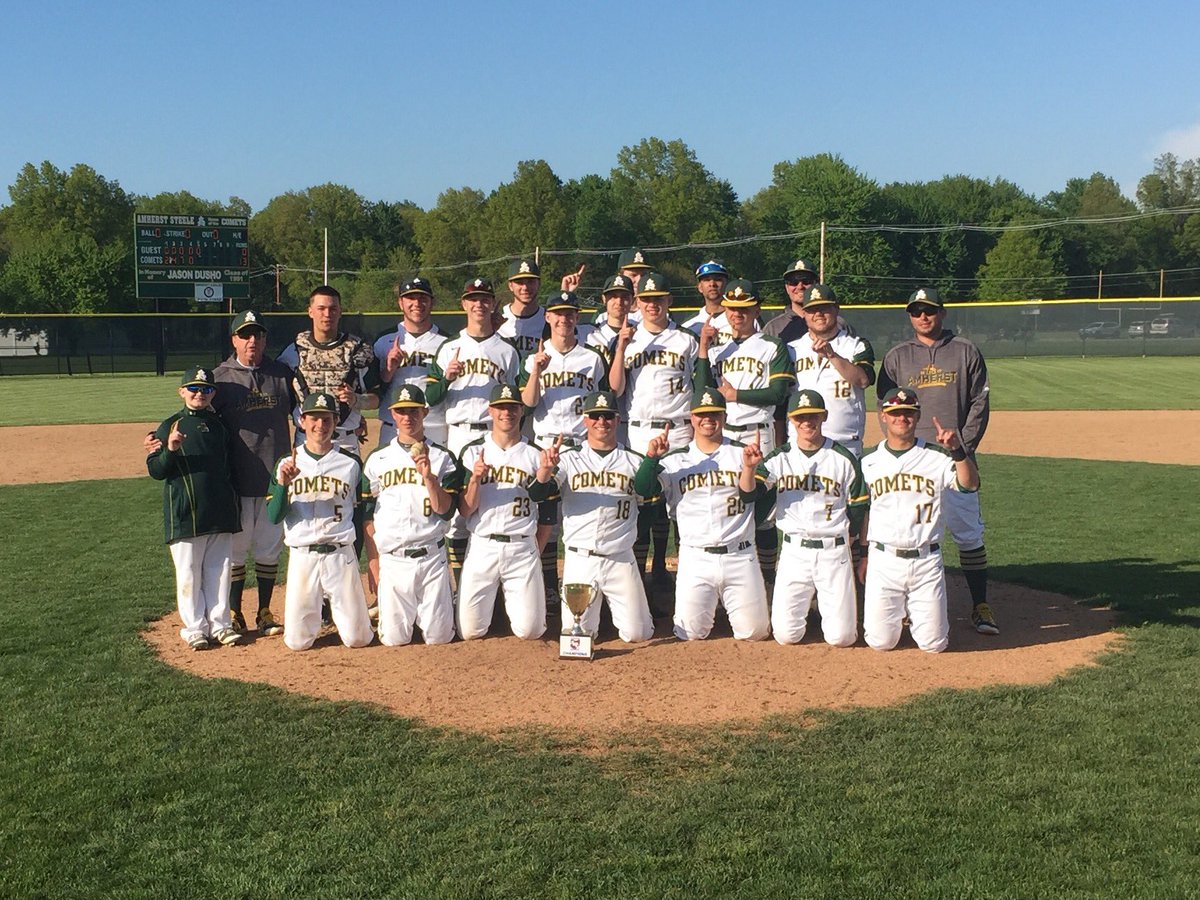 AMHERST, OHIO– Behind one of the best pitching staffs in the state last year, the Amherst Comets expected to make a deep postseason run.
But after falling short in the district championship game to Southwestern Conference foe Avon, the Comets are looking for redemption as their program draws more attention.
Like in years past, perhaps the biggest key to the Comets' success is going to be their pitching. This year, all eyes will be on senior ace Evan Shawver.  The University of Cincinnati commit struck out 92 batters in 2017, a single season record. He also finished No. 2 all-time with a single season ERA of 0.38. As a junior, Shawver also broke the career strikeout record, having amassed 194 Ks in his three varsity seasons.
All of Shawver's work over the last few years has made him more than capable of handling all the attention that comes with his success.
"I really think it's kind of been like that since about halfway through his freshman year," head coach Matt Rositano, who is entering his sixth season, said. "His first couple starts he was lights out as a freshman at the varsity level, and that's something pitching wise you just don't see. So I think he's used to the spotlight now, I think he wants to pitch in those big games, he knows he's going to pitch in those games, he likes the challenge. And I really don't think it's going to faze him at all going forward."
Shawver's fastball tops out in the mid-90s, and during the offseason he also added two new pitches to his arsenal, a slider and a changeup. He will also once again team up with senior catcher Hunter Cassidy. The two started practicing together on the varsity team as freshmen three years ago. They also play on the same summer team, and are so in sync that the coaching staff trusts Cassidy to call Shawver's pitches.
"He's been my best friend since like fifth grade," Shawver said of Cassidy. "So having him catching me and having him coming to the mound, getting things off my mind, I feel like I'm not even in the game anymore when I'm pitching. Nothing really rattles me anymore when he's catching me."
"It just really helps catching one of the best pitchers to ever come through here," Cassidy said. "We've stayed best friends for a very long time, and I think it will stay that way throughout college and however far he goes and I go."
But the Comets still have two big holes to fill in their starting rotation as they lost Xavier Moore and Brian D'Andrea to graduation. D'Andrea is continuing his baseball career at Lake Erie College, while Moore was drafted by the Texas Rangers last spring. Moore is the third Amherst alum to get drafted, joining Ryan Rua, Class of 2008, in the Rangers organization.
Combined, the trio of Moore, Shawver and D'Andrea struck out 230 batters last season. While replacing talent like that is borderline impossible, the Comets will look to seniors Jack Faight and Anthony Berrios to fill out their other two starting positions.
Rositano says that both pitchers have "really good stuff," and just as important this year will be the Comets' defense.
"We're returning all three of our outfielders, obviously Hunter behind the plate, both of our middle infielders in (Ryan) Glowacki and (Cameron) Karnick," he said. "I think we're going to be really good defensively as long as they don't put three people on base, limit the walks and make the other teams put the ball in play."
Perhaps the biggest weakness the Comets looked to improve on in the offseason, however, was their offense. It was something that proved to be their Achilles heel in the postseason, as they scored only one run in their district final loss.
"When Evan was on the mound I think we averaged like two runs or something awful," Cassidy said of the Comets 2017 season.  "I'm hoping that we can at least get him four. Because if we get him four runs, or a couple of our other guys four runs, then I don't see us losing."
"We've been working on situational hitting, even if you don't get a hit at the plate, make a productive out, move a runner," Rositano said. "All that kind of stuff to put our batters in position to score runs for our pitchers. Because if we can get to the point where we're scoring runs consistently at a high rate, I think we're going to be really good."
The Comets' season starts Saturday with games against Elyria and Elyria Catholic. Their first rematch with Avon will be Thursday, April 12, and the rest of their schedule can be found here. While they may have fallen short last season and lost two key pieces on the mound, the Comets are prepared to take the lessons they learned in 2017 to to try and make a deep run this season.
"We have a young team and these kids work hard," Shawver said. "I'm excited to play with these guys and I think that we can go farther than we did last year for sure."

NEO Sports Insiders Newsletter
Sign up to receive our NEOSI newsletter, and keep up to date with all the latest Cleveland sports news.