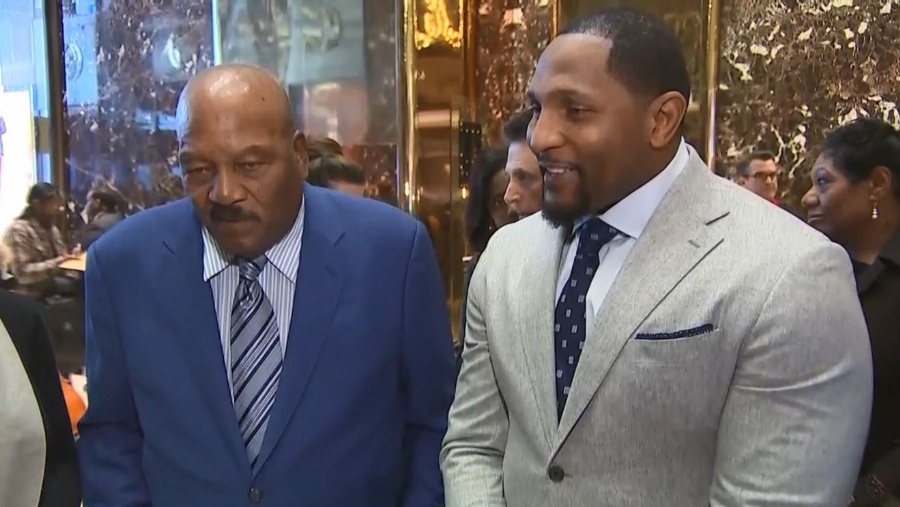 To ad to the strange relationships we've seen demonstrated from President Elect Donald trump let's add to the picture Cleveland Browns legend Jim Brown and Baltimore Raven, Ray Lewis.
According to various sources, the three gathered together Tuesday to talk about the future of African-American and urban communities across the country that Browm and Lewis are very active in.
Stories began trending early Tuesday saying that despite Brown voting for Democratic candidate, Hillary Cliton, he, Lewis and Curtis Martin were pleased with the issues that they were able to find common ground on during Tuesday's meetings.
Honored to have spent the last 2 hours with @JimBrownNFL32 @raylewis and Curtis Martin. @NDCTrump @realDonaldTrump will change the country! pic.twitter.com/jiDOoAKxek

— Michael Cohen (@MichaelCohen212) December 13, 2016
Brown has made it a life-long effort to bring the needs of these diverse communities to the forefront by using his notoriety to further his cause and to bring awareness to his purpose. He is a visionary in some regards. Ray Lewis tweeted this out during today's meeting.
Wherever Papa JB asks me to go I go. His vision is beyond platforms. Made great strides today to partner w/the gov 2 help urban communities pic.twitter.com/LfyVJwYWtX

— Ray Lewis (@raylewis) December 13, 2016
Originally there were NBA coaches and athletes, amoung others that rebuked the thought of The Donald's tactics along the course of the election and hopefully this is a step in the right direction for the healing of our nation and the relationships that make this "The greatest country in the world."
It'll be great to see how things progress from here and maybe, just maybe, we will see the benefits of today's gathering in come to fruition in our lifetime. While Trump has been a controversial figure in the sports world, Brown and Lewis apparently came away impressed.
.@OMAROSA @JimBrownNFL32 @raylewis @PastorDScott talking about what African American issues they discussed w Pres-Elect @realDonaldTrump pic.twitter.com/32hayK3MuX

— Tamara Gitt (@tamaragitt) December 13, 2016

NEO Sports Insiders Newsletter
Sign up to receive our NEOSI newsletter, and keep up to date with all the latest Cleveland sports news.