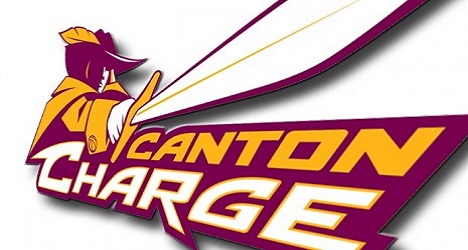 Tonight, the Canton Charge (6-7) were in Greensboro, North Carolina, for a match-up with the (4-9) Swarm (Charlotte Hornets affiliate) inside The Fieldhouse.
The Charge came out hot in tonight's game, led by an eight point first quarter from Grant Jerrett. After one quarter of play, the Charge were out in front by 12 points (27-15).
John Holland, who was playing in his first game since being called up by the Boston Celtics, began to assert his presence as the second quarter progressed. At the halftime horn, Holland had 11 points and Canton seemed to be pulling away (56-40).
After the break, the Charge continued to roll in Holland's return, pushing their lead to as many as 20 points heading into the final quarter of play (88-68).
The Charge would hold their large lead until the final buzzer. In fact, Canton led by as many as 23 points. As the horn blew, the Charge had won four of their last five games – this one by a large margin (116-97).
CHARGE WIN! Canton takes their fourth in the last five in a 116-97 downing of Greensboro.

BOX: https://t.co/GXkaMlSoLn #ChargeUp

— Canton Charge (@CantonCharge) December 14, 2016
Holland led all Canton scorers in tonight's game, scoring 23 points (10-15 FG), seven rebounds, seven assists, and two steals in 37 minutes.
Quinn Cook finished Tuesday night's game with 20 points, eight assists, and four rebounds in 37 minutes. Jerrett tallied 20 points (7-11 FG) and eight rebounds in 40 minutes. Mike Dunigan played well off the bench, scoring 21 points (8-12 FG), six rebounds, and two steals in his 23 minutes of playing time.
The Charge will be back in action on Friday, December 16th, when they host the Delaware 87ers (Philadelphia 76ers affiliate) inside Canton Memorial Civic Center for their special "Cavs Night" event, presented by GE Lighting.
Tip-off for Friday night's Cavs-themed game is scheduled for 7:00 p.m. EST. Fans in attendance will be treated to a variety of shows and activities, including a Larry O'Brien Trophy photo-op.
Going further with the "Cavs Night" theme, there will also be performances by The Cavaliers Girls, Moondog, Scream Team, Q Spirit Squad, and C-Town Throwdown. Furthermore, Charge players will dawn black Cavs-themed jerseys. The first 2,000 fans at Canton Memorial Civic Center will receive a free Cavs-Charge T-shirt.
Several Cavs legends will be in attendance on Friday night signing autographs, including Austin Carr, Campy Russell, Bingo Smith, Jim Chones, Barry Clemons, and Elmore Smith.