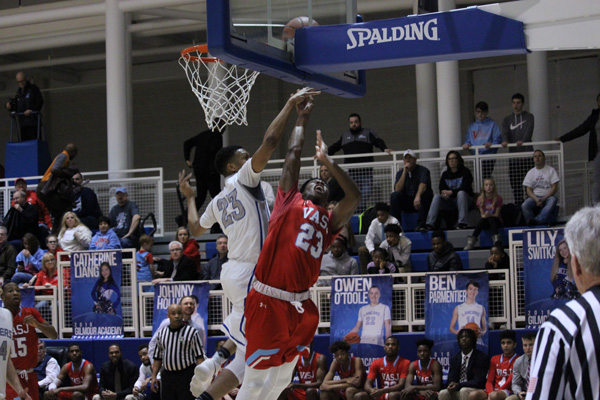 Photography: NEOSI / Opique
VASJ (7-4) came into tonight's contest looking to bounce back from a tough Loss to Cleveland Central Catholic and to stop the two-game winning streak from Gilmour (8-3).
The game started slow with each teaming trying to find its footing until the long range shooting of sophomore Connor O'Toole and junior Ryan Coan both hitting two 3s each in the first quarter to give Gilmour the lead after one frame.
VASJ increased its defensive pressure in the second quarter and with a technical for hanging on the rim after a missed dunk attempt from CJ Charleston with the game tied 25-25 the momentum shifted into VASJ favor. With a 20-7 second quarter VASJ took a 35-27 lead going into halftime.
The second half belonged to the lead guards for both teams. VASJ senior Jerry Higgins continued his hot first half (15 points), with a strong second half where he used his dribble drive to draw fouls and to set up teammates as he broke down the Gilmour press and zone. Despite a slow start, Gilmour Junior CJ Charleston did all he could to lead the fourth quarter comeback with 12 of his 18pts in the 4th quarter.
Final Score: VASJ 75 – Gilmour 64
Notes: Due to the changes in competitive balance VASJ and Gilmour have moved from Division III to Division II for 2017 – 2018 basketball season.
VASJ:
J. Higgins – 31
J. Priah – 14
J. Calhoun & J. Hameed – 9
Gilmour:
C. Charleston – 18
C. O'Toole & D. Kirinic – 15
Click through the photo gallery from the game below.
Pages: 1 2 3 4 5 6 7 8 9 10 11 12 13