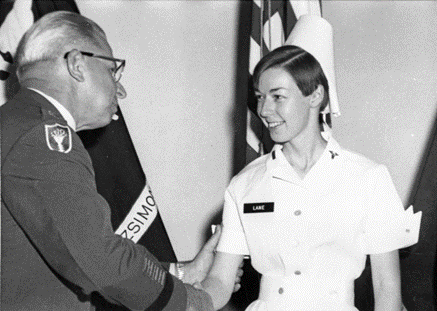 On 2 February 1901, the US Army established the Nurse Corps as a part of its medical department. For many years, young women, wanting to help their country, enlisted to be a part of this component of the Army. Sharon Ann Lane, born in Zanesville, Ohio, and spending most of her life in Canton, Ohio, heard that call and would be the answer to a trivia question that this weekend is apropos:  Who was the only American female servicewoman killed by enemy fire during the Vietnam War?
Sharon Ann Lane was born on 7 July 1943 in Zanesville to John and Mary Kay Lane. At two, the family moved to Canton. According to her mother, "[Sharon] always had a cat or a dog or some animal she was always taking care of." She graduated from Canton South HS in 1961 and enrolled in the Aultman Hospital School of Nursing.  Upon graduation in 1965, she worked at a hospital for two years.  According to her biographer, Philip Bigler, Sharon was restless. Wanting a new challenge, she quit the hospital and enrolled in Canton Business College before finally deciding to join the US Army Nurse Corps on 18 April 1968.
As was the case at the time for all who wanted to be a part of the Army Nurse Corps, Lane underwent basic training at Lane Army Medical Center in Fort Sam Houston, Texas. Upon graduating there, she was sent to Colorado and worked in the tuberculosis ward at Fitzsimons General Hospital in Denver. She was promoted to First Lieutenant and moved to the Cardiac Intensive Care unit.
On 29 April 1969, Lane arrived in Chu Lai, Vietnam, shortly after the Army ordered her presence there. She started in the intensive care unit until she was reassigned to the Vietnamese Ward. This ward was responsible for treating injured women and children but also captured enemy soldiers.
She was placed at the 312th Evacuation Hospital. Here's an excerpt from the US Army story on Sharon Lane:
Nursing the Vietnamese in Ward 4 was often physically and emotionally challenging, yet Lane repeatedly declined transfers to another ward. She worked five days a week, twelve hours a day in Ward 4, and spent her off-duty time taking care of the most critically injured American soldiers in the Surgical ICU. She thrived despite the demanding schedule, and was adored and respected by co-workers and patients alike.
Not ten weeks overseas, the morning of 8 June 1969 saw the 25-year-old Sharon Lane just completing her overnight shift. The medical unit came under attack, and she was responsible for getting patients either under their beds or covering those that were immobile with mattresses. During this process 122 mm rockets were bombarding the hospital and shrapnel from the blast hit Sharon in the throat and chest, killing her instantly. In all, two people died and 27 Americans and Vietnamese were injured.
According to a Cleveland Plain Dealer article, her last letter home shortly before her death read:
"Still very quiet around here. Haven't gotten mortared for (a) couple of weeks now."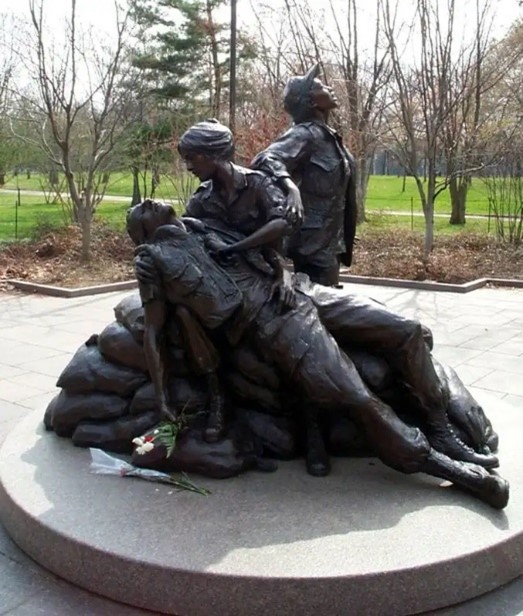 (Vietnam's Women Memorial, picture by Rudi Williams, American Forces Press Service)
After her death reports of Ms. Lane's bravery came in from numerous sources.
From the Army Times:
Colleagues remember Lane for throwing herself into her work at the Vietnamese ward, notoriously difficult because it held prisoners of war. Vietcong soldiers, strapped into beds, would kick, curse and spit at the nurses.
"She didn't make a big deal out of it," Green said. [Martha Green was a nurse with Ms. Lane] "She said she was a nurse, and she had to take care of patients. It didn't make a difference whether they were Vietnamese or POWs or our own soldiers."
Retired Col. Jane Carson, 59, of Santa Fe, N.M., was Lane's commander at Chu Lai. "She was a very gentle person, a very quiet person," Carson remembered in a 2001 telephone interview. Carson said that one or two Viet Cong prisoners of war were treated in the Vietnamese ward and that "this was a difficult experience for us because we were constantly surrounded by our own young men who'd been severely wounded by their high velocity weapons." Carson remembered that Lane "was very compassionate toward the Vietnamese people and was one of the few who elected to work continuously with Vietnamese adults and children."
Sharon Ann Lane is listed on Panel 23 West line 112 on the Vietnam War Memorial Wall.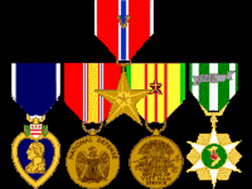 Her plaque can be found at Sunset Hills Cemetery in Canton. She was awarded posthumously the Bronze Star with "V" device (for Valor) and the Purple Heart, the National Defense Service Medal, the Vietnam Service Medal, the National Order of Vietnam Medal, and the Vietnamese Gallantry Cross.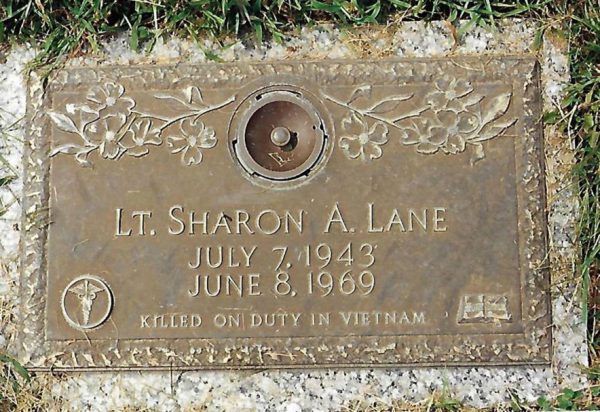 According to Army History, Sharon A. Lane has been remembered in this fashion:
In the years that followed her death, various individuals and organizations honored Lane in a variety of ways. On 11 November 1969, the Fitzsimons Hospital named its recovery room the Lane Recovery Suite and put a plaque and a picture on display. In that same year, the Daughters of the American Revolution named her Outstanding Nurse of the Year, and posthumously awarded her the Anita Newcomb McGee medal in 1970. In 1973 a statue of Lane was dedicated in front of Aultman Hospital, and in 1986, the Hospital opened the Sharon Lane Woman's Center in its front lobby. The Canton Chapter of the Vietnam Veterans of America officially changed its name to the Sharon Lane Chapter #199, and roads in Denver, Colorado, and at Fort Belvoir, Virginia, have been named in her honor.
Pat Powell, a former President of the Vietnam Veterans of America association, has vowed that he and other veterans will continue to visit her grave and keep her memory alive. His three-word response? "Until we die."
Sharon's legacy lives on. And this Ohio native and hero is celebrated by NEOSportsinsiders.com for this 2022 Memorial Day Weekend. We remember your service and sacrifice, Ms. Lane.

NEO Sports Insiders Newsletter
Sign up to receive our NEOSI newsletter, and keep up to date with all the latest Cleveland sports news.