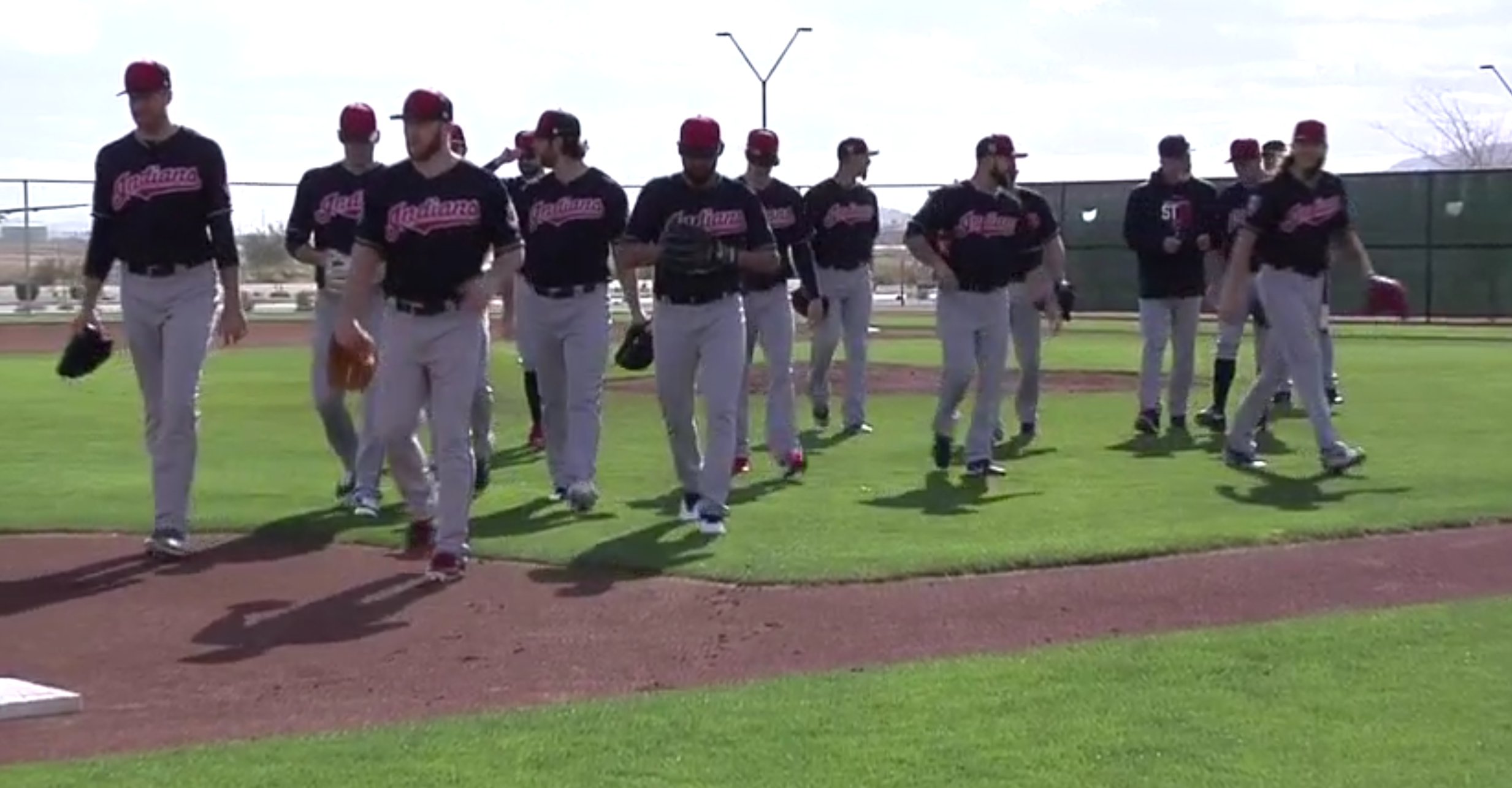 GOODYEAR, Ariz.– Monday marked the first day that the full Indians team was at camp. While some position players were there along with pitchers and catchers last week, the full squad can now concentrate on getting ready for their first spring training game against the Cincinnati Reds this Friday.
Day 1 of full squad in the books ? pic.twitter.com/xwjw8K1EPT

— Cleveland Indians (@Indians) February 20, 2018
In news that isn't exactly breaking, the Indians will need to try and fill the shoes of reliever Bryan Shaw.
"He will be missed," manager Terry Francona said on Monday. "I hate to use the word, but he's a sweetheart, man. I told [Rockies manager] Bud Black when they signed him, I said, 'You got a good one.'" Read more and see what Shaw had to say, as written up by MLB.com's Jordan Bastian.
Also courtesy of Bastian, Michael Brantley took part in regular batting practice with the team. Brantley underwent right ankle surgery back in October to stabilize his ligaments. According to Paul Hoynes of cleveland.com, Francisco Lindor offered an assessment of Brantley's at-bats.
"My first thought was 'Damn, that's his first BP? How come I can't do that?' I've been hitting all offseason. He had a great BP today. He looked good. He looked strong. He was driving the ball everywhere on the field."
Michael Brantley (right ankle) took part in regular BP today with the Indians. pic.twitter.com/yN3EgkNcCI

— Jordan Bastian (@MLBastian) February 19, 2018
And speaking of Lindor, he also talked with reporters about the team's early postseason exit, and had a very specific analogy to describe the lingering feelings.
"It's still in my head," Francisco Lindor said. "It's like the girlfriend that you break up with. You never get over it. You turn the page, but you can't get over it. You always remember that she was there."
Francisco Lindor said last season's disappointment lingers in his mind like an ex-girlfriend. #Indians pic.twitter.com/rtaOgGDXAy

— clevelanddotcom (@clevelanddotcom) February 19, 2018
Check out Zack Meisel's full story on his comments in The Athletic.
Finally, Francona addressed the team today and delivered his annual tone-setting speech.
"The message never changes," Francona said. "I don't think it hurts them once a year to hear it again and, for the new guys, I think it's fair so when they step on the field, they know what's expected.'
Terry Francona addressed the Indians today before the team's first full-squad workout. The message remained the same as it has over the last few years: play hard, play the right way and don't stop until it's over. #Indians pic.twitter.com/n9Hu4WNkMU

— Indians Insider (@indiansinsider) February 19, 2018