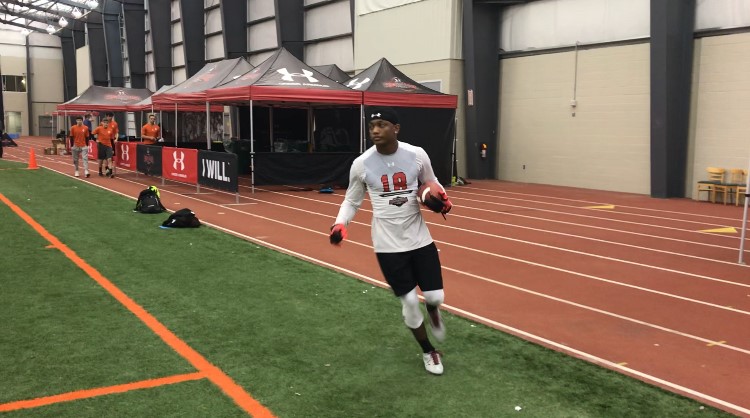 GENEVA, OHIO –  The Under Armour All-America Camp Series Sunday afternoon stopped at SPIRE Institute in Geneva, Ohio. More than 150 of the best high school football players in the region showcased their on-field skills in front of different scouts, coaches and former players.
This was the first invite-only camp of the new year where 10 more camps nationwide will take place, ending on May 20 in Baltimore.
One of the top players selected to participate in the camp series at SPIRE Institute was Benedictine junior wide receiver, Devon Fox. Fox is a 6-foot 175-pound junior coming off a stellar season for the Bengals.
The 2017 season didn't go as planned for Fox and his Benedictine teammates. The Bengals finished the regular season with a 6-4 record. Their season hastily came to an early end after losing to Barberton 36-6 in the first round of the playoffs.
The offseason is all about putting in the work and Devon Fox knows that he must use every opportunity he can to showcase his skills heading into his senior season. His offseason started off with an invitation to the Under Armour All-American camp showcase where his play caught the attention of some people watching.
The talented junior just recently picked up an offer from the University of Toledo last month. Fox is excited about getting the scholarship offer but knows that they can keep coming his way with the work put into this offseason.
"It's my first offer, so I was happy and glad about it," he said. "That's just the beginning for me."
Getting invited to the camp series on February 18 was a very special moment for him, but that wasn't enough. Fox wants to make himself known around Northeast Ohio and he feels like this camp series was a good start for him.
"I think I did good," said Fox. "I wanted to put a name out for myself."
Fox knows he has a ton of support behind him heading into his senior season. It's the post-game text messages from past alumni that keeps him moving forward. Some notable players such as Justin Layne (Michigan State) and Jerome Baker (Ohio State) reach out to Fox to let them know their support for him is perennial.
Fox said that these two are the leaders who help push him through the tough times. The encouraging words from former players bolster his performance on the field.
"I still keep in touch with (Jerome and Justin) they help me out. They always are just looking out for the younger guys."
Moving forward, Devon Fox has a vision. That vision is to earn more scholarships to dictate the kind of player he really is on the football field. He's a very underrated receiver who's got the ability to become a highly recruited player in the class of 2019.
But for now, he's enjoying the offseason while staying focused on becoming a better player on and off the football field.
"I can't wait," said Fox about getting back on the field next season. "I want to get a bigger name out here. I got to keep working hard off the field and in the books."