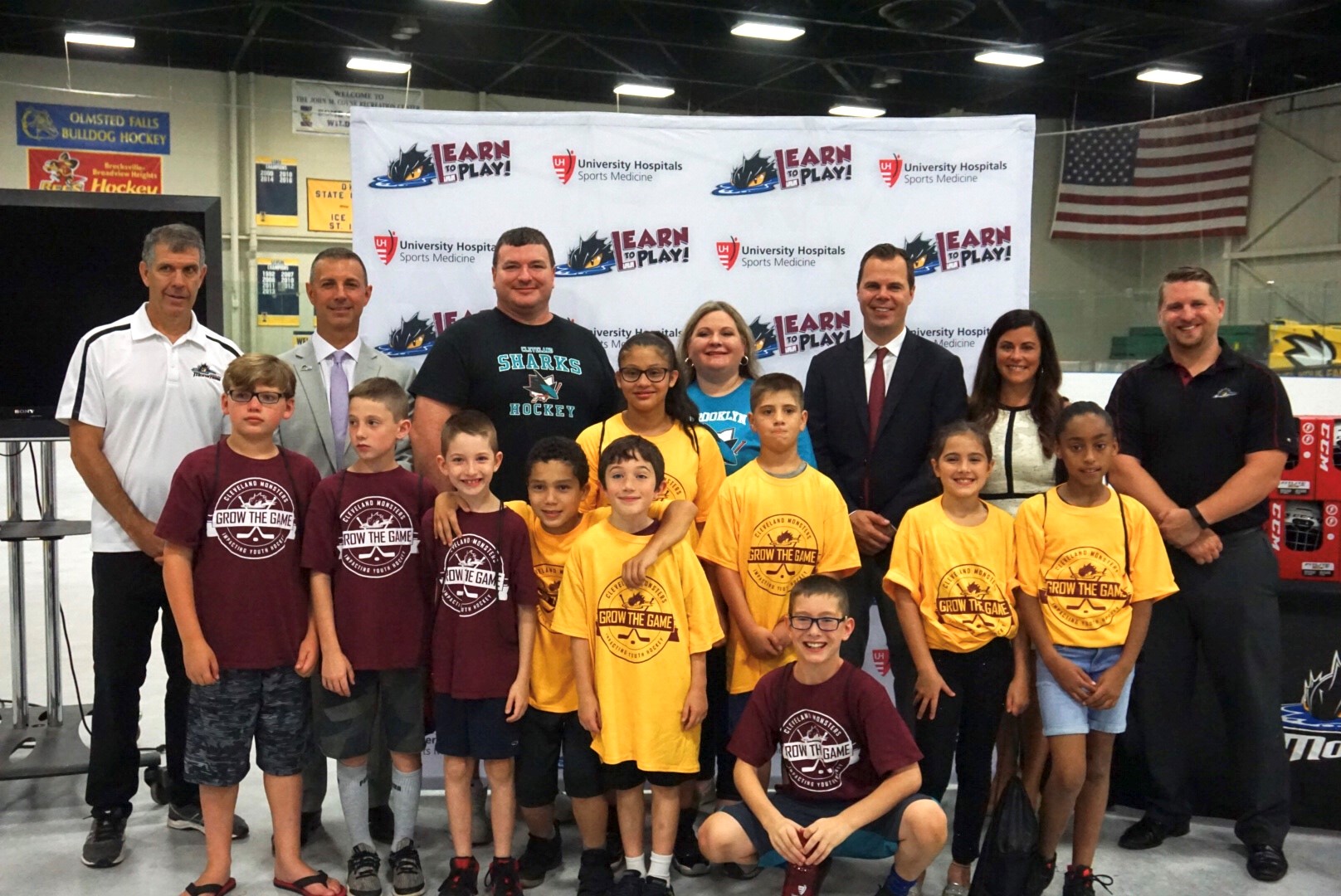 CLEVELAND – The Cleveland Monsters, American Hockey League affiliate of the NHL's Columbus Blue Jackets, announced Thursday at a press conference at the John M. Coyne Recreation Center in Brooklyn, Ohio, that the Monsters Community Fund will donate 500 youth hockey helmets to the team's 14 Certified Learn to Play Programs across Northeast Ohio in an effort to provide hundreds of kids access to hockey.
Speaking alongside members of University Hospitals Sports Medicine Department and representatives from the Brooklyn Youth Hockey Association, a Monsters' Certified Learn to Play Program, Monsters COO/SVP of Franchise Operations Mike Ostrowski highlighted how access to equipment and its cost can be significant impediments to kids accessing the game of hockey.
"We understand how intimidating and expensive it can be for many kids and families to enter the great sport of hockey for the first time in their young careers," said Ostrowski.  "As the professional hockey team in town, we see it as our responsibility to help reduce those burdens to the best of our ability, so as many kids can play the game as possible. We are honored to be a part of this Grow the Game initiative in Cleveland and NE Ohio, along with so many other committed individuals and organizations who are making a difference. We are already seeing great results."
Dr. James Voos, Division Chief of University Hospitals Sports Medicine addressed how the impact of today's 500 youth hockey helmet donation tied into their mission at UH Hospitals. "This program is dedicated to athletes from pee-wee to pro and we believe healthy kids are in a better environment when they are able to participate in sports," said Dr. Voos. "Our goal is to allow our kids to be life-long athletes, so once they start playing the sport as a child we make sure to place them in the safest environment possible so that you can participate as long as you'd like. These helmet and safety programs allow kids to play the sport they love safely while reducing the risk of injury."
"Part of our mission with the entire Monsters organization is to 'Grow the Game' of hockey in Northeast Ohio," explainedMonsters VP of Marketing and Communications Pam Frasco on Thursday. "While initiatives like our Summer Street Hockey Series help kids become introduced to the game, with this donation, we aim to directly raise participation numbers across our Certified Learn to Play Partner programs and help remove some of the obstacles to participation for kids that, for whatever reason, might otherwise not be able to play."
Adding the perspective of a local youth hockey organizer,Brooklyn Youth Hockey Director Mike Crossman says the Monsters' donation will directly result in making participation more realistic for hundreds of area youth hockey players. "As a result of this new partnership with the Monsters and their Learn to Play efforts, we are building to strengthen our youth hockey program," said Crossman. "With the success of the Monsters Street Hockey series in Brooklyn here in July, we were able to register 23 new hockey players for our program. As a result, we have now been able to additionally add two brand new teams into our program. This will provide us with a foundation for many years to come."
The Monsters Community Fund supports Northeast Ohio programs that positively impact the areas of education, youth hockey, health & wellness and basic needs. Additional consideration is given to programs that deal with at-risk youth.