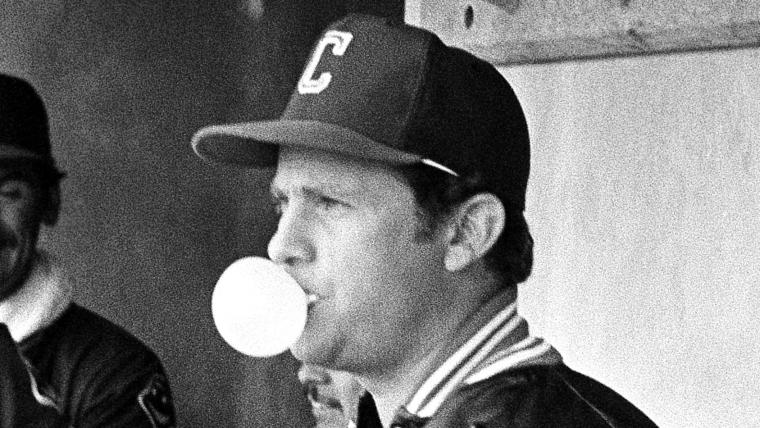 1983 should have been a great year for Mike Ferraro. He was named Tribe skipper in November of 1982, the same time the Cavaliers were in the midst of a 23 game slide!
It was his first chance to be a major league manager! The young man from Kingston, New York went from being the 3rd base coach for his friend and manager of the New York Yankees, Dick Howser, to this first opportunity! Little did he know it wouldn't last past August.
1982
1982 was a brutal year for Cleveland. Many of the starters played 150 games or more. Toby Harrah laced it up for every game that year. The bench was underwhelming, so manager Dave Garcia tried to squeeze out as much as he could from the starting 9, including Andre Thornton's 160 games!
Injuries were terrible with both Bake McBride (out for an eye infection from bad saline solution!) and Bert Blyleven (on the injured list for basically the first time in his career) missing most of the season!
Somehow, Garcia managed to keep the club at .500 by the end of July. Then, the wear and tear wore the club down as they dropped further back with a 12-17 August. They left the most runners on base in the history of the club and lost games where simple fundamentals could have won them the ballgame (NY Times, 11/5/82). The club finished in 6th with a 78-84 record.
Ferraro hired!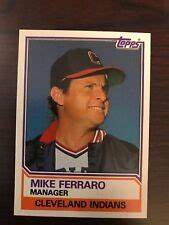 Garcia was not rehired after the season and the brass turned to Mike Ferraro, the first base coach for the Yankees and former object of George Steinbrenner's ire!
Ferraro was considered a person who demanded you play the fundamentals well and had a fiery personality. Here's a quote from him found in the OSU's The Lantern, from a UPI article.
"I can get a little fiery as a manager and then I feel sorry for the umpires!"
From that same article, president Gabe Paul commented on Ferraro's style: "…[a]n old-fashioned manager [with] a lot of guts."
Playing career
Mike played in the majors with the Yankees, Seattle Pilots and finally with Milwaukee, where he had basically his only year starting. Amazingly, he played exactly 162 games over four years. But he quit the game as a player after the Milwaukee time and returned to the Yankees to manage their minor league teams. 
He was hired by long-time friend, Dick Howser, to take his position as 3rd base coach when Howser was named Yankee skipper.
In 1980, George wanted Mike fired after a playoff game where he sent Willie Randolph home on a ball hit to the left field corner. Randolph was tagged out at the plate, and Steinbrenner went off on his coach after the loss. Howser, so incensed after the episode, quit as manager after the playoff loss to the Royals. Mike stayed on and moved to first base but was quoted in the NY Times:
"If I had it to do all over again, I'd do it the same way…Coaching third base is a tough job. If you're having a tough time scoring runs, you have to take chances."
1983 Cleveland Indians – Trading fools and Firing managers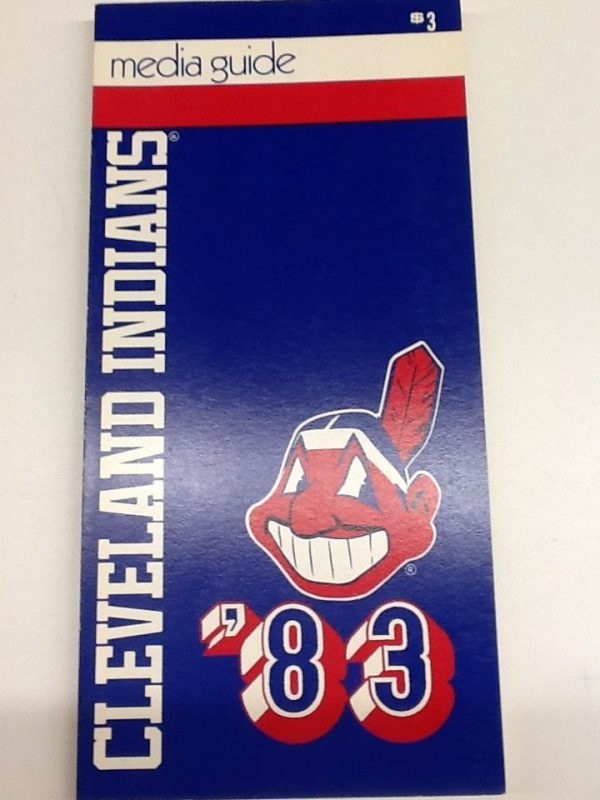 To help the club's bench, GM Phil Seghi made a huge deal with the Philadelphia Phillies in early December, giving Ferraro some bench help. The Phillies wanted Von Hayes, a rookie fan favorite. So Seghi dealt the right fielder, who had finished 7th in the Rookie of the Year voting, for George Vukovich, Manny Trillo, Jay Baller, Jerry Willard, and a young Julio Franco. Spring training beckoned with great hope with new players and a new manager.
A kidney removed for Ferraro
On the eve of his first spring training as full time manager, Ferraro was rushed for surgery to remove one of his kidneys that had a malignant tumor. Two weeks later he was at the training complex rushing from diamond to diamond on a golf cart! Your dream job! You've waited your whole life for this and you find yourself dealing with cancer!
"I wasn't supposed to get here until last week, but I got here a week early…I wanted the players to see I was all right." (NY Times)
Seghi, not afraid himself to improve his club, right before the season started, traded Jerry Dybzinsky for Pat Tabler. Cleveland now had healthy players, a solid starting pitching staff, a bench with former full time players, and a bullpen anchored by Dan Spillner, who had 21 saves and 12 wins last year. Ferraro had his club!
Another long year
1983 started with the ballclub 9-11 after April. May started well winning 8 of 12 games. But quickly, a road trip to Texas and California saw them lose 7 of 10, including two back to back games to the Rangers that went well into extras. The second game, Neal Heaton pitched the 8th, 9th, 10th, 11th, 12th, 13th and 14th innings to give the bullpen a rest from the prior lost extra inning game! 
Maybe that was the beginning of the bullpen struggles. Dan Spillner was not the same pitcher in 83. Heaton, the rookie, was asked at times to pitch in save situations, where he notched 7 for the year with 11 wins in 16 games starting and 149 innings pitched!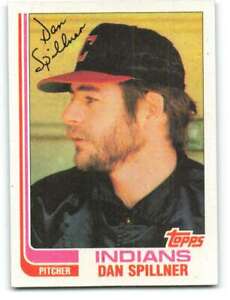 Sensing the bullpen issues, Seghi again made a trade sending Rick Manning and Rick Waits to the Brewers for Ernie Camacho, Jamie Easterly and Gorman Thomas.
June saw the starting pitchers log more innings in their attempt to help stem the losing. Sutcliffe, Sorenson, Barker and Blyleven each logged over 140 innings for the year. But Len Barker was not up to the same level he had been the past two years. While the bullpen was struggling, the offense was Jekyl and Hyde. They had the third best on base percentage yet produced the third fewest runs. 
July and hello, Pat!
Bake McBride was supposed to be the veteran that propelled the team to the postseason. His 1982 eye infection was bad and almost made him think he would lose his eye. Sadly 1983 was more of the same. 
He had a partially torn rotator cuff that caused him to miss almost seven weeks in the middle of the season. Then when he returned, he tore ligaments in his thumb.
"I'd like to have a full season where I can show the people of Cleveland what I can do. I have hit all my life and I can still hit. But in my two years with the Indians, it has been one injury after another."
(From Terry Pluto's article: "Has McBride Played Finale for the Tribe?" Cleveland Plain Dealer, August 17, 1983)
Struggles
The offense produced only 86 homeruns. The league average that year was 126. So many first or second year players (Franco, Heaton, etc.) were asked to carry a large load and the veterans were not producing either at the plate or on the mound. The Indians had the second worst era at 4.43. They amassed only 25 saves when the league average was 38. Their WHIP (Walks + hits per innings pitched) was the third worst in all baseball.
Throw in the injuries and all this would make an even experienced manager have trouble winning games, let alone a first year manager with health issues! Through it all, Ferraro kept trying.
Corrales fired then hired!
Someone in the Cleveland front office must have wondered if Mike was in over his head. And how can a team fire a manager when your team is in first place? Well, you can when you are the Phillies.
Pat Corrales had a great start to his 1983 managerial year. He was married during spring training, and though the Phillies were only 43-42, they were in first place in the tough NL East. But in Philadelphia, you win. Period. GM Paul Owens didn't like what he saw so he fired Pat, making him the only manager fired when your team was in first in the history of MLB.
But, with Cleveland solidly in last place in the AL East, someone thought "Hey, we can get a successful, veteran manager available now!" 
Another Extra Inning loss
Dan Spillner just recorded another blown save in Toronto on July 30th. He had two blown saves already for the year and was 1-7 on the season, where two of those recent losses were him losing the lead he had inherited. He came on that last day of July with the score 5-3. 6 batters, 3 hits and 2 walks later, the Blue Jays tied the game and bases were still loaded with one out. Easterly came on and struck out the only two men he faced.
But the Tribe would go on to lose in extras again. After the game, Mike was fired. Gabe Paul and Phil Seghi made the decision Friday morning and reached out to Corrales later that day, prior to the 13 inning defeat.
Immediately after his dismissal, Ferraro said:
"I feel like I was shot in the back. 'Right now, I feel like I'm out in the gutter, out in the street. I've never been fired from any job."
Mike Ferraro never received a fair chance to manage. And even though he went on to manage again, his next firing was by the Royals and his best friend, Dick Howser, who Mike covered for when Howser's brain cancer operation happened during the season.
Mike, sorry for how baseball treated you. You worked with some amazing people from Yogi Berra to Gene Michael to Bob Lemon to Dick Howser. And you never got the chance young managers like Sparky Anderson did when the Reds hired him at 35.
We Cleveland fans wish to thank you for your service to this club and city. Here's hoping for your continued good health!
Did you know?
Mike's cousin, Dave Ferraro, is in the Professional Bowlers Hall of Fame? He won 10 PBA titles, the Firestone in 1990, and was Bowler of the Year in 1992! Click the link for the entire ABC viewing of the Firestone Championship!
What manager would you like us to highlight next? Add it to the comments! Thanks for reading!

NEO Sports Insiders Newsletter
Sign up to receive our NEOSI newsletter, and keep up to date with all the latest Cleveland sports news.