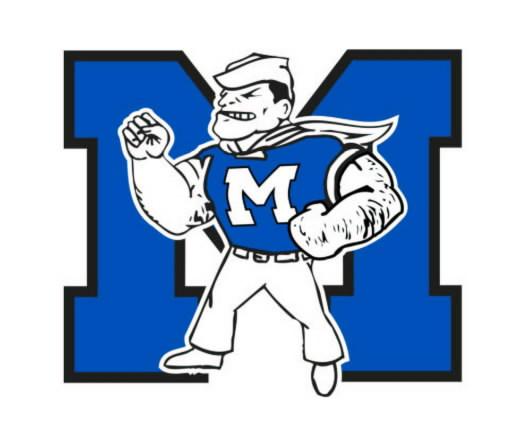 BROOKLYN, Ohio- The Midview Middies and Bay Rockets took the ice at the John M. Coyne Recreation Center on Monday evening for their first-round clash in the Brooklyn District Tournament, with the winner taking on the Westlake Demons on Saturday afternoon. The Middies would have the upper hand heading into the clash as Bay was without three of their players due to game misconducts issued in the Rockets' first-round Baron Cup II loss to the eventual champion, Amherst Steele. One of those players was leader Jake Gaudino, who was serving a four-game suspension due to two game misconducts issued to Gaudino during the Baron Cup II loss.
The Middies took full advantage early on and never looked back, striking for a flurry of goals to start the contest. Before the halfway point of the opening frame, Cody Gochnour and Nick Verlotti had made it 2-0 in favor of Midview after getting past Bay goaltender Sean Gulley. Gulley had a rough game with a lack of skaters able to protect him for a majority of the contest. Gulley made 37 saves overall in the losing effort.
Defenseman Heath Naso scored a power-play goal at the 1035 mark after Bay's Collin Drake was sent to the sin bin for tripping. Jeffrey Mullins stretched the lead to four with just 9.9 seconds left in the first period. The Middies went into the break leading the Rockets, 4-0.
Isaac Vince scored just nineteen seconds into the middle stanza to make it 5-0 off of a Nick Verlotti assist. Mullins struck for his second goal of the game at the 2:48 mark of the second period to make it 6-0 in favor of Midview. Paul Saylor made it 7-0 just a minute later.
The finishing touches were put on this game when Midview went down two men to penalties and were forced to play 3-on-5. Though it should have been an advantage for Bay, Midview scurried down the ice and found an opening for Robby Rodgers to strike as the running clock expired. The score after two periods stood at 8-0 in favor of Midview and that would remain the final score.
Midview will now take on Westlake Saturday afternoon in a second-round clash of the Brooklyn District Tournament.

NEO Sports Insiders Newsletter
Sign up to receive our NEOSI newsletter, and keep up to date with all the latest Cleveland sports news.