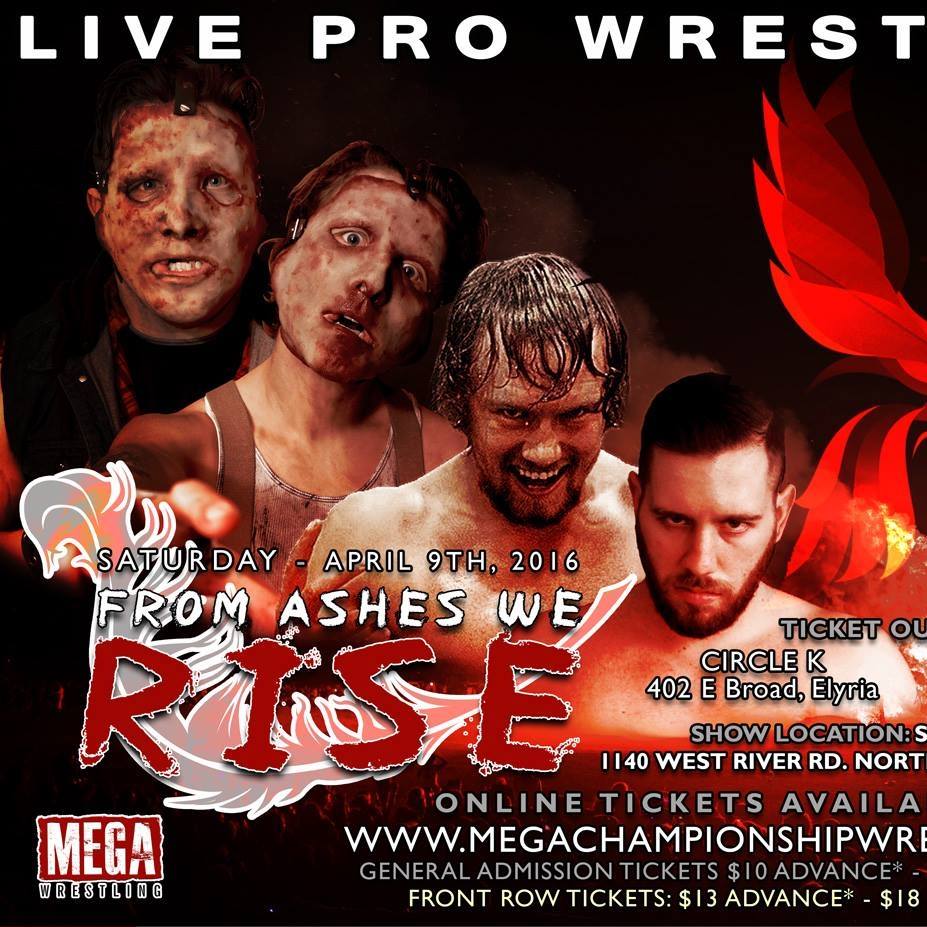 Date: April 9th
Location: St. John's Gym, 1140 West River Rd North – Elyria, OH
General Admission: $10 pre-sale/$15 day of event
Front Row (limited/possibly sold out): $13 pre-sale/$18 day of event
Doors Open: 6:00 PM
Where to get tickets: www.megachampionshipwrestling.com
or
Circle K – 402 East Broad St – Elyria, OH
Keith's Comics – 394 Broad St – Elyria, OH
Tag Team Match
Stone Cold Sexy (Shawn Blaze & Jackson Stone) vs Frankie Flynn & Daniel Winchester
Stone Cold Sexy formed back in December at Night of Champions and since then they have began to gel after competing in some tough contests. Stone Cold Sexy will stand across a team that has been rumored for some time now. Flynn and Winchester are a very high class combination. Flynn and Winchester are looking to invest in several pounds of gold. This match is a must win for Stone Cold Sexy, while on the other hand this match can make or break the team of Frankie Flynn and Daniel Winchester.
Singles Match
Alex Daniels vs Graham Wellington
Graham Wellington is coming off of an impressive victory over Hawaiian Lion at No Love Lost. Alex Daniels is returning from an eye injury which took him out of a match for the MEGA Championship back at Night of Champions in December. Dr. Daniel C. Rockingham sold the championship contract to Agent Aaron Bauer and All Business during Night of Champions. Daniels is not to pleased but Rockingham insists this will be good for Daniels. Will Wellington continue his winning ways? Will Daniels work his way back in to title contention?
Tag Team Match
MeatNTaters (Big Moe & Brandon Xavier) vs Weird World ("Weird Body" Evan Adams & Alex "Worldwide" Kellar)
At No Love Lost, MeatNTaters lost the Tag Team Championships due to outside interference from the Cogar Brothers. During the Fatal Four Way for the Tag Titles, the lights went out and Big Moe was struck with a fire ball. Big Moe and Brandon Xavier are looking for Atticus and Otis so that they can get their revenge. The Cogar Brothers know that MeatNTaters want them but they responded to their message with a message of their own by telling MeatNTaters to "Find Us". Weird World on the other hand are quickly becoming fan favorites in MEGA with their unorthodox party style. Weird World is looking for a tag team victory and move up in contention for the Tag Team Titles. Will Weird World climb up in the tag rankings? Are MeatNTaters back at 100%?
Tag Team Match for the Tag Team Championships
The Jersey Dukes (Anthony Falcone & The Duke) (c) vs The Dirty Johnsons (Dirty Tom & Soda Pop Johnson)
At No Love Lost, The Jersey Dukes became the new Tag Team Champions. Soda Pop Johnson is no stranger to gold, some could even say he is an expert. Agent Aaron Bauer will not be in their corner though due to a recent suspension. Will the Dirty Johnsons add another title to their collection? Will The Jersey Dukes prove to be the superior team?
6-Way Scramble
Mavis vs Colt Daniels vs Danny Spitfire vs Renzo Lavell vs Malcolm Monroe III vs Criss Chambers
This match is for a regular roster spot on the MEGA roster. Renzo Lavell is making waves in the independent scene. Lavell has already stepped in the ring with men such as former WWE Superstar and NWA World Heavyweight Champion Rob Conway, ROH's Silas Young, and Tyson Dux. Lavell is looking to be the new alpha dog in MEGA. Mavis is a member of All Business and Agent Aaron Bauer has placed Mavis is matches against Kenny Hendrix, Beast Man and Eddie KnoxXx. Each time Mavis has come up short. Even though Bauer is suspended, Bauer has stated that this will be the last chance for Mavis. Either Mavis wins or he is gone from All Business and from MEGA Wrestling. Not much is known about Colt Daniels. Daniels is a native of Toledo and contacted the MEGA offices at the right time. Attempts by both Payton Vince and David Powers to get some interview time, or any information about Colt Daniels have been met with the statement "You will remember me!" Criss Chambers has also made a previous appearance in MEGA, impressing officials enough for another opportunity. Chambers has fought in rings from Georgia to Alaska and many points in between. A victory by Chambers here will secure a spot on the MEGA roster that he is looking for. Danny Spitfire is trained by The American Gangster Lou Gotti. Spitfire is well versed in traditional mat wrestling but is more than willing to put his body at risk or to fire off hard hitting strikes. Spitfire is determined to secure a roster spot at MEGA regardless of who he has to go through. Rounding out the competitors will be MM3, Malcolm Monroe III. MM3 will be bringing the pedigree of his father "The Dangerous One" DBA , who is known for his insane matches in Cleveland All Pro. "Sweet Daddy" Malcolm Monroe is MM3's grandfather, who ruled the Michigan scene in the 80s. Malcolm Monroe III is waiting to unleash his daredevil maneuvers on the other competitors. Who will walk away with a roster spot in MEGA?
Singles Match
Miss Hannah vs Angeldust
Miss Hannah came on the scene back at Night of Champions as the valet of Derek Direction and helped Direction maintain his Infinity Championship against Rhyno. Miss Hannah has decided that she is ready to show the MEGA MAFIA what she can do. Miss Hannah issued the challenge to Angeldust. Angeldust has fought some tough opponents in the recent months such as Heidi Lovelace and Kelly Klein. Miss Hannah has the height and size advantage but Angeldust has more experience than her. Will Miss Hannah come away with the victory in her first match at MEGA?
Fatal Four Way for the Infinity Championship
The Mysterious Movado vs Joshua Singh vs Eddy Excess vs Derek Direction (c)
Eddy Excess has cashed in his Breaking Down Barriers opportunity and has chosen to challenge Derek Direction for the Infinity Championship. The MEGA executive board has upped the ante and have decided to include two other competitors. Joshua Singh has had his battles with Derek Direction but Direction has used some type of shenanigans to keep his title. The youngest MEGA champion in history is determined to add another title to his resume. Also added to this match is The Mysterious Movado. Movado has been on a hot streak recently, claiming important victories. Movado's recent success has been noticed and that is the reason why he is being inserted into this title match. Derek Direction seems to always find a way to escape with his Infinity Title but will he do it under these circumstances?
Singles Match for the MEGA Championship
Eddie KnoxXx vs N8 Mattson (c)
At No Love Lost, Eddie KnoxXx attacked N8 Mattson and showed that he was coming for the Mega Championship. Mattson is not a guy to back down from a challenge. N8 Mattson is still undefeated in MEGA. KnoxXx is young and full of himself. In his young career, KnoxXx has already appeared on "Tough Enough" and regularly spends time training with Rip Rogers. Rogers is known for being one of the best, as well as one of the dirtiest. Will Eddie KnoxXx be the man to end the amazing streak of N8 Mattson? Or will Mattson continue his winning ways and retain his MEGA Championship?

NEO Sports Insiders Newsletter
Sign up to receive our NEOSI newsletter, and keep up to date with all the latest Cleveland sports news.