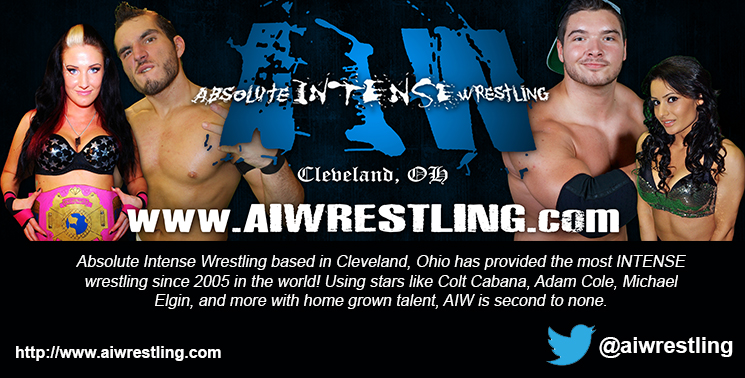 Absolute Intense Wrestling card for 12/18
Doors open about 6:30 at Our Lady of Mount Carmel in Cleveland

Singles match
Ethan Carter III vs Chuck Taylor
EC3 is back in AIW for the first time since he lost the TNA Championship. Will the Dudes on TV help EC3 in this match? If you have not seen Chuck Taylor before check him out on YouTube (hyperlink) he is one of the most entertaining guys out there.

Singles match
Louis Lyndon vs Amazing Red
Louis Lyndon has been on a roll this year in AIW. He has beaten Colt Cabana, Brian Meyers, Tommy Mercer (Crimson) , 2 Cold Scorpio, ACH. Cedric Alexander, and Candice LeRae. Meanwhile Amazing Red faced off with Johnny Gargano back in Big Trouble in Little Cleveland back in October. Should be a very good match.

Tag Team match
Bunkhouse Buck & Jock Samson w/ Col. Robert Parker vs Dick Justice & Marion Fontaine
At Faith No More in September Dick Justice was facing off with Nightmare Freddy who has been haunting him since May. During their match Nightmare Freddy was unmasked to be Jock Samson during their match. With Jock Samson getting the upper hand for several months by beating Dick Justice senseless, Justice finally got some back up at Hell on Earth in November. That back up was Marion Fontaine with a team of Justice and Fontaine, Samson had to start looking for a partner after some looking he made a call to Bunkhouse Buck. Will Justice get beat senseless once again even with Marion Fontaine by his side?

6 way Scramble match for the Intense Title
Gregory Iron (c) vs JERRY vs Shinnya Ishida vs Davey Vega vs Cloudy vs Rex Brody
At Faith No More, Gregory Iron won a six man scramble match for the Intense Title and has been holding it since. Although Iron has been retaining the title in multiple defense he has had some help from the members of his stable , The Iron Curtain. With JERRY being a member of The Iron Curtain will he help out Greg or will he think for himself? Will we have a new Intense Champion? Will Davey Vega regaining his title once again?

Absolute Title match
Ethan Page (c) vs Tim Donst
Back at I Choo-Choo- Choose You, Tim Donst had to relinquish his Absolute Title because he had a tumor in his kidney that could have given him cancer. Donst did not know if he would ever wrestle again. Back in May during the J.T Lightning tournament on night two Donst had a big announcement for the fans. The announcement was interrupted by Nick Gage saying that no body cares what he has to say because he will never wrestle again although he was wrong. Donst announced that he has been cleared to wrestle and challenged Gage to a match at Absolution X. Since his return Donst has beaten guys like Paul London, Hardcore Holly, Nick Gage, and Chris Hero. Donst has not lost yet since his return and is determined to win back his title that he never lost. Meanwhile Ethan Page turned heel on the night of Big Trouble in Little Cleveland when former champion Rickey Shane Page had beaten Raymond Rowe who has only lost one time. Ethan claimed that he was the only one that believed in Rickey and that Rickey didn't even believe in himself. At Hell on Earth it was Rickey Shane Page against Ethan Page where Ethan Page used a fire ball to beat Rickey for the title.

10 man tag match
Team Johnny (Johnny Gargano, Alex Daniels , Brian Carson , Joshua Singh, and Dr. Daniel C. Rockingham ) vs Team Candice (Candice LeRae, Frankie Flynn , "Worldwide" Alex Kellar, "Weird Body" Evan Adams , and Kaplan)
A 10 man tag match that stars all of the AIW trainees along with their two trainers Johnny Gargano and Candice LeRae. This match will be good with the trainees giving it their all like they always do. Plus Johnny tweeted to Pro Wrestling Gorilla fans that it is not goodbye but it is see you later.

4 way Tag Match
Black & Wild (Flip Kendrick and Eric Ryan) vs Nation of Intoxication( Lucky tHURTeen & Danny Havoc) vs Beaver Boys (Alex Reynolds & John Silver) vs Dudes on TV (Matt Cross and DJ Z)
The last time Nation of Intoxication was in AIW Lucky tHURTeen was flipped over the barricade and was kicked in the face. Will this happen again? The Beaver Boys return for the first time since April. This match is bound to be a crazy!

3 Stages of Hell
Eddie Kingston w/ The Duke vs Josh Prohibition
Eddie Kingston is one of the funniest heels there is in AIW. You honestly cannot hate this man. These two have been feuding since Faith No More in September and last month after The Duke interfered once again Josh Prohibition challenged Kingston to a 3 Stages of Hell match. Will this feud end and who will prevail?

Tag Team match for the AIW Tag Team titles
To Infinity and Beyond (Colin Delaney and Cheech) (c) vs Hot Sauce Entertainment (Tyson Dux and "Hot Sauce" Tracy Williams)
To Infinity and Beyond have been the Tag Champs since Gauntlet for the Gold 10 in March beating The Forgotten (Jimmy Jacobs and BJ Whitmer) . Ever since March To Infinity and Beyond has been defending their titles and retaining. This time around Hot Sauce Entertainment faces off with the tag champs for the title. The last time these two faced off was at Absolution 10 in which Hot Sauce Entertainment had lost, since then they have been a team longer, can that possibly give them the edge? To Infinity and Beyond has beaten tag teams like the Young Bucks, Acquaintances At Best( Colt Cabana and Chuck Taylor) , The FBI (Little Guido and Tracy Smothers), and Dudes on TV (DJ Z and Matt Cross) . Will there be new tag team champions?
NEO Sports Insiders Newsletter
Sign up to receive our NEOSI newsletter, and keep up to date with all the latest Cleveland sports news.