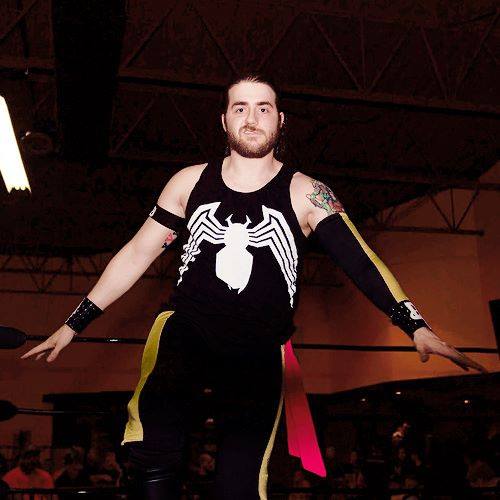 Payton Vince: Wrestling fans welcome to the first edition of Interviewing the Indy's. Today my guest is Davey Vega, how are you doing Davey? Thank you for joining us on NEO Sports Insiders, and being our first guest.
Davey Vega: I am doing fantastic, thanks for having me. Always a pleasure!
Payton: Before we get inside the ring. let's talk about outside of the ring. What are you doing when you're not in the ring?
Vega: Usually during the week I work my day job, go to the gym then relax or find something to do before bed. If it's a weekend I have off I'll play some video games, read books, and watch movies. Waiting for the weather to get warmer so I can go hiking and be outside more.
Payton: What is your favorite video game to play?
Vega: I've always been a Halo guy for both single and multiplayer aspects, mostly multiplayer because of the replay value. I'm not too fond of the newest one so I've been jumping around between NBA, Mortal Kombat and Fallout 4.
Payton: What is your current entrance music? What made you decide to select it?
Vega:I use Reptiles theme by Skrillex and Al the Killer by Coheed and Cambria, depending on my allegiances. I selected the first because it's upbeat and goes with my style, something fans can groove to. Second one because I always wanted to try and get a Coheed song to be a decent theme and it worked!
Payton: How long have you been in the wrestling business?
Vega: It'll be 10 years December of this year.

Payton: What made you want to become a professional wrestler?
Vega: I always enjoyed wrestling as a kid but something clicked when I was in junior high school. It was entertainment, athletic and artsy all in one and it was the only thing I was passionate about besides baseball.
Payton: You were you trained by Dingo & Mike Quackenbush. What made you make that decision?
Vega: I got heavy into Chikara around 2004/2005 and just loved how they did things. They had characters that could wrestle and that people cared about. Plus all the Lucha rolls and arm drags left me in awe how they had the body control. I wanted to start my training at Chikara but I was getting older and didn't have the money to train there. I ended up finding Dingo and got trained by him which was smart because he was super underrated in and out of the ring. I ended up realizing my Chikara training dream two years later in 2008 and 2009 thanks to Dingo.
Payton: How important is it to train with a reputable trainer?
Vega: It's super important. There's a lot of people out there that will just take your money and not teach you what needs to be learned. It's a scam sometimes. I lucked out and got a real good price with Dingo and learned how to conduct myself in locker rooms, in the ring, how to be a businessman and how to take care of myself in bad situations. The most important is etiquette and it seems that's lost on a lot of new people.
Payton: What was your training like?
Vega: Dingo was tough but only because it made me better. He was a mentor and friend out of the ring but when it was time to learn, you better bring your A game. A normal day consisted of doing calisthenics to start and get warmed up, teach me what needed to be taught, rolls, drills and free ring time. I had a lot of one on one time because I had to come later due to my job at the time so we were at the training center from 8:30 pm to sometime 2 in the morning. That's what I'm most thankful for because he didn't have to do that but did it because he took it that seriously. He didn't put his name in you unless you passed the course.
Payton: How long did you train before you had your first match?
Vega: It was supposed to be a year of training then have my first match (it varies depending on what your trainer wants) but I had my first match 8 months in.
Payton: What are your thoughts on your first match? Do you feel that you were ready to be in the ring?
Vega: Looking back the match, it wasn't great but I had fun. I think I was ready because I had nothing more to learn outside of getting actual in ring experience and learning from tape.
Payton: What motivates you to get in the ring?
Vega: Being able to test myself against some of the best in the world and all the fans that love or hate me. They're the reason all of us do what we do.
Payton: What is the craziest match you have been involved in?
Vega: I had a barbwire rope match in St Louis Anarchy back in 2010 or 2011. I cut my back open really bad and have a scar from it. Haven't done anything like that since. I was also scared out of my mind.
Payton: What is the funniest thing you have seen happen in the ring?
Vega: The funniest thing I've ever seen was probably the first time I saw Dick Justice at Beyond Wrestling. Dude can go but is just super hilarious on top of it.
Payton: What is the most embarrassing thing has happened to you during a match?
Vega: I've been fortunate enough to not have many embarrassing moments but I did fall through a stage before ( Wasn't paying attention when they said to not step on a certain part) .
Payton: Have you wrestled any current or former WWE/WCW/TNA or ROH stars?
Vega: Yes! The Bashams, Jerry Lynn, Chris Sabin, ACH, Roderick Strong, Michael Elgin, Davey RIchards, Kyle O'Reilly, Young Bucks, BJ Whitmer, Jimmy Rave, Chris Hero. I think there are more but I'm blanking right now haha.
Payton: What is your favorite match you have been involved in?
Vega: Has to be my match with Chris Hero. He's so good and he can make people look amazing. I learned so much wrestling him and am better for wrestling him.
Payton: What is your favorite style of match to wrestle in?
Vega: I've always enjoyed matches that start off real technical and end up with a hot finish stretch. I've always felt that I have been able to adapt to any style thrown at me so I don't have a favorite style but what I mentioned is my ideal match up.
Payton: Who are some of your favorite and least favorite people to work with?
Vega: I love working with the Submission Squad, Mat Fitchett (tag partner), KC Karrington and Kyle O'Reilly. I don't have anyone that I hated working with but there was one match that I had to berate a guy afterwards because he was so bad (and also just got out of jail 4 hours before the show). I can't remember his name but it's not really important I guess haha.
Payton: Who is the toughest opponent you have faced in your career?
Vega: Masada, bar none. I had a great match with him and he's so good but he is probably the toughest guy in wrestling.
Payton: What companies do you work for currently?
Vega: I work for St Louis Anarchy, Inspire Pro, AAW, Beyond Wrestling, VIP Wrestling, and Metro Pro. I do FIP and AIW not as frequently but looking to do so again.
Payton: Why should a promoter book you?
Vega: I'm entertaining, charismatic, able to work with anyone, genuine and worth the money but above all else, I am professional. My track record speaks for itself, you can't go wrong with booking me.
Payton: Do you have any good advice for those looking to get into the wrestling business?
Vega: Find a reputable trainer, have a back up plan (go to school), don't expect anything because wrestling doesn't owe you anything, be respectful and keep your ears open and mouth shut.
Payton: Is there anything you would like to say to your fans?
Vega: Whether you love me, hate me or indifferent towards me, thank you for all your support and giving me some of my best memories throughout this crazy journey. Always support indy wrestling!
Payton: Where can fans find you on social media?
Vega: Facebook: Davey Vega
Twitter: DaveyVega85
Instagram: DaveyVega85
Periscope: DaveyVega85
Email: DaveyVega85@gmail.com (see a pattern haha)
Payton: Okay, I know that you are a sports fan. Who are your favorite sports teams?
Vega: Love sports! Cleveland Indians, Cleveland Cavaliers, St Louis Cardinals and Oklahoma City Thunder. Early 90s I used to love the Charlotte Hornets.
Payton: What are your thoughts on the Cavs this year? Where do you see the Indians going this year?
Vega: I'm a homer so I obviously love the Cavs but they still have some work to do. After the last week or two I'm afraid Irving doesn't know how to play team ball and apparently it's been an issue that has been brewing. I say move him to SG and have Delly take over primary PG duties. With the Indians rotation, number 1-4 is insane. We probably have one of the top 3 rotations in the league on paper and it's exciting. We still need a right side power bat but I can see a playoff run based off our pitching

Payton: Before our time runs out, do you have any stories that you would like to share with us?

Vega: One of my fondest memories was when I was NWA MO state champ and a disabled veteran wanted to talk to me about his disability (he was paralyzed from the waist down) and how watching wrestling was some of his happiest memories. We took a picture together and I let him hold the title and he was so touched that I let him hold it. I have had my ups and downs but moments like that are why I wouldn't trade wrestling in for the world.
Payton: Thank you so much for your time and thank you for willing to be the first guest on Interviewing the Indy's.
Vega: Anytime, I'm honored to have been the first and glad that you chose me for it!
Payton: It looks like we have ran out of time for Interviewing the Indy's. Find out who my next guest will be on Interviewing the Indy's by giving me a follow on twitter @PaytonVince. Until next time wrestling fans!

NEO Sports Insiders Newsletter
Sign up to receive our NEOSI newsletter, and keep up to date with all the latest Cleveland sports news.