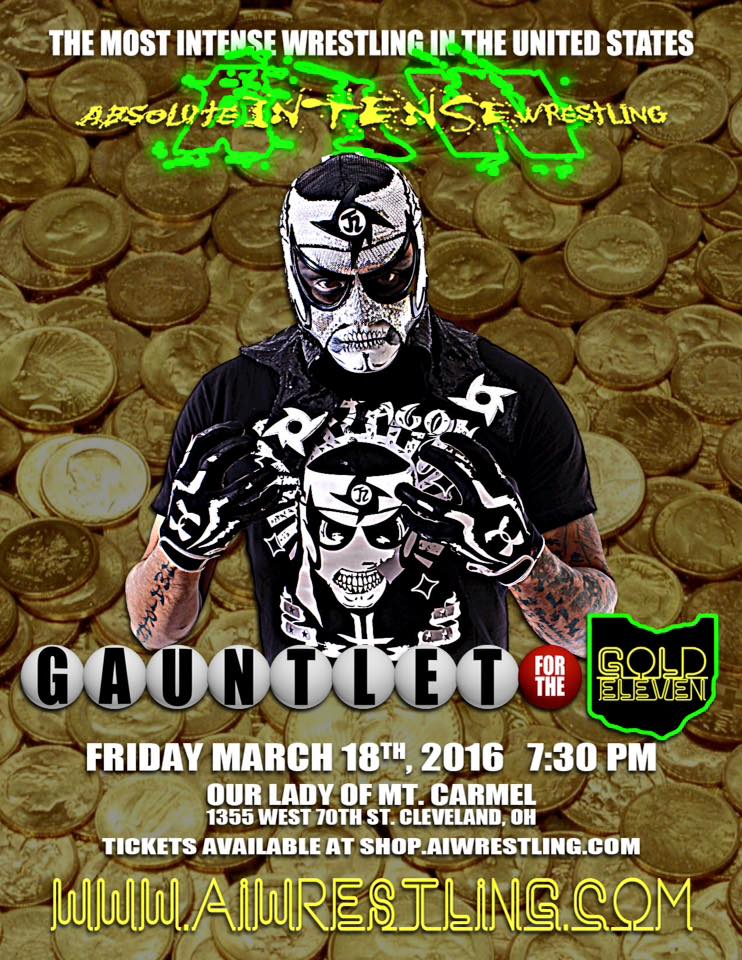 March 18th at Our Lady of Mount Carmel in Cleveland.
VIP tickets (sold out) : $30
General Admission (second row and beyond) : $20
Doors Open around 6:30 pm
Show will start around 7:30 pm
Fatal Four Way
Cedric Alexander vs Louis Lyndon vs Johnny Gargano vs Joey Janela
Cedric Alexander returns for the first time since he faced off against Candice LeRae, at Big Trouble in Little Cleveland. Louis Lyndon returns for the first time since Hell on Earth 11 , when he defeated Alex Shelley. Lyndon was scheduled to wrestle back in February but was injured. Johnny Gargano returns to AIW since Keep the Change, Ya Filthy Animal. Gargano has been away doing NXT Live shows. Joey Janela will be making his AIW debut. This Fatal Four Way will be amazing, athleticism at it's finest. Will this be Johnny Gargano's last AIW show?

Singles Match
Alex Shelley vs Candice LeRae
Let's try this again. At Don't Feed Us After Midnight, Shelley was expected to compete against Candice LeRae. On that day, the weather wasn't to pretty and Shelley couldn't make it to the show. The replacement for Shelley that night was Eddie Kingston. At Hell on Earth 11 after Shelley was defeated by Lyndon, Shelley told the AIW fans that he wants Johnny Gargano one last time. Will this match set up Gargano vs Shelley?
Singles Match
Raymond Rowe vs Pentagón Jr.
Pentagón Jr is coming from Lucha Underground all the way to Absolute Intense Wrestling. On the other hand, Raymond Rowe is returning to AIW for the first time since cashing in his J.T Lightning Memorial Trophy on then champion , Rickey Shane Page, and losing. During JLIT weekend, Raymond Rowe had an amazing match with Nick Gage. If you by any chance missed out on that match, you can expect to see something like that again when Rowe fights Pentagón Jr. This match will be intense. According to the AIW twitter , they say that Rowe and Pentagón Jr are two of the most violent men in professional wrestling. You cannot miss this match. This will be the first time ever this match is happening.
Tag Team Match for the AIW Tag Team Championships
Hot Sauce Entertainment (c) vs To Infinity and Beyond
Hot Sauce Entertainment was expecting to defend their Tag Team Titles back in February. The same situation that happened to Alex Shelley, also happened to Colin Delaney. With Delaney unable to make that show , Cheech had to find a replacement and brought back Brent Banks. Hot Sauce Entertainment retained their titles but will the same result happen when Cheech is teaming with his normal tag team partner? Will To Infinity and Beyond regain the AIW Tag Team Championships that they recently lost?
Singles Match for the Absolute Championship
Ethan Page (c) vs Zack Sabre Jr.
Ethan Page was expected to defend his Absolute Championship against Michael Elgin but due to commitments to New Japan Pro Wrestling, Elgin is unable to appear. When news of this broke, Ethan Page put a video up on YouTube, saying that he wants to wrestle the best in the world. Soon after Page made that video, it was announced that Sabre Jr. will be making his AIW debut. Eventually the fans of AIW had found out that Ethan Page will be defending his Absolute title against Zack Sabre Jr. This match will be all sorts of interesting. Sabre Jr. is currently the Pro Wrestling Guerrilla (PWG) champ and will be competing against the AIW Champ. Will Zack Sabre Jr. become the new Absolute Champion? Or will Ethan Page defeat the PWG champion and retain his Absolute Title?
6 way Scramble Match
Dr. Daniel C. Rockingham vs Joshua Singh vs Alex Daniels vs Britt Baker vs Dominic Garrini vs Garrison King
Earlier in March, at Fullest House (WE HOPE!) , this match happened and it was spectacular. At the end of the match, everyone in the crowd was on their feet giving these six competitors a standing ovation. If you missed out on this match at Fullest House (WE HOPE!) , don't miss it this time around. Garrini and King got their first taste of AIW action and they are back for more along with the other four competitors. Daniels won at Fullest House (WE HOPE!) will he win again?

Singles Match for the Intense Championship
Jerry (c) vs Rex Brody
At Fullest House (WE HOPE!) Jerry defended his Intense Championship against Eddie Kingston and defeated him after a distraction from Frankie Flynn. Rex Brody on the other hand is also coming off of a victory from that show against Rockstar Spud. Will Jerry be able to pull this one out again like he did at Fullest House? Or will Rex Brody become the new Intense Champion?
Singles Match
Eddie Kingston vs Frankie Flynn
Eddie Kingston lost to Jerry at Fullest House( WE HOPE!) because of a Frankie Flynn distraction. Frankie Flynn has competed against Kingston once, and that was back at Fresh Meat. Back at Fresh Meat, Flynn was defeated by Kingston. Will the same result happen this time around? Or will Flynn pick up the victory over Eddie Kingston?

Dick Justice & Missy Hyatt Wedding
Dick Justice and Missy Hyatt are tying the knot, during the show! If you have ever wanted to witness a wrestling wedding, now is your chance.
Gauntlet for the Gold
Gauntlet for the Gold is a 30 person Over The Top Rope Battle Royal. Gauntlet for the Gold is the equivalent to the Royal Rumble, where the winner goes on to face the Absolute Champion at Absolution 11. As you know, in the Royal Rumble there are surprise appearances, the same thing is involved in the Gauntlet for the Gold. Here are some of the confirmed names that will be competing in the Gauntlet:
-Britt Baker
-Brian Carson
-Eddie Kingston
-Josh Prohibition
-Louis Lyndon
-Marion Fontaine
-Frankie Flynn
-Kaplan
-Big Moe
-Johnny Gargano
With 10 names already announced 20 more spots have to be filled. Who will fill them? Find out by going to Gauntlet for the Gold 11, March 18th.

NEO Sports Insiders Newsletter
Sign up to receive our NEOSI newsletter, and keep up to date with all the latest Cleveland sports news.