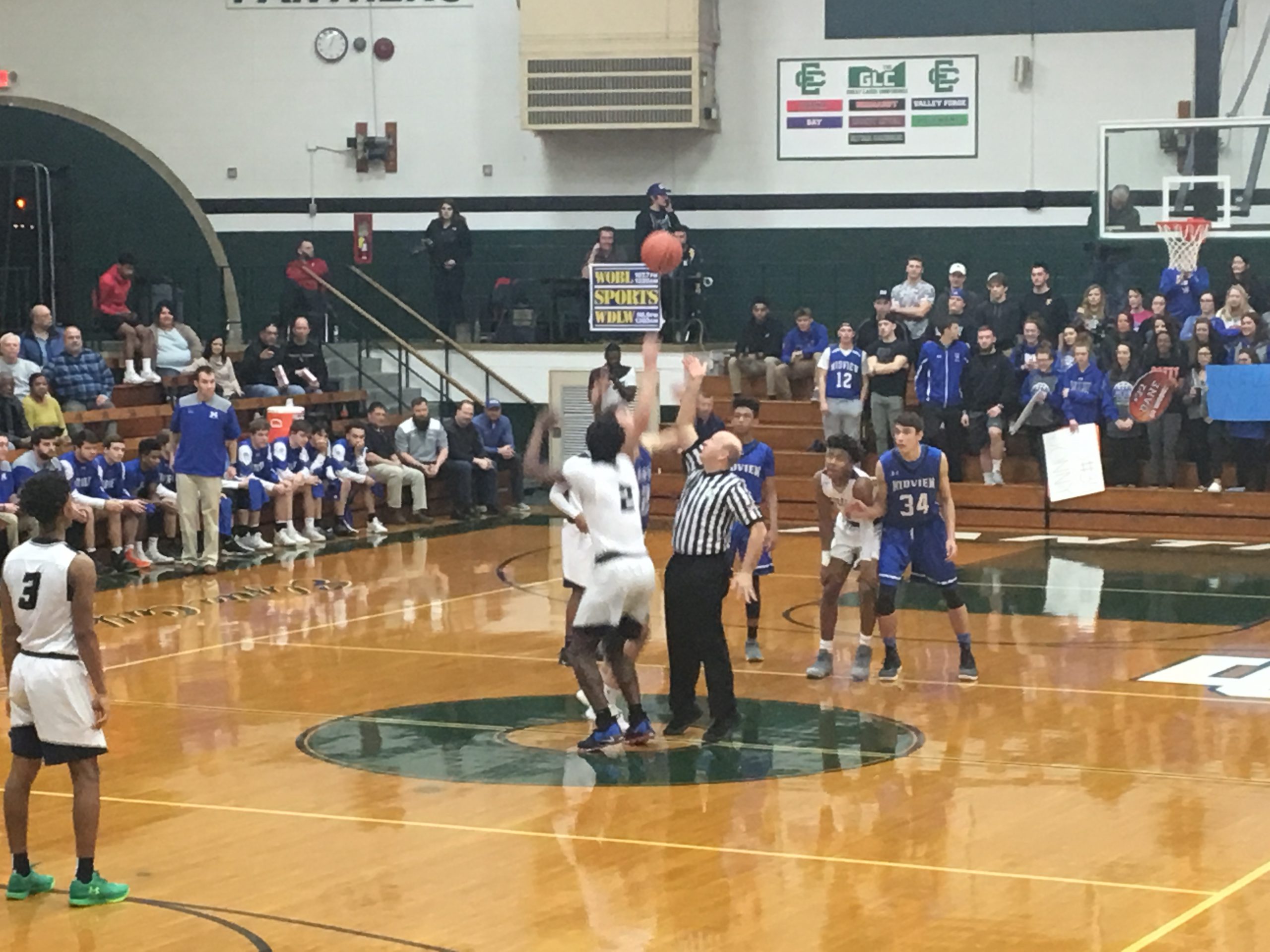 ELYRIA, OHIO– For the fourth straight year, Lorain will play for the district crown.
The No. 1 Lorain Titans knocked off the No. 4 Midview Middies on Wednesday night in the Elyria district semifinals, 73-64.
The Titans were led by their twin pillars of offensive production, Devon Grant and Taevon Pierre-Louis. Grant scored a game-high 29 points on 9-of-17 shooting from the field, also adding in eight rebounds and two assists. Pierre-Louis notched a double-double with 26 points on 10-of-17 shooting to go along with 15 boards, one block and one assist.
Lorain got off to a quick start, thanks in large part to Grant's three 3-pointers in the frame. Midview, to their credit, stuck with the Titans and had success in breaking the lethal Lorain full-court press. The closest answer Midview had for Grant was Gage Carnes, who ended the first quarter with five points as the Titans held an 18-10 lead.
As the second quarter got underway, the game got chippy, particularly underneath the basket. A Pierre-Louis dunk put the Titans up 10, 32-22, but the Middies would find some offensive rhythm before the half was over. Vince Birth hit three 3s in the second stanza, and just before the halftime break, a Carnes layup brought the Middies to within three as the Titans held onto a 34-31 lead. In the final 2:50, the Middies closed out the half on a 9-2 run.
Midview would hold onto some of that momentum, as Birth hit another 3-pointer at the 5:51 mark in the third quarter to tie the game at 36. Rather than folding or getting frustrated, however, the Titans answered with a 9-0 run in which Grant scored six points and Pierre-Louis scored three. It was a stretch of the game that head coach John Rositano was particularly proud of.
"They came after us and caused some problems around the basket," he said. "Our guys made plays, they did the right things. You've got two premiere players in Ohio that are both juniors that I thought played very well. They kept their composure."
The physicality was something that Pierre-Louis particularly seemed to revel in.
"We practice hard," he said. "We practice no fouls, so we're used to it. We just keep playing, and keep playing hard."
Lorain entered the final frame with an eight-point lead, 50-42. With just under three minutes remaining, the Middies pulled within four after a Birth 3-pointer off the left wing. But down the stretch, the Titans went a perfect 11-for-11 from the free throw line to keep Midview at bay.
FINAL: @lorainathletics tops @MiddieUpdates, 73-64. The Titans are heading to the district finals on Saturday and will face winner of Berea-Midpark Vs. Strongsville. @NEOSportsInside pic.twitter.com/slmqWFOO0v

— Ashley Bastock (@AshleyBastock42) March 8, 2018
To go along with Pierre-Louis and Grant's output, Jordan Jackson ended with six points and five rebounds, while David Weatherington also added six points for the Titans.
Birth led Midview with 21 points on 7-of-11 shooting. Carnes added 18 and nine rebounds, while Jonny Manning had a double-double with 14 points and 10 rebounds. The Middies' season ends at 12-11.
"Tip your hat to Lorain, they've got some really good players and they have players who really stepped up and hit shots," Midview head coach Jim Brabenec said. "But I couldn't be more proud of our guys and the way we competed and battled. We talked about it all week weathering their storm, and we weathered every storm except the last one."
The Titans improve to 18-5 and will play the winner of No. 10 Berea-Midpark vs. No. 11 Strongsville. That semifinal game happens tomorrow, March 8, at 7 p.m., while the district final will be Saturday, March 10, at 7 p.m. at Elyria Catholic.
Last season, the Titans were handed a bitter loss by the Elyria Pioneers in the title game. It's something that hasn't been forgotten as they look to punch their ticket to Regionals.
"We're hungry," Grant said. "We're not expecting to lose, and we never expect to lose, so we're just going to continue to stay hungry."
"There's a little chip this year to get that net back," Rositano said, "and we gotta go earn it on Saturday."

NEO Sports Insiders Newsletter
Sign up to receive our NEOSI newsletter, and keep up to date with all the latest Cleveland sports news.