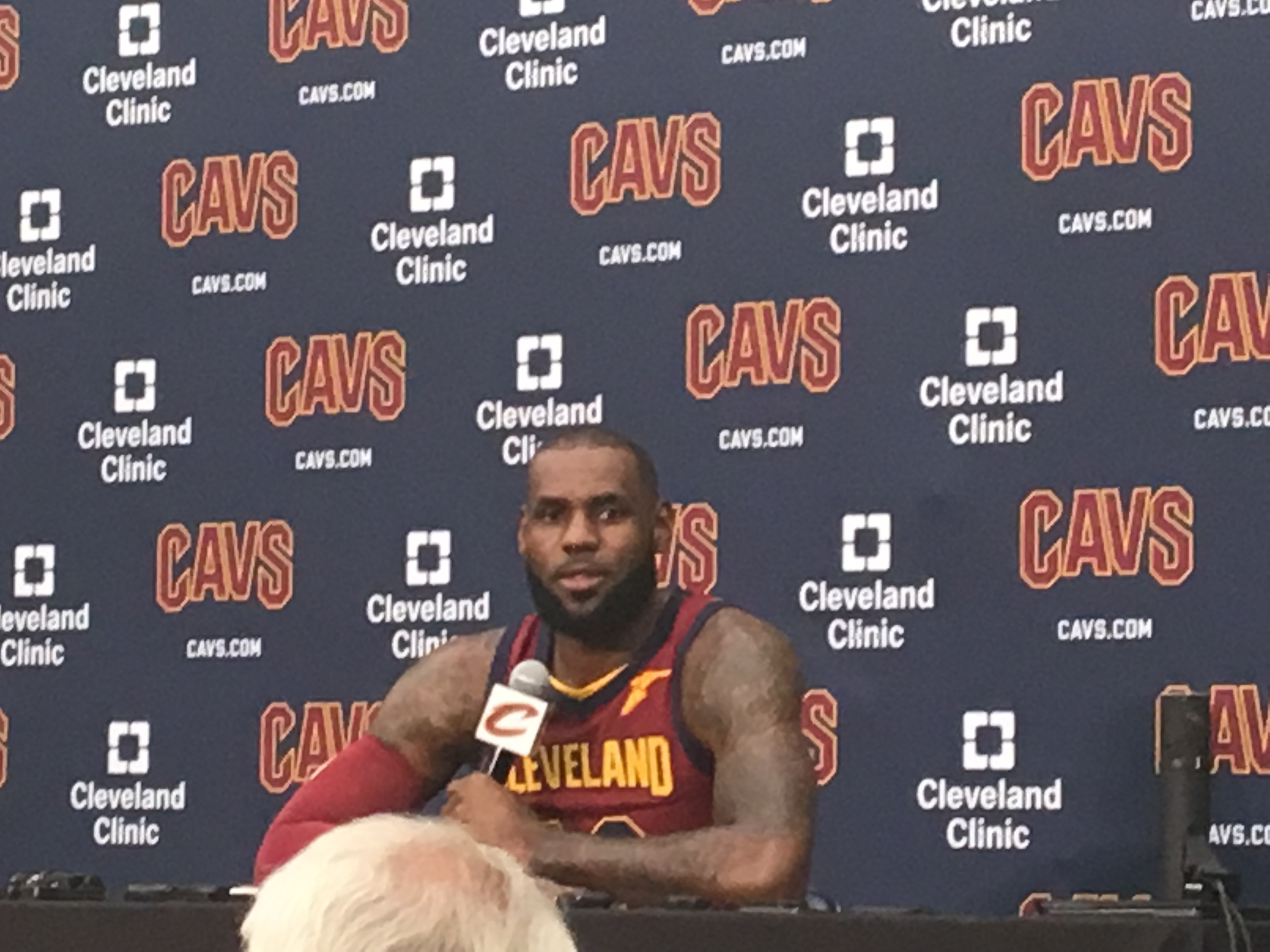 CLEVELAND– LeBron James returned to the Cavaliers' lineup on Tuesday night and admitted his play was "off" in his first game back since he injured his left ankle during the first week of training camp.
The Cavs fell to the Chicago Bulls in their fourth preseason game, 108-94, but the contest allowed James his first opportunity to play with the Cavs' new starting lineup. James ended the evening with a team-high 17 points, five rebounds and three assists. He also committed eight turnovers, seven of which came in the first half.
"I know for me personally, I was off," James said after the game. "I could feel it. It's just my first action since the Finals, so my timing was a little off and turnovers I think just trickled down to everybody, so I made everyone's timing off."
Head coach Tyronn Lue shared James' sentiments after the game, recognizing that his star player wasn't 100 percent himself, but still emphasized that the last thing he was worried about was James.
"He hasn't played in I don't know how long, so of course his rhythm's going to be off, his passing, timing, it's just part of the game," Lue said. "But I'm not worried about Bron. He'll be okay, tonight's his first night playing in a long time, so he'll get his rhythm, I'm not too worried about that."
Lue talks about LeBron James returning to the lineup pic.twitter.com/Yc9PDmftDn

— Ashley Bastock (@AshleyBastock42) October 11, 2017
Coupled with timing issues, James also had a bit of a scare when he appeared to trip and tweak his ankle after a spin move on his way to the basket and came up limping. Lue said after the game that James did not want to come out at that time.
"I'm pushing through it right now," James said. "I just wanted to try and test my foot, test my ankle to see how I would come out tonight. So, obviously tonight and tomorrow morning it's going to be a telltale sign of how I came out tonight. I'm still fresh from the game so it's OK now but you never know when you wake up the next morning how it can flare up or if it can stiffen up.
"So, I'll know more about it tomorrow but I definitely wanted to test it tonight knowing that at least if I tested it tonight I have a week until the regular season started if I don't play in the game on Friday."
With only two returning starters from last year's squad, (since both Tristan Thompson and J.R. Smith have been delegated to the second unit in favor of Jae Crowder and Dwyane Wade) there's no doubt going to be some growing pains as James works himself into a new starting five.
At times, there appeared to be missed assignments on both ends of the floor, pointing fingers and  exasperation among the starters, who all played between 21 and 29 minutes on Tuesday night. In the first half, the starting five combined for 23 points. James had 13 of them.
In the second half, Derrick Rose joined James in double figures and ended the night with 13 points and five assists. Crowder had nine points on three three-pointers, while Wade and Kevin Love had four and three points, respectively.
After the game, Lue chalked up the miscommunication among the starters to the fact that this first unit is still fairly new to one another.
"Just gotta figure out how to play together," Lue said. "Of course we're not running too many ATOs out of timeouts, but I think in our early offensive stuff, and we have enough stuff, that they gotta learn how to play together. Especially having four guys on the floor at the same time that need the basketball. Just figuring that out. … That first unit just has to get used to playing with each other. Especially being the first time out together."
Lue talks about the chemistry of the starting 5 pic.twitter.com/s1T5fnq3C0

— Ashley Bastock (@AshleyBastock42) October 11, 2017
Like Lue, James said that the starters simply need more time to get accustomed to one another.
"I don't think we will be the team we want to be in a week," James said echoing his coach. "It's for the whole season. We're going to have changes, we're going to make changes and become a better team as the games go on. The team opening night won't be the team that we know we can be."