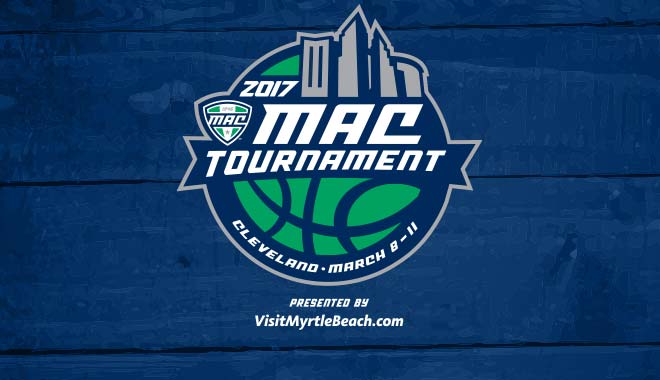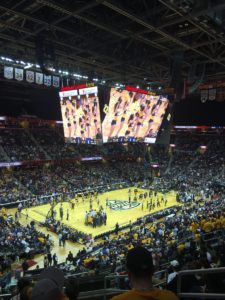 Kent State Sophomore guard, Jaylin Walker picked a great game to hit his career high in points.
Led by the Sophomore's 30 points, the Kent State Golden Flashes defeated the number one seeded Akron Zips, 70-65, for their first MAC tournament win since 2008. The Flashes earned their first tournament bid in almost a decade beating the top three seeds of the tournament.
"Couldn't be prouder of our group.  We know how good they are and how good a program it [Akron] is, and I say to myself, because I know how hard it was for us to even get to this game, just thinking that they've been there nine out of the last 13 years is just an incredible accomplishment," said Kent State Head Coach, Rob Senderoff.
It was the third time the in-state rivals have met, only separated by 11 miles, with both teams winning on the other's home floor.
The Golden Flashes got off to a quick start, going on a 11-3 run to start the game. The shots kept falling for as Kent State shot a blistering 53.1% from the field, including 63.6% in the second half. Coach Senderoff knew is was imperative to get on top of the MAC regular season champions from the first whistle.
"They have been getting off to fast starts here in the tournament and we haven't in particular.  We sort of, like I said, we've generally been down at halftime at a lot of these games," explained Senderoff. "I thought that was important for us and I thought it helped our confidence. It also allowed me to maybe put a couple guys in to get some rest for other guys that maybe helped down the stretch."
From the first whistle, it was important for the Flashes to neutralize Akron Center Isiah Johnson.
Though Johnson came though with 24 points of his own, the Flashes held him only five rebounds. Kent State's advantage on the offensive glass was a key factor in sending the Zips home, just as it was all season.
"I knew it was going to be a battle. He's [Johnson] a great player, and I just feel like I've got a lot of pride in myself and what I do, and I just wanted — I knew it was going to be a battle. It was mano y mano and see who comes out on top," said Senior Foward Jimmy Hall, who had a double-double himself with 19 points and 10 rebounds.
The game remained close after Akron rebounded back from Kent State's quick start, tying the game up with a big three pointer from Sophomore, Josh Williams. However, the fourth best offensive rebounding team in the country held firm with a couple of key put backs to keep themselves in the driver's seat.
The Zips were lead all season by Johnson, who was first team all-MAC this season. It seemed the increased workload for the three tournament games in three days was too much for the Senior Center.
"I mean, we didn't have any choice, we had to play him that much. We might not have won game one if we didn't play him that much," said Akron Head Coach, Keith Dambrot. "I thought he played pretty well, he had 24 points, but I thought he struggled in the first half a little bit. They've got big-bodied guys, big and strong. They did a good job, they didn't have to double him."
Kent State wasn't going to be denied as Walker, the sophomore guard from Detroit, scored six points during a 10-0 run that put the Golden Flashes in control in the final minuets of the game.
"I was just feeling myself and my teammates, they was saying just keep going, you know, keep going and came out on top," Walker said. "It's been a great journey, I'm blessed to be in this position, all my emotions just went when I see my mom and how much she cares for me and how much she comes out to every game."
This marks the second straight MAC Tournament final  Zips have dropped to a lower seeded team. Though Coach Dambrot has been to the last 12 conference tournaments with the Zips, they've only earned the automatic NCAA bid twice. The criticism, according to the Zip's coach is the cost of doing business.
"We've been good enough to get in the championship game year after year, and sometimes the ball hasn't bounced very well for us.  It's disappointing," explained Dambrot. "That's the hard part about sports, right?  When you're good, then you set yourself up for disappointments.  If you're no good, there are no disappointments because you're never in the championship game, right?"
Though with back-to-back heart breakers in the conference tournament, the former St Vincent-St. Mary's head coach is happy to be in such a competitive league.
"I love our league.  It's a great league, but it's so hard because it comes down to one game every year.  Unfortunately, we've been in that one game a lot.  It's the way it goes."
The Flashes will find out who and when their match up will be for the first round of the NCAA tournament tomorrow. Check out neosportsinsiders.com for updates on all the teams in the NCAA Tournament, including Kent State.

NEO Sports Insiders Newsletter
Sign up to receive our NEOSI newsletter, and keep up to date with all the latest Cleveland sports news.