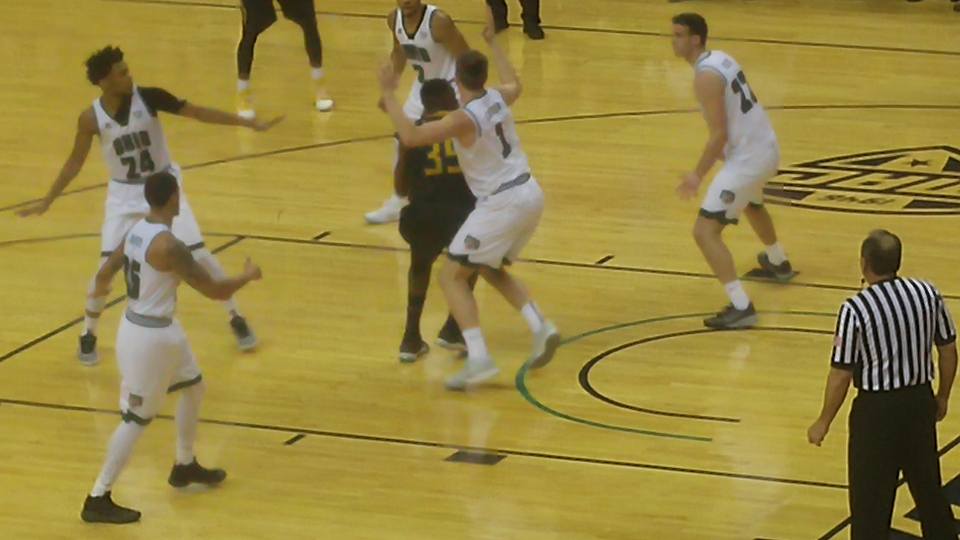 Ohio Universities Jaaron Simmons split foul shots with 10 seconds left on the clock to tie the game at 66.  Kent State elected not to call a timeout and instead, ran down the court where Jaylin Walker drilled a 13 foot jumper to give the Flashes the 68-66 lead with only 4.1 seconds remaining.  They hung on for the win as Ohio was unable to get a last shot off.
Ohio University overcame a 15-point deficit to beat Toledo last night, but had no such luck tonight, falling to Kent St 68-66.  Kent State used two big three pointers late in the game by Kevin Zabo and Jalen Avery to seal the deal.  It gave them an 8-point lead with less than two minutes to go, there biggest of the game. 
Despite a late rally by the Bobcats that saw huge three pointers by Jaaron Simmons and Kenny Kaminski to make it 66 -65 with 40 seconds remaining, the Flashes hung on for the big win. 
Kent State earned a birth to take on top seeded Akron tomorrow night in the championship game.  If the Flashes are to secure the title tomorrow night, they would have gone through the top three seeds in the tournament, having beaten (3) Buffalo last night, (2) Ohio tonight and taking on (1) Akron tomorrow.
It was Kent States Jimmy Hall who had a big night for the Flashes with 22 points.  However, Jaaron Simmons of OU led all scorers with 25 points.
Ohio struggled with transition offense all night and had to rely heavily on half court attacking.  Kent. St was able to make the needed adjustments to stop them. 
The first half was extremely close as neither team was able to build up a healthy lead as it was tied at 32 with a minute left.  Ohio would score right before the buzzer and take a 34 – 32 lead into the locker room.  Kent. St starting guard Deon Edwin got in foul trouble early and often, picking up a costly third foul with 8:29 remaining in the first half. 
Ohio had two players score in double digits in the first half as Simmons and Kaminski both had 11 points each.  However, the rest of the team combined for a lowly 12 points, keeping it a low scoring game after the first 20 minutes of play.
The game remained close as the second half began.  Neither team being able to put enough baskets together to make a run and pull away.  Tied at 40 a piece at the 16-minute mark.  It continued to be a back and forth game with each lead taking one possession leads until Kent St. got hot midway through the second half and built a 53-48 lead with 8:38 left on the clock.

NEO Sports Insiders Newsletter
Sign up to receive our NEOSI newsletter, and keep up to date with all the latest Cleveland sports news.