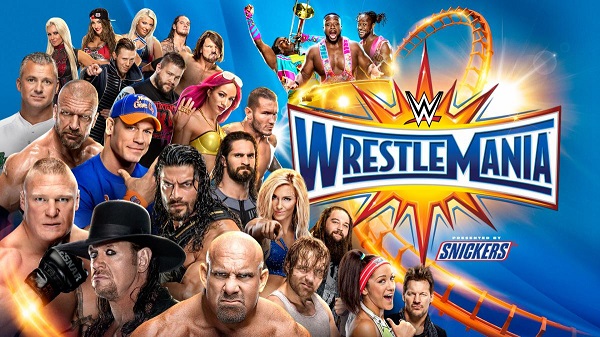 ORLANDO, Florida – WrestleMania 33 is live and underway from the Citrus Bowl in Florida.
Stay locked into NEO Sports where we will be on top of the action all night.
Sold out and over 70,000 on hand!
The set looks amazing, best in Mania history by far!
Match one has begun.
Cruiserweight (205) Champion Neville defends his title against Austin Aries to open the show.
Result – Neville retains by pinfall with a 450 splash.
Reaction -Great job by both men in a 5 star match to kick things off. Austin Aries sold the injury perfectly and both men showed why this match should have been on the Pay Per View Main Version of the show.  Perhaps WWE knew how good the match was going to be and purposely kept it off the main card as to not take the shine away from other matches?
The Andre The Giant Battle Royal now underway
Early on, The Big Show and Braun Stowman get eliminated.  Stay tuned as both favorites now gone.  Gronk has jumped the barricade and now entered the match. The legitmitacy of this match just took a serious hit.
Result – Mojo Rawley wins, with an assist by NFL Tight End Rob Gronkowski.  Last eliminating Jinder Mahal.
Reaction – The WWE really needs to end this kind of match at Mania, does nothing for anyone involved, and having NBA and NFL guys take part does not help.
Dean Ambrose defeats Baron Corbin to retain the IC title.  So far both champions who have defended their belts have retained.
Reaction – Interesting the push for Corbin would end so quickly.
MAIN CARD ON PAY PER VIEW TO START NEXT
Interesting choice to start off the main card as it is Styles vs Shane
Result – Styles pins Shane
Reaction – Better than I thought it would be, as Shane hit his usual set of big moves.  Going to coast to coast.  Shane also kept the pace moving a little bit more then last year's stalemate against the Undertaker.  However, it's hard to have a bad match with Styles.
I hope this is not the last we see of Styles tonight.
Kevin Owens challenges Chris Jericho for the United States
Result – Owens pins Jericho for the United States Title
Reaction – This was a smart move to put Owens over.  Brings everything full circle and Jericho fulfilled his purpose.  Anything else would have made no sense.
Bayley vs Charlotte vs Sasha Banks vs Nia Jax
Result – Bayley retains the title last eliminating Charlotte.
Reaction – Bit of an upset here as I didn't see Bayley retaining.  WWE showing a lot of faith in her with this victory.
THE HARDY BOYZ RETURN TO WIN THE TITLE's IN A LADDER MATCH!
Great match that Jeff Hardy caps off by hitting a Swanton!  We have new champs!
Up next mixed tag team match!
Result – John Cena & Nikki Bella defeat The Miz & Maryse
The match was short, but the post match was worth getting to quicker as a victorious John Cena proposed to Nikki Bella.  Not much to write about here other than The Miz is going to have one hell of a chip on his shoulder after another loss to a part timer.
HHH vs Seth Rollins on now
Result – Rollins by pinfall
You could tell Rollins was working off an injury in this one, but still performed well.  HHH did the right thing by putting the young guy over.  I'd expect a Samoa Joe attack on Rollins at RAW tomorrow to begin that feud.
Bray Wyatt Defends his World Heavyweight title against Randy Orton.
Result – Randy Orton defeats Bryatt Wyatt to win the World Heavyweight title
Reaction – Some very odd booking tonight, not doing much to advance certain people that needed it.
This is proven again as Randy Orton Defeats Bray Wyatt for the World Title.
Goldberg defends his Universal title against Brock Lesnar
Result – Lesnar pins Goldberg to win the Universal title.
Reaction – To the surprise of no one, but atleast the match was good this time.  Lots of action and some nice high spots.
Predictable Mania continues as Naomi wins the six pack challenge to reclaim the Women's Smackdown title.
Main event up next….
Roman Reigns vs The Undertaker
Result – Reigns pins The Undertaker
Reaction –  A solid main event as Reigns worked well with a broken down Taker.  In a bonus that many expected, The Undertaker did in fact retire after the match by laying his hat, gloves and coat in the center of the ring and walking off.
Top moments of the night had to be The Hardy Boyz returning and John Cena proposing to Nikki Bella.
No Rock, No Austin and No Foley tonight, also no Samoa Joe or Shawn Michaels either.

NEO Sports Insiders Newsletter
Sign up to receive our NEOSI newsletter, and keep up to date with all the latest Cleveland sports news.